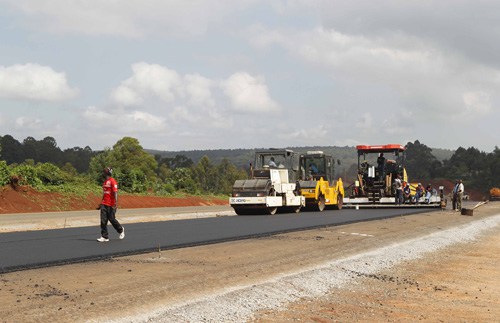 ROAD TO PROSPERITY: A construction project undertaken by China Road and Bridge Corp. in Kenya. The road is part of the nation's Kenya Vision 2030 program that was initiated in 2008 (LI JING)
Rashidat Aweda finds there are a lot of positives to her working relationship with employer Huawei. From the spacious office environment and friendly colleagues, to the consideration, respect and training the Chinese information and communications technology (ICT) solutions provider gives every employee, Aweda appreciates the growth opportunities Huawei has provided her.
"Huawei is not only considerate to female staff like me, by putting us either in management, or in non-technical departments—where the working conditions are better than that on sites—but they also teach us to be independent and to develop ourselves for future challenges," Aweda, a Nigerian, told Beijing Review, adding that working at Huawei has made her optimistic about the future.
Aweda is one of the thousands of African employees in Chinese companies based in Africa. Her words are a testament to the way these companies are localizing their operations as they expand across the continent. Besides creating job opportunities for locals and training African professionals, these companies are committed to making efforts to improve business operations, the local economy and people's livelihoods.
Patience brings success
In most African countries, poor infrastructure is a major barrier to development. "Developing industry requires a sustained electrical supply, transportation and other basic infrastructure facilities, which are still lacking in Africa," said Xue Xiaoming, Vice Chairman of the Nigerian Chinese Chamber of Industry and Commerce.
Despite these challenges, Chinese companies approach the continent with a sense of adventure and determination.
"Chinese people can crack the hardest nuts," said Gao Xiang, General Manager of Huawei Technologies Co. Nig. Ltd. "You can find Chinese people working in the most challenging environments."
Huawei, a leading global ICT solutions provider, established its head office and registered Huawei Technologies Co. Nig. Ltd. in 1999. Since then, Huawei Nigeria has been committed to its Nigerian customers and enriching life through communication.
"Huawei is now the largest ICT service provider in Africa," said Gao, "Alcatel-Lucent and Ericsson now lag far behind us."
The same thing happened to the Chinese Civil Engineering Construction Corp. (CCECC) Nig. Ltd. When CCECC first set foot on the continent, German companies controlled the lion's share of the construction trade. The company tried valiantly but struggled to gain a foothold. Decades of hard work finally paid off though, and CCECC is now the leading construction company and contractor in Nigeria.
"Our accommodation was even worse than that of the locals," Li Qiang, General Manager of China Road and Bridge Corp. (CRBC) in Kenya, told Beijing Review, recalling the harsh working and living conditions when the company first arrived on the continent.
Li attributes the current prosperity of Chinese companies in Africa to the sustained growth of China's economy and the strategic partnership between the two regions. "Previously, the biggest bottleneck for CRBC abroad was a lack of money and opportunities for cooperation. These are no longer problems as Sino-African economic and trade cooperation is deepening, especially under the framework of the Forum on China-Africa Cooperation (FOCAC)," Li added.
At the Fifth Ministerial Conference of the FOCAC held from July 19 to 20, 2012, China pledged to provide $20 billion of credit to African countries to assist them in developing infrastructure, agriculture, manufacturing, as well as small and medium-sized enterprises.