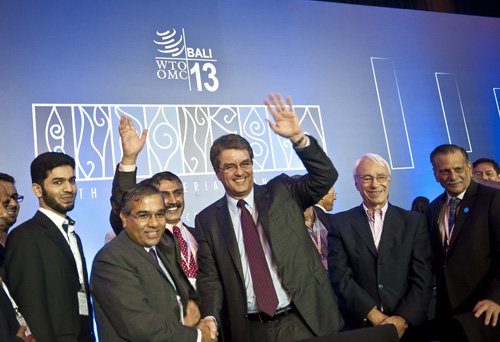 DEAL MADE: WTO Director General Roberto Carvalho de Azevedo (center) celebrates with other representatives at the closing ceremony for the ninth Ministerial Conference in Bali, Indonesia on December 7, 2013 (LU XIAOWEI)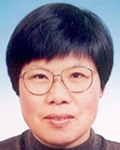 Five years after the financial crisis swept across the world, the global economy is still going through profound restructuring and changes. The developed world is heading toward stability, while the emerging markets are undergoing a slowdown, with China entering a moderate economic growth period. In the future, a polarization will occur on the global stage. Moreover, following the conclusion of the Bali Package by the World Trade Organization (WTO), the globalization drive will surge again and a battle over rules will heat up.
Cooling down
In 2013, with growth in the emerging economies decelerating and the developed world recuperating, the global economy is edging toward a slowdown.
According to estimates by the International Monetary Fund (IMF), the world economy is likely to have expanded by 2.9 percent in 2013, slightly slower than the 3.2 percent in 2012 and 3.9 percent in 2011.
Despite the fact that the eurozone has begun to rally since the second quarter of 2013, its economy is estimated to have shrunk by 0.4 percent for the whole year.
Since the United States started to reduce its deficit by $85 billion every month in March 2013, its economic growth has been down by 0.5-1 percentage point. Complicated by the government shutdown, the United States only saw 1.6-percent growth for 2013, much lower than the 2.8 percent in 2012.
Ignited by Abenomics, Japan's economy has shown signs of a short-term rebound. With a likely 1.8 percent growth in 2013, Japan will maintain a negative contribution to the world economy, due to sharp depreciation of the yen.
Global capital is fleeing emerging markets since the quantitative easing exit plan announced by the U.S. Fed Chairman Ben S. Bernanke, resulting in drastic stock fluctuations in these countries, especially India, Brazil and Russia, which may only have seen growth of 3.8 percent, 2.5 percent and 1.5 percent, respectively, in 2013.
Meanwhile, in the midst of an economic transformation, China's economy is predicted to have expanded by 7.7 percent in 2013, equal to the previous year, according to estimates of the Organization for Economic Co-operation and Development (OECD).
As a whole, emerging markets are expanding at a faster pace than the developed world. In 2013, Asian economies and Sub-Saharan Africa were estimated to grow by 6.3 percent and 5 percent, remarkably higher than the 2.1 percent growth in the Commonwealth of Independent States; Latin America and the Middle East and North African region are likely to grow by 2.7 percent and 2.3 percent, respectively.
The eurozone has emerged from its most difficult period, but recovery is still fragile, and an economic polarization has taken place between Northern and Southern Europe. The United States is in a better position compared to other developed countries, while China is taking the lead among major developing countries.
International trade and capital flow are not as robust as before. In the wake of the financial crisis, protectionism has surged, the United States has become committed to reindustrialization, the European and Japanese economies have experienced a double-dip, and high unemployment rates in developed countries have led to sluggish consumption.
According to statistics from the WTO, global trade in goods increased a mere 2 percent in 2012, far less than the 5.2 percent in 2011. As the IMF estimated, international trade is likely to have expanded by 2.9 percent in 2013 and is expected to rise to 4.9 percent in 2014, which is still far behind the 6.6 percent registered from 1995 to 2002 and the 8.8 percent from 2004 to 2007. There is still a long way to go before global trade regains its momentum.
Statistics from the United Nations Conference on Trade and Development, global cross-border foreign direct investment (FDI) dropped 18.3 percent in 2012, a second drop following a drastic decline in 2009, mainly because of the decline of cross-border mergers and acquisitions. Global FDI will see a limited rebound in 2013. In the days to come, as the European economies revive, the U.S. economy gains momentum, China speeds up its "going global" strategy, and mergers and acquisitions recover, international capital flows are bound to pick up.