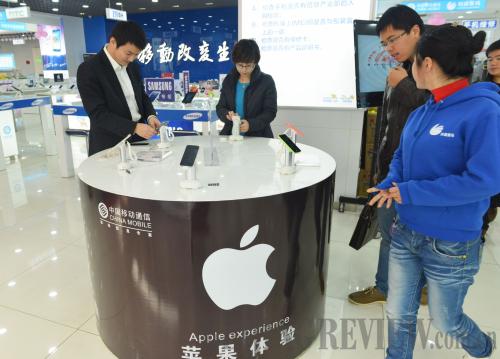 CUTTING-EDGE: Consumers check out China Mobile's new 4G capable iPhone in Hangzhou, capital of east China's Zhejiang Province, on December 18, 2013 (CFP)
Zhang Yunyun, a 27-year-old girl, seems excited. "I ordered an iPhone 5S with 4G service on the official China Mobile website. I'm fed up with the slow Internet speeds when I browse news and play cellphone games on my way to work," said Zhang, who works at the international department of Peking University. She often chats with friends on social networking apps like WeChat and QQ.
Zhang had been captivated by the iPhone's glamorous appearance and powerful functions for a long time. However, due to the absence of a China Mobile iPhone contract and her reluctance to change the phone number, Zhang had held on to her current phone for two years.
On December 23, 2013, China Mobile and Apple Inc. announced that its 4G capable iPhone will be put on sale simultaneously at China Mobile business halls and Apple stores on January 17 this year, and fans of Apple products were able to place an order as early as December 25, 2013. The deal marked an end to Apple-China Mobile negotiations that spanned six years.
Despite the fact that China Mobile's 4G network only covers 16 major cities, a small segment of its 763 million users, a goal has been set to expand coverage to 340 cities.
"The iPhone is popular in the Chinese market, and there are still a large number of potential consumers to tap into," said Xi Guohua, Chairman of China Mobile Communications Corp., in a recent statement.
Apple's CEO Tim Cook also expressed optimism about the deal. "By joining hands with China's largest telecom operator, Apple can get access to the most vibrant and rapidly expanding user group."
"Consumers can enjoy high-speed network services by using China Mobile's custom iPhone, which supports the 4G Time-Division Long-Term Evolution (TD-LTE) and 3G Time Division-Synchronous Code Division Multiple Access (TD-SCDMA) network," said Xi.
After the Ministry of Industry and Information Technology (MIIT) on December 4 issued 4G TD-LTE licenses to the country's three telecom operators—China Mobile, China Unicom and China Telecom—a fresh race has started between smartphone makers in the brand new 4G era.
Domestic vendors are scrambling to launch corresponding terminals. As early as October, Taiwan-based HTC unveiled its first 4G LTE model One Max. To catch up, ZTE also launched its LTE series of products at the 2013 China Mobile Global Partner Conference on December 17. Huawei decided to differentiate itself by promoting LTE handsets with different prices, according to Hu Honglian from Huawei's Terminal Marketing Department.
The International Data Corp. predicts that a total of 450 million smartphones will be manufactured by Chinese companies in 2014, an increase of 25 percent, of which 120 million will be compatible with 4G.
Although domestic smartphone vendors have mainly targeted mid- and low-end consumers, they have begun to look to the higher end of the market after successfully seizing more than half of the domestic market with models priced below 2,000 yuan ($330).