INNOVATION BOOSTS BUSINESS: A worker operates the production line of an LED company in Nanchang National Hi-Tech Industrial Development Zone of Jiangxi Province (ZHOU KE)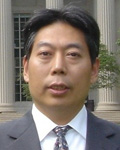 In the past 35 years, China has made tremendous achievements in innovation. Now the country's innovation-oriented development is heading for a "deep-water" phase, with both opportunities and challenges ahead. China must make innovations more scientific and effective in the future.
The establishment of market economy in China has laid the foundation for promoting innovation. Competition based on market rules has forced state-owned enterprises (SOEs) to gain vigor, and a large number of privately owned enterprises (POEs) have come into prominence.
Making full use of all domestic and international resources can lead to more productive innovation. In the 1980s and 1990s, the market demand maintained speedy growth for a long time and there was not much competition from other countries. By introducing foreign capital and technologies, China greatly accelerated the process of technology advancement and economic development. This was a very successful experience.
The policy of independent innovation in technology is a milestone for China's innovation process. In the 21st century, especially after China entered the WTO in 2001, many multinational corporations have displayed strong competitiveness in the Chinese market, expanding their presence in the mid- to low-end market while firmly controlling the high-end market. Chinese companies, which were previously proud of their market share, soon started to lose ground. Under these circumstances, Chinese companies recognized that developing their own core competitiveness was key to survival and development, and independent innovation was essential for success. Hence the strategy of independent innovation is formulated and gradually recognized by more and more companies.
Daunting challenges
In the face of major opportunities, the Chinese must be fully aware of the complexity involved in innovation under the new conditions.
First, some outmoded concepts that restrain innovation must be changed. For example, people used to have a flawed understanding of the mechanisms and systems for innovation. They thought there should be perfect mechanisms and systems that could be used, but in fact, there are none. Take market mechanism as an example. The one in Germany is quite different from that of the United States.
Another example is that many Chinese emphasize that the economy should be highly open to the outside world, but historically all economies, including Germany, the United States, Japan and even South Korea, have protected, or even highly protected their domestic markets during the process of development. According to research by Michael Cusumano, a professor of management at Massachusetts Institute of Technology, in the two decades since the 1960s, Japan's imported cars only accounted for 20 percent of the total auto sales in the country. Cusumano also pointed out that by restricting car imports to protect domestic automakers, Japan changed an industry that was doomed to fail into one that is very profitable. This tells us a very simple but crucial fact: A major reason for the success of Japan's auto industry comes from the protection of the domestic market.
Meanwhile, China needs to establish a basic system to promote innovation. Companies should be the major force behind innovation. But the reality is that many companies lack the ability to innovate, rather than the will to do so. In an environment where the whole industry is controlled by multinational corporations, domestic companies in industries such as automobile and pharmacy almost have no way to be industry leaders. This also tells us that the reform of government organizations should not only focus on "streamlining administration and delegating power to lower levels." It is more important to create basic systems, including organizational structure, working process and detailed measures to support independent innovation by domestic companies. In a situation where the Chinese economy is already highly opened, it will be very difficult for domestic companies to make innovations if basic systems for boosting innovation are not in place.