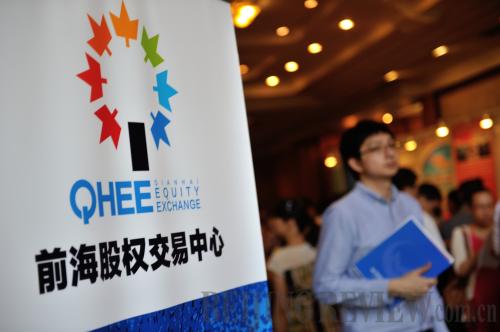 GOOD START: People seek consultation services on the sidelines of the opening of the Qianhai Equity Exchange on May 30, 2013 (CFP)
Surrounded by swathes of deserted factories, containers and various steel structures, a 40-meter grey concrete chimney stands silently in the Shekou Industrial Zone in Shenzhen, south China's Guangdong Province. "Huayi Aluminum Factory Co. Ltd." written in white paint on the chimney reminds visitors of the past glory and prosperity the industrial park witnessed two decades ago.
The Shekou Industrial Zone began to flourish when China took the first step toward reform and opening up in 1978. Then, the first wave of enterprises flooded into Shenzhen, the country's first special economic zone, to snatch up opportunities. As China's economic restructuring keeps forging ahead, the Shekou model eventually had to step down from the stage of history.
"Now Shenzhen needs to experience a shift from the manufacturing industry to the service industry," says Yang Tianping, General Manager of China Merchants Shekou Industrial Zone Co. Ltd. This line of reasoning has been used to justify the establishment of the Qianhai Shenzhen-Hong Kong Modern Service Industry Cooperation Zone.
Neighboring Hong Kong and Macao, Qianhai is located on the major development axis of the Pearl River Delta, one of China's most economically developed areas. It covers an area of 15 square km, all of which is composed of land reclaimed from the sea.
"Qianhai is geared to serving the inland and opening it up to the outside world, and Hong Kong will play a unique role in the process," said Wang Jinxia, spokesman of the Qianhai cooperation zone.
High-end services
When Chinese President Xi Jinping visited Qianhai on the first leg of his trip in December 2012, a focus was placed on the high-end service industry.
Since Hong Kong is far superior to Shenzhen in the realm of high-end services, Qianhai should learn from it amid the ongoing economic restructuring and transformation, said Xi.
"The high-end services Qianhai is meant to develop encompass finance, modern logistics, information and technology," said Wang.
Hong Kong, the largest offshore yuan market in Asia, is almost certain to benefit from the expansion of cross-border yuan business in Qianhai.
In addition, Qianhai will place emphasis on the development of its port shipping service, to build an important supply chain management center for Asia Pacific and strengthen the production and service capacity of the manufacturing industries in the Pearl River Delta.