According to Xu, the risks of China's local government debts are under control, but China must place stringent restrictions on newly increased debts and ensure that cash flows. If the current borrowing model continues, where local governments assume huge responsibilities and borrow commercial loans for public welfare projects, the balance sheets of local governments will continue to worsen.
Xu continued that the global economy will go on improving in 2014, particularly in developed economies. The U.S. economy will continue its powerful recovery, and Europe may see an end to recession and embrace a low-speed rate of growth. Recovery of developed economies will expand China's net exports, which would result in positive outcomes for the Chinese economy.
Ma was even more optimistic about China's economic state of affairs in 2014. According to him, there are many favorable conditions that can help maintain the current momentum in the economy. Firstly, the basic situation of China's economic development has not changed, and urbanization, industrialization, information-based development and agricultural modernization are still in progress. During this process, there will be huge increases both in investment and consumption demand, and the efficiency of supplies will also be improved.
Secondly, the Central Government initiated a series of measures to deepen reform last year, such as streamlining administration and delegating power. The Third Plenary Session of the 18th Central Committee of the Communist Party of China held last November also made a blueprint for future reform. Ma believed that these measures will stimulate the energy required for national development as well as creativity in the market, thus tapping potential sources of economic growth. Reform is therefore an important factor in China's attempt to maintain steady economic development.
Thirdly, Ma claimed that investment, exports and consumption will ensure stable and fast growth in 2014. Although growth in investment declined in 2013, the whole-year growth of 19.6 percent was still within satisfactory levels. He thought that, as urbanization continues, transport facilities in central and western regions will improve and energy-saving and environmental protection industries will grow this year, and that these factors will, again, help to further growth. As for consumption, the rapid increase in residential income in urban and rural areas last year has laid a solid foundation for steady increases in consumption in 2014.
Xu said exports will greatly benefit from the recovery of the global economy. The World Bank estimated in January that the world economy will go up 3.2 percent this year, while its forecast for 2013 was only 2.4 percent. The International Monetary Fund made its forecast for 2014 at 3.6 percent. Ma stated these figures indicate that the recovery of developed economies will continue unabated, and that demand from the international market will improve, laying the foundation for the steady growth of Chinese exports.
"I believe that in 2014 the national economy will continue to grow, the economic structure will be improved, the quality of economic growth and people's standard of living will be raised," said Ma.
Email us at: lanxinzhen@bjreview.com
Major Economic Developments in 2013
- Foreign trade ranked world No.1
According to figures from the Ministry of Commerce, in 2013, the volume of China's commodity trade reached $4.16 trillion, a figure which looks set to top the United States and place China first globally. This is another significant achievement after China became the world's second largest economy.
- Yuan appreciated unilaterally
In 2013, the renminbi's exchange rate against the U.S. dollar hit a record high, and the yuan appreciated 3 percent throughout the year, three times the appreciation in 2012. This contrasted against the depreciation of currencies of the other emerging economies and the overall slowdown of China's economic growth.
- Banks faced cash crunch
Cash crunch was among the key buzzwords of China's economic development in 2013. As China tightened its money supplies, large commercial banks also needed to borrow money. The interbank-offered rate hit record highs in late June.
(Source: Xinhua News Agency)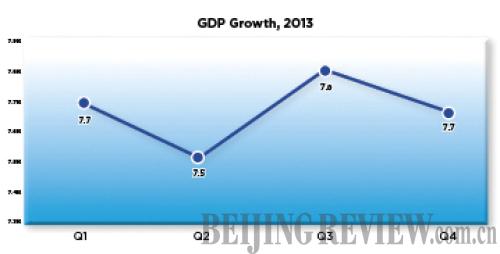 --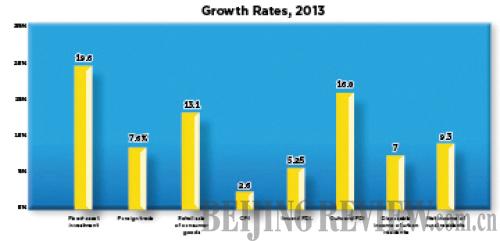 --