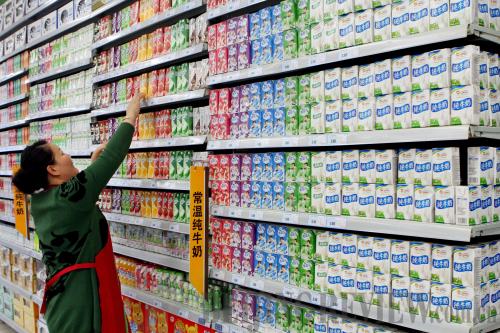 BALLOONING DEMAND: A sales assistant stacks shelves with dairy products in a supermarket located in Ganyu County, east China's Jiangsu Province on December 16, 2013 (CFP)
'Every morning, I prepare breakfast with fresh milk being a must," said Li Jingyan, a 34-year-old housewife in Beijing, who believes dairy products supply a variety of nutrients.
"I just bought eight packs of Sanyuan milk, whose price has been on the increase since last December," added Li, "Anyway, it's still affordable."
On December 28, 2013, Beijing Sanyuan Foods Co. Ltd. announced the decision to increase the prices of some dairy products by 5 percent from January 1, 2014, taking the lead in initiating another round of price rising.
"The price of a 234-milliliter (ml) packs of fresh milk was jacked up from 1.9 yuan ($0.31) to 2.2 yuan ($0.36), while a box of 180-ml yoghurt was priced at 3.6 yuan ($0.6), an increase of 0.5 yuan ($0.08)," said Lou Juan, a shopping guide at a Carrefour store in Haidian District of Beijing.
Not long ago, a cluster of major domestic dairy manufacturers performed three consecutive jumps in their pricing, with the final markup occurring in last December, when Sanyuan and Shanghai-based Bright Dairy raised prices by roughly 8 percent.
Behind the scenes
The country's dairy industry has marched into a period of explosive expansion since the end of the 1990s. Per-capita domestic milk output soared from 5.3 kg in 1998 to 30 kg in 2010. Nonetheless, a shortage of milk still haunts the world's most populous country.
"Despite the fact that China's dairy output has registered mushrooming growth in the past decades, if calculating by per-capita availability, the catch-up game is far from over," said Chen Yu from the Dairy Association of China, noting the per-capita production of milk has surpassed 110 kg globally.
As modernization and urbanization have progressed, the growth of domestic demand for dairy products has outpaced the capacity of milk sources, resulting in a widening supply-demand gap and the following successive price increases.
The rise in the production cost of raw milk is another factor. For dairy farmers, fodder makes up a large part [nearly 70 percent] of the cost of cow breeding. To their dismay, the prices of major grains used in feeding cows, like corn and bean pulp, have run high over the past two years. For example, the price of alfalfa has gone up to 3,400 yuan ($562) from 3,000 yuan ($496) per ton over the previous year.
"Since most domestic cow breeders depend on imported forages, induced by the large demand from the Chinese market, overseas feed dealers tend to boost prices. Now, a great many foreign suppliers have fixed their eyes on the world's largest dairy consumer country," Lei Yongjun, a dairy analyst told Securities Daily.