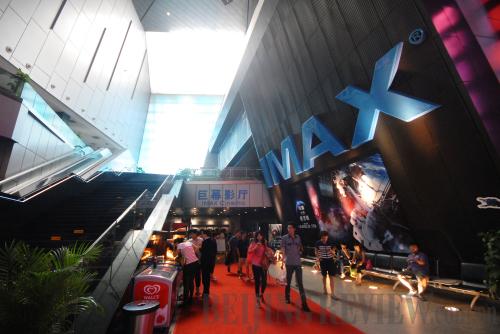 GRAND SPECTACLE: Cinemagoers walk out of the IMAX cinema of the China National Film Museum in Beijing after viewing a film (CFP)
China's total box office reached a new record of 21.77 billion yuan ($3.6 billion) in 2013, up 28 percent on 2012, according to the official figures released by the Film Bureau under the State General Administration of Press, Publication, Radio, Film and Television (the State Film Bureau) on January 9.
With this new box office high, China has again taken its place as the world's second largest movie market, a position it has held since 2012. Accounting for 10 percent of the world's total box office, China's staggering domestic achievement trails only the United States, which raked in $10.9 billion in 2013.
"China's entertainment industry has been growing rapidly in recent years. In particular, the film industry has taken a lead," Zhu Yuqing, a veteran Chinese filmmaker, said to China National Radio.
"We have reached an age of consumption, in which people are more and more willing to spend their money on leisure activities. Cinemas have become a major entertainment venue for city-siders. For young people, eager to get out of the house, films have become their favorite form of entertainment. Furthermore, IMAX and 3D technology have helped boost the number of Chinese cinemagoers," Zhu said. "It has been predicted that China's box office growth will continue for many years to come."
Homegrown victory
Like previous years, domestic films and Hollywood productions dominated China's box office in 2013. What distinguished 2013, however, was that homegrown films prevailed over Hollywood productions in box office earnings with a gross of 12.77 billion yuan ($2.1 billion) during the year.
Homegrown films accounted for 58.6 percent of box office earnings in 2013, compared to 48.46 percent in 2012. Hollywood, the mightiest movie empire in the world, took the second largest share of China's box office, claiming around 45 percent, a slip down from 51 percent in 2012.
Among the 10 highest-grossing films shown in Chinese cinemas during 2013, seven were made domestically and only three came from Hollywood. This is a sharp reversal from 2012 when Hollywood movies captured more than half of all ticket sales and only three local movies made it into the top 10.
Outside of Hollywood, no other foreign film industry managed to make a major impact on the Chinese box office. For example, South Korean blockbuster The Thieves earned only 22 million yuan ($3.6 million) in China last year.
The boom in domestic films is an encouraging sign for domestic filmmakers, Zhu said, identifying two main reasons for homegrown films surpassing Hollywood.
"On one hand, the quality of domestic movies has improved a lot in terms of both storytelling and technology. The market plays a decisive role in pushing filmmakers toward improvement. Though local films cannot compete with Hollywood in terms of technology, Chinese cinemagoers prefer to see local stories and stars," Zhu explained.
Comedy and romance were the two most popular genres for domestic cinemagoers, accounting for 16 percent of the total box office revenue for domestic films. The year's highest-grossing film, fantasy adventure-comedy Journey to the West: Conquering the Demons, directed by Hong Kong's Stephen Chow, amassed 1.25 billion yuan ($205 million) at the domestic box office during the 2013 Spring Festival.
The Spring Festival period is usually the hottest season for the Chinese box office, with couples and families flocking to the cinemas during the holiday period. Comedy, again, proved to be the biggest box-office draw during this time.
"On the other hand, Chinese cinemagoers have tired of too many Hollywood big-budget films featuring special effects and CGI (computer-generated imagery) technology. While they may be dazzling, these pictures are failing to satisfy Chinese cinemagoers. Their tastes have diversified and they are looking for films that provide a deeper reflection of culture," Zhu said.
Last year's box office returns have also shown filmmakers what sorts of films resonate with Chinese audiences, Zhu said. The Hollywood films that performed best at the domestic box office were those that included Chinese elements.