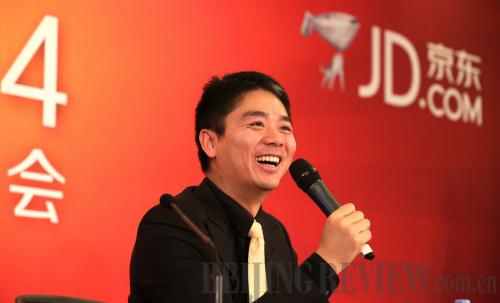 AT THE FOREFRONT: Pictured is Liu Qiangdong, founder and CEO of JD.com, China's second largest e-commerce company. It announced a U.S. listing of its shares on January 30 (CFP)
January 30 was New Year's Eve for China in 2014. While Ma Yun, founder and now Executive Chairman of Alibaba Group, China's e-commerce giant, was celebrating the Spring Festival like most Chinese, his company's rival JD.com was filing to the U.S. Securities and Exchange Commission (SEC) for an initial public offering (IPO) instigated by its founder Liu Qiangdong. In floating onto the stock market, JD.com has managed to pip its rival Alibaba to the post, and U.S. investors now have one more option when choosing to invest in Chinese companies.
According to the company's prospectus, JD.com filed to raise $1.5 billion in the IPO, but it has not decided whether to be listed on NASDAQ or the New York Stock Exchange. JD.com has listed Bank of America Merrill Lynch and UBS Investment Bank as underwriters to the offering.
JD.com is one of the largest e-commerce companies in China, following the market leader Alibaba. In July 2013, Alibaba was said to have almost finished their IPO preparations, and the only thing that remained to be decided was where to list, the United States or Hong Kong. The business-to-business sector of Alibaba was once listed in Hong Kong in 2007 but its trading was suspended in 2012. The ultimate goal of Ma is to list the group as a whole.
As JD.com and Alibaba are rivals, being the first business to go public means that company seizes a critical opportunity in the capital market.
Business model
Chinese people, especially young people, are familiar with JD.com, but U.S. investors may know little about this online retailer.
JD.com, established in January 2004 by Liu, was originally an online retailer of home appliances with its own delivery service. Such a business-to-customer (B2C) pattern significantly affected physical home appliance retail outlets.
When Liu was building JD.com, Alibaba had already taken shape, and its Taobao.com, a customer-to-customer (C2C) marketplace established for numerous start-up businesses, had already been well accepted by customers. Therefore Alibaba did not consider JD.com as a potential competitor.
However, Taobao.com was later rocked by allegations that some small retailers on its website were selling fake goods. Although Alibaba adopted various measures, they failed to have a satisfactory effect and negative news reports on the website were a frequent occurrence.
JD.com adopts a model of selling products it purchases itself, therefore it is easy to monitor the quality of its products. There is now a general perception among online shoppers that the products JD.com sells are reliable and the sales volume of JD.com has soared as a result.
After 2007, JD.com extended its product line beyond home appliances and began to sell consumer items such as clothing, bags and books. It introduced an online marketplace in 2010 to allow third-party sellers to sell products. It has also begun to offer other services such as advertising, transaction processing and Internet financing.
The competition between JD.com and Alibaba has thus ratcheted up. To vie with JD.com, Alibaba also began to offer B2C business in 2008 and rebranded their B2C platform Tmall.com in January 2012.
According to market research company iResearch, JD.com is now the biggest online direct sales company in China, holding a 45-percent market share in the third quarter of 2013. According to its prospectus, the number of types of product JD.com provides grew from 1.5 million as of December 31, 2011 to approximately 25.7 million as of December 31, 2013.