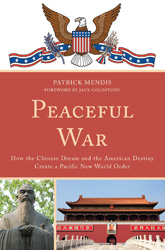 PEACEFUL WAR: How the Chinese Dream and the American Destiny Create a Pacific New World Order, by Patrick Mendis, Lanham, U.S., Plymouth, UK, University Press of America, 2013, $35.00 (paperback), ISBN 978-0-7618-6186-7
Those maintaining the United States and China are locked in intractable differences and that future conflict is inevitable are seemingly justified, but also short-sighted. A belief exists that the two nations are beyond rapprochement. However, out of the din of this acrimony comes a voice that exhorts objectivity in response to the jingoistic call.
This entreaty is formulated by George Mason University's Professor Patrick Mendis in his book, PEACEFUL WAR: How the Chinese Dream and the American Destiny Create a Pacific New World Order.
Relating his formative years in Sri Lanka and a life spent in American diplomacy and the U.S. military, Mendis examines evolving Sino-American relations and the development of a Pacific world order. After living under socialism in Sri Lanka and having taught American politics and government courses in China, the professor should know. Highlighting the histories and contradictions of China and the United States, Mendis shows how there are more integrating factors between the two nations than commonly known and understood.
China's peaceful rise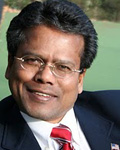 Patrick Mendis

China stands at the nexus of a new Pacific order. Like the Roman god Janus with two faces looking backward and forward, the Chinese have a view of their past while they survey the future. With its agrarian and feudal history, internecine conflicts, and time of Western domination, China has found itself on the wrong end of a Melian dialogue (by Thucydides in the History of the Peloponnesian War), where "the strong do what they can, and the weak suffer what they must." Now, China has experienced a meteoric rise with trillions in its currency reserves, vibrant economic growth, and emerging military capability. This has placed the country on the world's stage as Beijing seeks to expunge its past humiliations and declares its sovereignty in international affairs.

Mendis observes that China is undergoing tectonic shifts as it modernizes and emerges as a world power. With its Confucian heritage, China seeks to maintain its social harmony and virtues even as the Communist Party of China strategizes its course to further liberalize the economy. Similar to the principles of a strong centralized government advocated by Alexander Hamilton (1755-1804), an influential American Founding Father, China will further increase the range of opportunities afforded to its people with an interpretation of the Constitution likewise advocated by Thomas Jefferson (1743-1826)—a rival of Hamilton. Mendis argues that China is unconsciously "using Hamiltonian means to Jeffersonian ends."

As China seeks to achieve the "Chinese dream" through a "peaceful rise," America observes with a jaundiced eye. In fact, political and military considerations are not the only currency of strategy and policy; a large reservoir of denominated bills in Beijing is gaining greater power. Financially, China would like to see the world move beyond the Bretton Woods institutions of the International Monetary Fund and the World Bank—a global architecture with no relevance to current realities. Militarily, China would like to see the People's Liberation Army consolidate its position in the Asia-Pacific region.

The Pacific theater has long been a province of American military might where the U.S. Navy has plied the waters uncontested. Now, Beijing is employing its own version of the Monroe Doctrine (Mendis calls it the Ménluó Doctrine, a transliteration) in its naval policy. Does this mean that the two countries are heading for an inevitable conflict?

Given China's history, Mendis says no. Going beyond international security issues, the author suggests that both nations "are associated with the conviction that their respective nations are destined to be a symbol of hope to the world; regionally, as defined by China, or globally, as defined by the U.S." From Confucian influences on Benjamin Franklin's (1706-90) "13 virtues" to Thomas Jefferson's oriental gardens at Monticello to Pierre L'Enfant's (1754-1825) grand design for Washington, D.C., the history is replete with parallels.

China in transition

Unfortunately, from these parallels, the histories of the two nations would diverge. Over the past century, the Confucian union has been beset by warfare and invasion. While Mao Zedong (1893-1976) succeeded in unifying China, it was Deng Xiaoping (1904-97) who implemented the reforms that established the market-based economic system for a modern China.