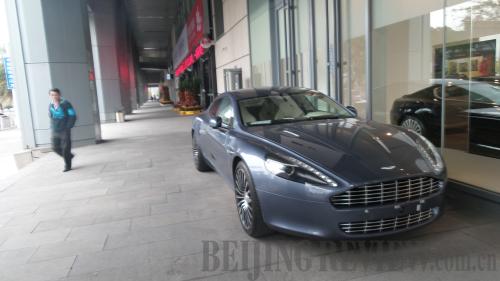 EYE-CATCHING: An Aston Martin sports car parks outside a 4S store in Shenzhen, Guangdong Province, on February 8 (CFP)
Aston Martin, a 101-year-old luxury sports car manufacturer whose models made a profound cultural impression in a cluster of James Bond spy movies, has found itself in the eye of a storm. On February 6, the British carmaker announced a global recall of 17,950 units, or 75 percent of all the sports cars it has produced since late 2007.
As a document filed with the U.S. National Highway Traffic Safety suggested, the recall had its origin in a counterfeit DuPont plastic material used in the making of the accelerator pedal arms produced by Shenzhen Kexiang Mould Tool Co. Ltd., a south China-based third-tier supplier. Later, Sarah Calam, spokesperson for Aston Martin, even expressed the intention to move related production back home.
As the high-end carmaker stated, the counterfeit plastic material adopted by the accused supplier was provided by China-based Synthetic Plastic Raw Material Co. Ltd., and may rupture in certain circumstances, making traffic collisions more likely.
Yet, the matter was far from over. Logging on the website of the Administration for Industry and Commerce of Dongguan, a city of Guangdong Province where the Synthetic Plastic Raw Material Co. Ltd., the alleged culpable party, is located, could not be found in the enterprises registration database.
According to a statement made by Calam, Aston Martin had no direct contractual relationship with Shenzhen Kexiang. It was Precision Varionic International (PVI), a British company contracted with Aston Martin that subcontracted the manufacture of accelerator pedal arms to Fast Forward Tooling (FFT), which in turn subcontracted the work to the Shenzhen-based parts manufacturer.
The party on the other side of the debacle, Shenzhen Kexiang Mould Tool Co. Ltd. found it hard to hold its tongue. "Our workshop covers no more than 400 square meters with outdated equipment. Therefore, we are incapable of handling bulk orders from the likes of Aston Martin," said Zhang Zhi'ang, manager of the small firm.
Zhang questioned why the blame fell on his company as the recalled cars were traced as far back as 2007. His company came into existence in August 2010, and had no direct contract with the exotic sports carmaker, a fact confirmed by Aston Martin's British headquarters.
If any, the company once made only a few models for FFT last year, argued Zhang. FFT only started working with Shenzhen Kexiang in April 2013 and their business only involved some 700 vehicles, Calam said in a statement sent to People's Daily.
"Why did Aston Martin blame us for a massive recall that included most cars produced since 2007?" Zhang asked pointedly.
On the slide
The maker of exotic sports cars had been beset by troubles regarding malfunctioning accelerator pedal arms, which may cause the car to be unable to accelerate or maintain speed. To counter such potential risks, prior to the current recall, it had launched two others within the space of a year—one in May 2013 and another in October 2013.
In modern industry chains, subcontracting is common, but the carmaker is required to inspect suppliers and sub-suppliers to ensure the quality of automobile parts, Jia Xinguang, an executive director at the China Automobile Dealers Association, told the Global Times. Zhou Zheng, a professor of business and economics at the University of Hong Kong, argued it was rare for a carmaker of Aston Martin's reputation to choose an unknown part supplier in its production chain. He believed it was a simple cost-saving measure.