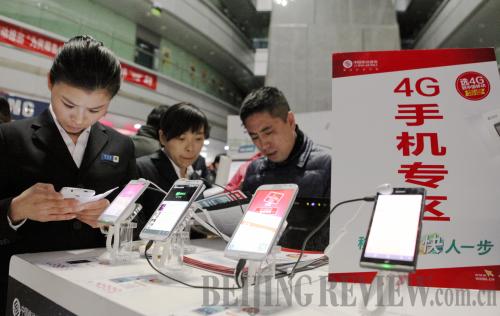 INTERCONNECTED WORLD: Consumers browse mobile phones at a China Mobile business hall in Beijing on November 6, 2013 (CFP)
One out of every three Chinese people is a mobile Internet user. Its huge population combined with its constantly ascending economic status spells an inspiring future for the smartphone sector, where Qualcomm Inc., a world leader in 3G, 4G and next-generation wireless technologies, dominates the market by producing high-quality chipsets. Yet, the company seems to have run into a stone wall as of late.
As early as last November, China's National Development and Reform Commission (NDRC), the country's top economic planner, commenced an anti-monopoly probe into Qualcomm's business in Beijing and Shanghai, on the basis of accusations of possible abuses of intellectual property rights.
The NDRC revealed that Chinese mobile phone vendors had to pay Qualcomm 1-6 percent of each mobile phone's cost as a patent licensing fee, not counting chipset charges.
The investigation was first sparked by condemnation from the China Mobile Phone Alliance (CMPA) under the China Communication Industry Association, which claimed that Qualcomm's business model had severely undermined China's mobile phone industry by overcharging its Chinese clients.
When patent holders charge exorbitant fees, there is nothing left for the Chinese mobile industry but manufacturing, said Wang Yanhui, Secretary General of CMPA, in an interview with China Central Television.
Established in 1985, Qualcomm is known for being the inventor of a digital wireless technology named Code Division Multiple Access (CDMA), the core component of some major 3G telecommunications standards such as Wideband Code Division Multiple Access. In 2013, Qualcomm's revenue rose 30 percent to $24.87 billion, with $7.88 billion coming from patents.
The telecom giant, hitherto, has maintained the lion's share of China's mobile phone chip market, and its client list includes most Chinese mobile phone makers, such as Lenovo Group Co. Ltd., telecom equipment producers Huawei Technologies Co. Ltd. and ZTE Corp.
Paying the price
Maintaining a market share of 30 percent in the international market, it is not the first time that Qualcomm has been involved in an anti-trust dispute. As early as 2005, in response to accusations from Nokia and Ericsson on the over-pricing of patent licensing, the European Union had initiated an anti-monopoly investigation against the U.S. telecom magnate that went on to span four years.
In 2006, South Korea launched similar probes into its business. Eventually, the Korea Fair Trade Commission confirmed the allegation that Qualcomm discriminately overcharged some of its clients and wrote out a check for roughly $252 million.
As a matter of fact, in 2009, some domestic mobile phone vendors accused Qualcomm of practicing unfair competition by abusing its advantageous market position, and asked to be treated according to the FRAND principle—fair, reasonable, and non-discriminatory terms. However, at that time, China had just enacted the Anti-Monopoly Law, and still lacked the experience and resources necessary to crack down on illegal market operation and behavior.
As China's Anti-Monopoly Law stipulates, fines can range from 1-10 percent of a company's revenue for the previous fiscal year. Given that Qualcomm registered sales of $12.3 billion in China in the fiscal year ended in September 2013, the fine could be as high as $1 billion.