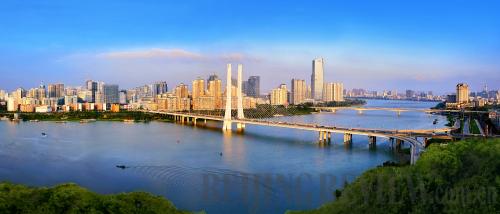 New Town of Dongjiang North Bank
Located in southeast Guangdong Province at the northeastern end of the Pearl River Delta, Huizhou covers a land area of 11,300 square km, with a population of 4.67 million. It is a coastal city in Guangdong with great potential for development.
Famous for its ancient culture, Huizhou has a history dating back more than 2,000 years, and is called the Gateway to East Guangdong.
With its beautiful landscape, Huizhou has obtained the honor of being one of China's most excellent tourism cities, a Nationally Recognized Clean City, a National Garden City and a National Model City in Environment Protection.
Huizhou is a fast-growing industrial city. Famous foreign and Chinese companies such as Shell, Samsung, LG, China National Offshore Oil Corp. and Lenovo have set up production as well as research and development bases in the city. It has established a modern industrial system with petrochemical and digital industries as pillar, supported by specialized agriculture, auto parts and components, trade and logistics, and eco-tourism enterprises as well as the textile industry.

Huanglong Temple of Mount Luofu
Huizhou is also a city of civilization and harmony. It was awarded the title of National Civilized City for two consecutive years with the highest scores among all the cities at the prefecture level. It was also awarded National Advanced City for Comprehensive Treatment of Social Security for two consecutive years and was listed as one of the Top 10 Happiest Cities in China for four years in a row. In 2013, Huizhou won the title of China's Safest City.
Huizhou has three characteristics:
Firstly, it has a large acreage. Its area accounts for over 20 percent of the province's total area. With a sea area of 4,520 square km, the city also has a total of 281.4 km of coastline. However, only 10 percent of its area has been developed.
Secondly, Huizhou has well-developed industries. One of its pillar industries is the electronic information industry, for which it is one of the most important industrial bases in China. The size of the industry surpassed 300 billion yuan ($49 billion) in 2013. Its other pillar industry is the petrochemical industry, with its output value reaching 140 billion yuan ($23 billion) in 2013. The two industries combined contribute more than 63 percent to the city's total GDP.
Thirdly, Huizhou is a city of inclusiveness. Although most of the people in Huizhou are Hakka, the city warmly welcomes people from other cities and treats them equally. The leadership of Huizhou has a high level of solidarity and society is harmonious, making the city a good place for entrepreneurs to start up their businesses.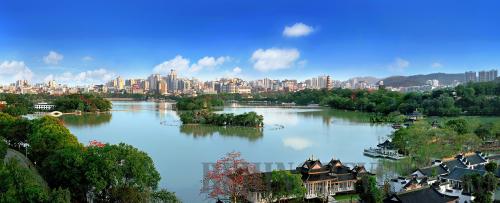 Beautiful forests around West Lake of Huizhou
In recent years, the Huizhou Municipal Government has been comprehensively deepening reform, streamlining its administration while improving its public service capability. Reforms of the administrative examination and approval system, public resources trading mechanism and commercial registration system as well as the investment projects examination and approval system have been firmly advanced, and the government is moving away from its system of hands-on governance toward a more service-oriented model, thus reaping the dividends of reform, the potential of the market, the vigor of the community and the ever-growing impetus for development.