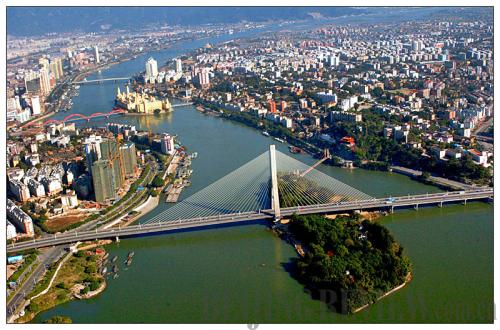 Minjiang River runs across the city
Located in the coastal area of southeast China, Fuzhou, the capital city of Fujian Province, is a famous cultural city with a history of more than 2,200 years.
With the highest green space ratio and the best air quality in China, Fuzhou, in the process of accelerating its economic development, has placed great stress on environmental protection and ecological progress and tried to improve people's well-being and create a beautiful ecological environment. In 2012, the air quality in Fuzhou ranked third among all the country's provincial capitals and municipalities. The city's forest coverage rate reached 54.9 percent this year, and people are never more than 10 minutes' walk away from a park or a greenbelt. In the meantime, natural reserves and ecologically functional zones are well protected, with the Minjiang River estuary wetland being awarded a place in the Top 10 Charming Wetlands in China. The city's ecological environment has become one of its proudest features.
In the development of its an export-oriented economy, Fuzhou has some comparative advantages in terms of its location, ports and industries in addition to the common advantages other open coastal cities typically have.
Fuzhou is the center of the economic zone on the west side of the Taiwan Straits. Currently, cooperation and exchange between Fuzhou and Taiwan is very active.
Fuzhou has world famous deep-water ports such as Jiangyin Port and Luoyuan Port, and has 2.94 km of coastline to build berths of capacities of 100,000 tons or above. Fuzhou Port is listed as one of the country's main hub ports. It has 129 commercial ports, of which 43 are deep-water berths capable of handling 10,000-300,000 tons, with an annual handling capacity of over 100 million tons. Fuzhou Changle International Airport is one of China's most important airports, with more than 70 air routes connecting 54 cities at home and abroad. Fuzhou Bonded Port, whose establishment was approved by the Central Government in 2010, covers an area of 92,000 square km. Enjoying the same tax and foreign exchange administration policies that bonded zones and export processing zones have, the bonded port has operating rules in line with international practice.
Fuzhou has 23 key industrial parks, seven of which are national-level. The city has formed clusters of key industries such as electronic information, mechanical equipment, textiles, food, metallurgic materials, petrochemical, bio-pharmaceutical and new materials and energy. Of them, the mechanic equipment, textiles, food and metallurgic materials industrial clusters have a realized output value of 100 billion yuan ($16.27 billion). After years of development, Fuzhou has become a center in the coastal area of southeast China with a high-level of industrial agglomeration and strong capability in its supporting facilities. It also boasts a group of market-leading companies with independent intellectual property rights.
In the electronic information industry, Fuzhou has been one of the world's most important display production bases, and TPV Electronics Fujian Co. Ltd. is the world's largest computer displayer producer. Computer chips produced by Fuzhou Rockchip Electronics Co. Ltd. represent the highest level of Chinese-made chips, which have the biggest market share of tablet chips in the world. In the software industry, Fuzhou Foxit Software Co. Ltd. is in a world-leading position in the e-book software development platform technologies market, holding 80 percent of the global market share.