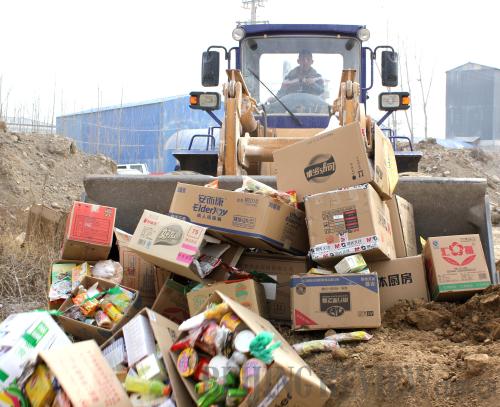 CRACKDOWN ON COUNTERFEITING: Industrial and commercial authorities destroy shoddily made imitation products in Dachang Hui Autonomous County, Hebei Province (LIU LIANG)
Li Haiping, a website editor, felt relieved when China Central Television (CCTV) finally exposed Nikon's flawed D600 cameras on its annual March 15 Consumer Rights Day Gala, a television show.
"Those who ignore consumers' sentiments are bound to stew in their own juices. The revelation will definitely deal a heavy blow to the Japanese electronics manufacturer," said Li.
In October 2012, one of Li's friends bought a Nikon D600, but soon found an accumulation of dust on its image sensor. Since Nikon's aftersales service personnel refused to repair it, Li related his friend's story on the website. To his surprise, a great many netizens shared similar experiences. In a concerted effort, they filed an allegation to the China Consumer Association (CCA) and sought support from influential media outlets such as CCTV.
"The exposure proved that what we did aroused CCTV's attention," said Li.
The consequences of being called out on the March 15 gala can be severe or even destructive for those who infringe on consumer rights, but the positive effects for consumers are also remarkable. On March 15, 2013, when the show first made public that Apple practiced a discriminative aftersales service policy toward Chinese consumers, the formerly uncooperative mobile phone vendor quickly made a conciliatory gesture by adjusting its maintenance policies.
The same was true of Nikon. Following the revelation, Nikon China claimed on March 16 that it had been ordered to take the flawed products off shelves by the Shanghai Municipal Administration for Industry and Commerce, and it would repair or replace any defective cameras free of charge.
To further intensify protection of consumer rights and reduce the cost of rights protection, the revised Law on the Protection of Consumer Rights and Interests took effect on March 15.
Yi Xianrong, a research fellow with the Chinese Academy of Social Sciences, said that consumers' right-protection awareness, as well as the related laws and regulations, are continuously improving. Additionally illegal behavior like imparity clauses, false advertising and discriminative policies are more difficult to get away with in the Chinese market. Despite that, however, there is a long way to go in catching up with the United States and the European Union.
Top complaint categories
According to a report released by the CCA, a total of 702,484 complaints were received in 2013, and 90.5 percent of them were settled, helping consumers to recover compensation totaling 1.17 billion yuan ($189 million).
The report suggests online shopping topped the list of complaints. Complaints on marketing and services amounted to 49,914 cases, and 12,950 cases involved online shopping.
Online marketing offers consumers more options, but produces a cluster of problems at the same time. Firstly, consumers are more exposed to shoddy goods. Secondly, some online vendors are incapable of providing high-quality services, and delays in deliveries are a frequent occurrence. Thirdly, aftersales services often cannot be easily secured. For example, some online merchants try to pass the buck, or even worse, turn a deaf ear to refunding requirements.
Another phenomenon noted was the rise of complaints regarding automobiles and parts. Income increase has made owning a private car a far less formidable prospect for Chinese consumers, resulting in a higher volume of complaints. In 2013, the CCA accepted a total of 25,268 such complaints, an increase of 66.5 percent from the previous year.
On October 1, 2013, the Provisions on the Liability for the Repair, Replacement and Return of Household Automotive Products officially came into force, and contract, aftersales service and particularly quality turned out to be the three major auto-related complaints.
The fulfillment of aftersales commitments for home appliances was also a major concern on consumers' minds. In 2013, a total of 165,571 complaints were filed in the home appliance sector, accounting for 23.6 percent of the total, with most centering on repair, replacement and return. For instance, when consumers buy air-conditioners, refrigerators, or washing machines, manufacturers, as a rule, promise a three-year warranty period. However, when quality problems arise, they may refuse to repair the products for free, or find excuses to delay the maintenance.
Yi called for further examination of the aftersales services of the home appliance sector, for he reasoned that such a mature industry should have overcome such problems by now.