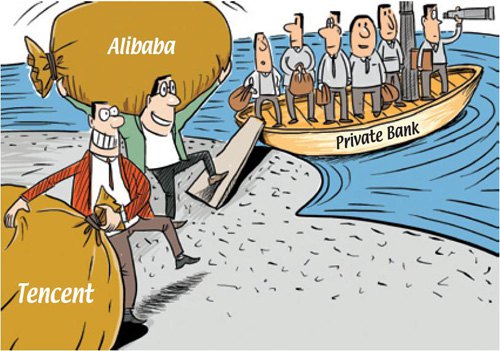 (CFP)
After years of heated controversies and dashed expectations, the China Banking Regulatory Commission (CBRC) finally unveiled its pilot private bank scheme on March 11, which selects 10 privately owned companies, including Internet giant Alibaba and Tencent, to participate in the preparations for setting up five private banks.
The private banks need to comply with the provision that the equity ratio of a single shareholder should be no more than 20 percent, and be co-sponsored by at least two private capital providers, said Shang Fulin, CBRC Chairman.
"The pilot program is a breakthrough. For the first time, private capital will be empowered to dominate banks' management, business development and risk management," said Shang.
"These banks need to set up their own board of directors, board of supervisors and management structures, so that they can operate independently," said Shang. The full play of the market mechanism is what mainly differentiates these private banks from existing commercial banks, he said.
Private banks also need to make clear their prospective target markets. Experts say that if private banks engaged in similar businesses as state-owned banks, competition would be intensified and the marketization process would be hampered.
Shang suggested that the five private banks would be differentiated in operation pattern with a collective focus on small and micro-businesses, as well as residential communities.
For instance, the team of Alibaba and Wanxiang Group, a Hangzhou-headquartered automotive components manufacturer, will specialize in absorbing small deposits and issuing small loans by setting a ceiling on the deposit and loan of every customer. Moreover, Alibaba will further exploit its edge in Internet technology and mainly target small online businesses.
The bank co-established by Tencent and its partner will be geared toward attracting large deposits and issuing small loans.
"We'll push forward the establishment of private banks cautiously and prudently," said Shang, specifying no concrete timetable for the official launch of the five banks.
Equal access
According to CBRC statistics, more than 100 small and medium-sized banks are now seeing private capital make up half of their assets, and in rural areas, the ratio even surpasses 90 percent for small and medium-sized financial institutions. Nonetheless, state-owned capital is still playing a leading role in the banking sector.
State-owned banks have gotten used to the soft existence provided by fat deposit and loan interest margins. It seemed that money would voluntarily appear in their pockets without them having to rack their brains for ways of cozying up to customers, while small and medium-sized banks have always been in a disadvantageous position in competing with state-backed banks.
Competition leads to progress. Pan Gongsheng, vice governor of the central bank, said that the birth of a private banking sector bodes well for China's social and economic development, as private capital's entry into the financial services sector would help to spark innovation, and further facilitate the development of startups and programs concerning individual farmers, agricultural ventures and rural areas as a whole.
"Diversified competitors should be admitted into the banking sector and be treated as equals. Voices calling for private banks have evolved into doubts over the government's attitude toward fair competition," said Pan, noting that the establishment of private banks was meaningful for cementing people's consensus and building up confidence in financial reform.
Pan argued that equal admittance criteria should be applied to private banks, making sure that all forms of ownership have equal access to factors of production, and that the private ownership economy has equal rights, enjoys equal opportunities, and competes on an equal basis with the public ownership economy.