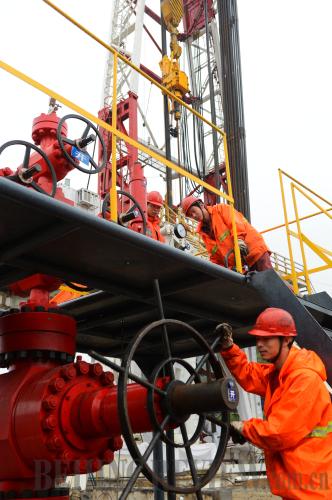 PROMISING: Staff members work at a shale gas block in Fuling District of southwest China's Chongqing (IC)
China Petroleum and Chemical Corp. (Sinopec), Asia's largest oil refiner, is steering the country's shale gas exploration as well as the mixed-ownership reform targeted at bloated state-owned enterprises (SOEs).
On March 23, the Chinese oil giant handed in its 2013 financial performances to shareholders. Its net profits stood at 66.13 billion yuan ($10.66 billion) last year, up 3.5 percent year on year, as calculated according to international financial reporting standards.
As growth rate moderates, Sinopec is eyeing future growth in technological innovation and systematic changes. The company has pledged more input into shale gas exploration and will start to open up its mega marketing segment to private capital this year.
Tech breakthrough
When announcing its 2013 results, Sinopec proudly claimed it had achieved significant breakthroughs in the exploration and development of a shale gas block in southwest China's Chongqing.
Those advances will help China realize commercial development of shale gas sooner than expected, said Fu Chengyu, Chairman of Sinopec Group.
The Fuling field in the southwestern municipality, the nation's first large-scale shale gas field discovered in 2012, has 2.1 trillion cubic meters in reserves, according to Sinopec.
"The company will enhance exploration and development efforts for tapping shale gas at Fuling in order to spur the swift development of China's shale gas industry," Fu said.
The company expects the annual capacity of the Fuling field will reach 1.8 billion cubic meters by the end of 2014 and 5 billion cubic meters by 2015. Sinopec aims to have annual production capacity of 10 billion cubic meters by 2017, equivalent to 10 million metric tons of oil.
Looking to satisfy its growing energy demands, China is turning to shale gas, natural gas trapped within shale formations.
With methane as its main ingredient, it is a clean and efficient source of energy. The gas is collected through a complicated process called hydraulic fracturing, or "fracking."
Spearheaded by the United States, an ongoing shale gas revolution is helping transform the world's energy outlook.
The top five countries with the largest minable shale gas reserves are China, the United States, Argentina, Mexico and South Africa. China has about 20 percent of the world's total shale gas reserves, the largest in the world, according to a report published by the country's Ministry of Land and Resources. China's Sichuan Basin, Ordos Basin, Tarim Basin, the west-Hubei and east-Chongqing area, and Guizhou and Hunan provinces boast huge stores of shale gas, according to a survey conducted by the ministry.
"China has huge reserves of shale gas. If successful industrialized production is realized, it would significantly ease the strain on the nation's energy supply," said Li Shousheng, Vice Chairman of the China Petroleum and Chemical Industry Federation.
To tap its reserves, the Chinese Government has unveiled a string of policies to boost production. In March 2012, the government released its 2011-15 plans for the shale gas industry. According to the plan, the country is set to increase its existing next-to-nothing production to 6.5 billion cubic meters a year by 2015, and then to between 60 billion and 100 billion cubic meters by 2020.
China had 285 shale gas wells as of the end of 2013. But to date, China has not started commercial production of the energy.
Sinopec Chairman Fu said the new discovery and development at the company's Fuling shale gas field symbolizes a much earlier than expected entry into large-scale commercial development, which cuts off the 10-year development period originally outlined by the company.
"Given China's abundant shale gas resources, we believe this will significantly support and accelerate the implementation of the country's strategy, increasing the supply of green energy and optimizing the energy consumption structure. It will also deliver benefits to energy conservation, emission reductions and air pollution control," Fu said.
Business restructuring
Besides relentless technological innovation, Sinopec is courting private capital in an attempt for higher profitability. It's on the way to opening up its sprawling downstream units.