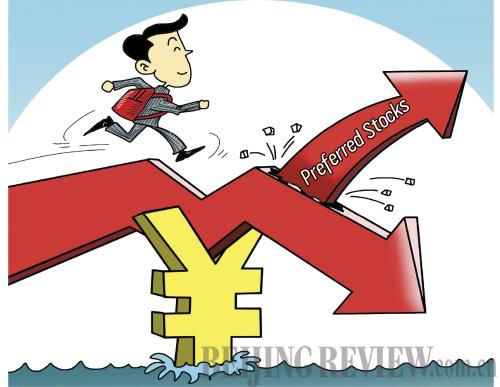 Preferred stocks will bring positive results to the Chinese economy and the capital market (CFP)
Issuing preferred stocks to raise funds—a financing method commonly used in developed markets—is to be introduced into the Chinese market. The China Securities Regulatory Commission (CSRC) on March 21 issued rules for a pilot program on preferred stocks, allowing three types of companies to publicly issue preferred stocks: Shanghai Stock Exchange's 50 index members (the largest by market capitalization), companies planning to acquire other listed companies by issuing preferred stocks for payment, and companies buying back common stocks that plan to decrease their registered capital by issuing preferred stocks as payment.
Since the reform and opening-up policy was introduced in 1978, China has adopted many market-oriented economic changes by learning from international practices, especially those in developed countries, such as modern corporate governance systems and establishment of a capital market. Now it is preferred stocks' turn.
A report by China Securities Co. Ltd. says the pilot program of preferred stocks in the Chinese market can offer a new financing tool for blue-chip shares. It can both effectively alleviate the financing pressure on these companies and help improve their corporate governance structures, hence providing an alternative pattern for the reform of state-owned enterprises, especially financial enterprises. In the meantime, issuing preferred stocks can also strengthen the power of industrial leaders in the banking and insurance industries, being conducive to accelerating reorganization and the boosting of restructuring in these industries.
According to the report, after consideration of some indices, such as ownership concentration, dividend yield ratio and company evaluation, the conclusion can be drawn that blue chip shares in the banking, power, transport, construction, coal and real estate industries may be the first to issue preferred stocks.
Investors' advice
Besides learning from international practices, policymakers listened to the voice of investors in the domestic market. This is a big step in progress toward the improvement of China's capital market. Previously, many policies of the CSRC, such as those concerning issuance of new stocks as well as margin trading and short selling, were often denounced by market investors. It was said at the time that the CSRC had not listened to investors when formulating these policies.
But this time, the CSRC began collecting opinions from the market from last December onward. In the final draft of the rules, the biggest change made was the provision prohibiting listed companies from issuing preferred stocks that can be converted to common stocks.
According to a press release by the CSRC on March 21, the commission received 429 statements of opinions on the convertible preferred stocks, 427 of which came from individual investors. They held that if preferred stocks are allowed to be converted into common stocks, the interests of common stock holders will be diluted and common stock prices in the secondary market will drop. Therefore investors suggest preferred stocks be prohibited from being converted into common stocks.
Choice of timing
Allowing issuance of preferred stocks is a major task for, and target of, both the reform and development of the Chinese capital market, but it has come unexpectedly soon. The overall process only took three months for the CSRC, from collecting public opinions in December 2013 to releasing the rules in March. It has been developed at a faster rate than all previous policies regarding the capital market.
"This may be because of the sluggish economy. The top leadership hopes preferred stocks can stimulate the capital market," said Wang Yong, a macroeconomic analyst with China Securities Co. Ltd.
According to him, based on previous experience, the market expected that the pilot program of preferred stocks might be launched in the second half of this year. However, since 2014, China's stock market has remained in the doldrums because China's economic performance has failed to meet expectations and the domestic financial system is facing capital pressure.
China's economic performance in the first quarter was not optimistic, with many economic indices, such as industrial added value, fixed assets investment and foreign trade, being lower than expected. For this reason, major investment banks have lowered their forecast on China's economic growth this year. For example, Bank of America Merrill Lynch lowered its China economic forecast from 7.6 percent to 7.2 percent, and UBS reduced its forecast from 7.8 percent to 7.5 percent.