DE-CAPACITY: Workers dismantle a blast furnace in an iron and steel company based in Zhangjiakou, north China's Hebei Province (CHEN XIAODONG)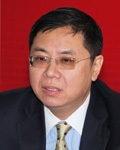 As China faces risks through upgrading the structure of its economy, the general consensus is that these risks are in the main manageable. More specifically, China's current debt level is under control and the U.S. tapering of quantitative easing (QE) is not likely to trigger a financial crisis in the country. Looking further ahead, the challenges of overcapacity are being addressed and the possibility of economic turbulence brought about by the real estate bubble is slight.
Debts controllable
China's debts include government debt, corporate debt and household debt. The overall debt level is 220 percent of the nation's gross domestic product (GDP).
Statistics by China's National Audit Office show government debt at all levels had reached 30 trillion yuan ($4.8 trillion) by the end of June 2013. This figure was 60 percent of China's GDP, lower than the world average of 80 percent and the developed countries' average of 100-110 percent. China's household debt has amounted to 16 trillion yuan ($2.6 trillion), 31 percent of its GDP, much lower than the developed countries' average of 80-100 percent and even lower than the world average. However, Chinese enterprises suffer heavier debt burdens, about 120-130 percent of the country's GDP, while the average level in developed nations is less than 100 percent.
China's overall debt ratio is also lower than that of the United States and the euro zone, both exceeding 300 percent of their respective GDPs. Japan's overall debt level is as high as 500 percent of its GDP. Comparatively speaking, China has a high savings rate, a high growth rate and a low budget deficit. Meanwhile, China has a trade surplus, abundant foreign exchange reserves and a relatively low level of inflation. All of the aforementioned will play to its advantage in terms of future development.
Even if there are potential risks in regard to debts, China is capable of coping with them. By absorbing private investments and raising funds through the stock market to increase enterprises' capital, high corporate debt levels will be alleviated. Banks can securitize their credit assets. Companies can swap their debt into equity, thus lowering their debt ratio.
The National Audit Office estimates that China's local government debt had amounted to 20 trillion yuan ($3.2 trillion) by the end of June 2013. Although this seems a large sum, the funds are mostly invested in constructing urban facilities and infrastructure, which will benefit the local economy in the long run. In addition, large sums are usually borrowed for specific projects, which are generally profitable. In addition, local governments can liquidate part of their assets to pay off the debts.
Local governments can also enhance their ability to pay for infrastructure debts by introducing the mechanism of public-private partnerships and establishing financing and developing banks. Therefore, the possibility of an overall debt crisis is slight indeed.