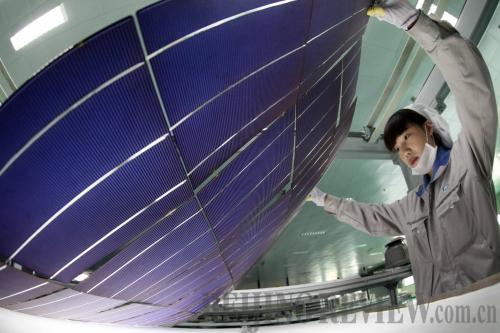 QUALITY INSPECTION: A worker from a new-energy company in Lianyungang of east China's Jiangsu Province checks solar photovoltaic plates to be exported to a Western market in June 2013 (CFP)
On September 17, 2012, China made a request for consultations with the United States regarding the GPX Bill, under the dispute settlement mechanism of WTO, officially initiating the organization's procedure for conflict resolution. This dispute involved 26 anti-dumping and countervailing measures from November 2006 to March 2012 made by the U.S. Department of Commerce against 24 categories of Chinese-made products.
In accordance with the WTO's dispute settlement rules, China and the United States held consultations and exchanged views in Geneva on November 5, 2012.
Shen said this case, involving many categories of products of a large value and challenging two systematic U.S. trade remedy issues, namely "double remedy" and the GPX Bill, has attracted widespread attention from the international community.
The WTO panel backed China on its challenge on "double remedy." It established that the U.S. Department of Commerce simultaneously imposed anti-dumping duties and countervailing duties against Chinese exports. When it decided to collect anti-dumping duties, it adopted the surrogate country system of non-market economy, with export subsidy factors already being considered, thus causing "double remedy" against export subsidies.
However, the WTO didn't support China's claim that the GPX Bill was inconsistent with WTO rules. Two of the three panel members held that the bill neither enhanced the duties nor added import burdens, but the other member disagreed with them. China expressed disappointment at this decision.
Better use of rules
Yang Guohua, Deputy Director of the MOFCOM's Department of Treaty and Law, said that as China's exports grow, trade frictions are unavoidable, so China should look on the WTO decision from a rational perspective. The key point is how to settle the disputes. Legal resolution led by the WTO is an appropriate way to settle international trade disputes, because it is reasonable, peaceful, predictable and conducted using a set of rules.
Since entering the WTO in 2001, China has brought 12 suits to the organization and was sued for 19 cases, according to Yang. China has learned to use the WTO-led way to resolve trade frictions with other countries, he said.
However, sometimes, China has no alternative but to become involved in litigation with the United States. As the trade volume between the two countries continues to grow, the United States has been more reliant on trade protectionism, and unfair trade barriers have become one of the biggest obstacles to exporting "made-in-China" products.
There are many reasons for the United States to rely on trade protectionism. Some Chinese media have contended the major reasons are economic and political in nature. A People's Daily Overseas Edition report on March 31 said that economic recovery in the United States is not yet steady, and with regard to protecting its domestic industries and employment rate, the country considers its trade deficits with China an eyesore. However, it is intensifying restrictions on hi-tech exports to China. In the meantime, some U.S. politicians are increasingly turning bilateral trade issues into political ones. When the U.S. economy is faced with a problem, they tend to make China a "scapegoat."
Wang Li, a researcher with the Chinese Academy of International Trade and Economic Cooperation under the MOFCOM, said that while China had become the world's biggest goods trading nation, it had also become a major target and victim of global trade frictions. "If China doesn't launch counterattacks, the cost for the United States to conduct such anti-dumping and countervailing investigations will be zero. If Chinese companies and the government actively respond to the actions, the cost for the United States to launch such investigations will be very high," Wang said.
He elaborated that the Chinese Government and industrial associations and companies must be active in responding to litigation and conduct effective bilateral consultations. They must also formulate a strategy for litigation, changing China from a major victim of trade frictions into a "powerful protector of its own rights." Not only will this active attitude reduce their losses, but it may also ensure that the United States is more prudent in making trade decisions in the future.
In the case against the U.S. Tariff Act amendment, China sued the United States for undertaking "double remedy" taxation on 24 types of products within the same lawsuit, a measure which can save costs and achieve better results, showing that China has become more flexible in protecting its legitimate rights and interests by using WTO rules.
Email us at: lanxinzhen@bjreview.com