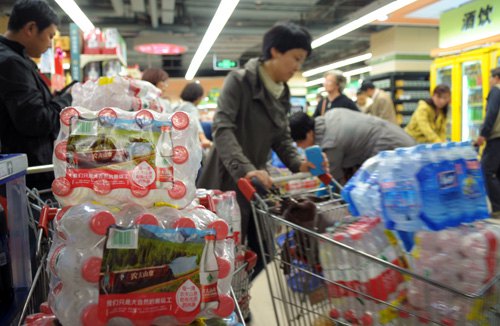 PANIC BUYING: Local residents snatch up bottled water in supermarkets in Lanzhou, capital of Gansu Province, on April 11 (GUO GANG)
On April 11, long lines appeared in front of every grocery store in Lanzhou, capital city of northwest China's Gansu Province. People loaded up on everything drinkable, leaving shelves cleared of bottled water. That day, not only was bottled water cleaned out, all of the beer and milk was also snatched up.
All this happened after local authorities announced that benzene, a cancer-inducing chemical, had been found in tap water at 20 times above national safety levels. The water supply was turned off in one district, and officials warned citizens not to drink tap water for the next 24 hours. Shock waves from the scare reverberated among the public and chaotic buying in stores continued for several days, until supply of tap water was fully resumed on April 14.
An ensuing investigation found that the benzene came from a crude oil leak from a pipeline owned by a unit of China National Petroleum Corp., the country's largest oil company.
It was the second water-related incident in Lanzhou this year. In March, residents reported a strange odor when they turned on their taps. An investigation found a high concentration of ammonia.
Lanzhou Veolia, the only water supply company in the city, was immediately cast in the media spotlight and widely criticized.
Lanzhou Veolia is a joint venture established in 2007, with Veolia China, a unit of French firm Veolia Environment, who owns 45 percent of its stake with the local government owning the remaining 55 percent.
Lanzhou Veolia's foreign-funded background, combined with an alleged cover-up and apparent supervision flaws, has irritated many Chinese people. Some local residents have filed lawsuits against the company. Some angry netizens even demand that Veolia should be banned from the Chinese market.
Founded in 1853, Veolia entered the Chinese market in 1994. To date, the company operates projects across half of China and offers water as well as wastewater services to 43 million people in the country and hires over 13,000 employees.
According to the research institute affiliated to h2o-china.com, an industrial website, the water disposal ability of Veolia in China had reached 13.22 million tons per day as of the end of 2013, ranking second in China.
In 2002, Veolia spent 266 million euros ($368 million) to buy a 50-percent stake in the Pudong tap water company in Shanghai. Over the following five years, Veolia inked cooperation agreements with local water supply or wastewater disposal firms in China's first- and second-tier cities, including Beijing, Tianjin, Chengdu of Sichuan Province, Qingdao of Shandong Province, Shenzhen of Guangdong Province and Hohhot of Inner Mongolia Autonomous Region.
The French water business giant adopted a unique business model when exploring the Chinese market, which combined expensive purchases with financial instruments.
For instance, Veolia spent 1.71 billion yuan ($274.1 million) to buy a 45-percent stake of Lanzhou water supply group in 2007, several times that of the bidding prices offered by its competitors. Also, the company often cooperates with firms in the financial sector, which allows it to leverage huge projects with minimum start-up capital.
The breakneck expansion ended in 2008 when the financial crisis roiled the whole world and reined in the expansion of multinationals. In 2011, Veolia pledged to increase the proportion of businesses revenue from China in its global businesses to 8 percent in the following five to 10 years. The target, however, has been reduced to 6 percent to date.
Waning reputation
The world-class water business operator has thus far failed to live up to its sterling reputation. Indeed, the increase in incidents in which the company was involved seems to have been positively correlated with its expansion.
Its growth has been marked by an array of breaches of safety regulations. Ever since July 2007, when Veolia's joint venture in Qingdao was accused of transferring wastewater to drinking water, the company was allegedly responsible for 13 water supply or wastewater disposal incidents, including five in Shanghai, two in Beijing, two in Qingdao, one in Zhuhai of Guangdong, one in Haikou of Hainan Province, one in Urumqi of Xinjiang Uygur Autonomous Region and one in Lanzhou.