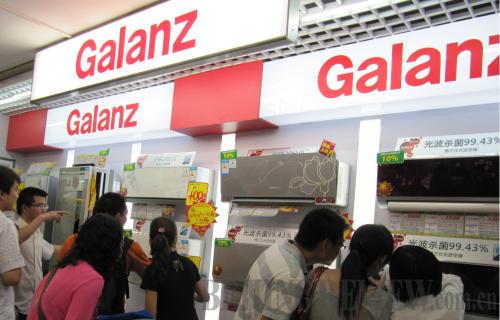 FIRE SALE: Customers check Galanz air conditioners that are on sale on June 21, 2012, in Chongqing (IC)
At midnight on April 14, over 2,000 angry workers of Galanz Group, a home appliance maker, violently smashed everything in the canteen, workers' dormitory, production lines and supermarkets in a Galanz factory located in Zhongshan, south China's Guangdong Province. All of the factory's security guards became too frightened to deal with the mob and fled. It was not until six o'clock in the morning that the riot was stopped by local police.
The next day, a microblog describing the riot vividly with words and pictures, was reposted tens of thousands of times. Although an ensuing statement from Galanz claimed only 200 workers were involved and that the riot was caused by irrational behavior as a result of drinking, people who were at the scene have claimed otherwise.
"The riot occurred because the workers are seriously underpaid. When the company recruited us, it promised 3,000 to 4,500 yuan ($480-720) a month and weekend breaks. However, after coming here, we have to work for more than 10 hours a day. The company offers zero compensation for the night shift. We can only take one day off each week and only get paid a little bit over 2,000 yuan ($320) a month," a worker surnamed Huang told The Beijing News after witnessing the riot. Huang, along with several hundred other workers, quit their jobs after the riot.
Rainy day
China's domestic household appliance makers are going through tough times.
China used to boast a low-cost advantage. However, as the country moves toward being an aging society, the demographic dividend is fading away and labor cost is surging. That, combined with sluggish domestic and external demand, have made the growth targets of domestic appliance makers hard to achieve.
Galanz is a private firm dedicated to the production of microwave ovens, air conditioners, refrigerators and washing machines. The company was at first famous for its good-quality yet affordable microwave ovens and was the top seller of the appliances in China for 12 consecutive years. Up until today, the major competition strategy adopted by the company was a low-price model. Therefore, the company has been dubbed a "price slaughterer" by its competitors.
Although the cutthroat price war helped Galanz eliminate most of its competitors, the strategy also substantially slashed the company's profit margins, which required the company to ruthlessly cut costs by lowering employees' salaries. As residents' income and price of raw materials are rising faster than ever in China, the company's low-cost strategy seems to have lost its foothold.
"Galanz still sees the price war as its major competitive strategy, which has been proven unsustainable for today's home appliance market," said Liu Buchen, an expert in the home appliance industry.
"Microwave ovens used to be the pillar industry for Galanz. However, the period of fast expansion is now over. Although Galanz later made efforts in exploring the air conditioner and washing machine markets, it failed to attain a satisfying market share. Galanz doesn't have the pricing right and always follows the low-price strategy, leaving the company in worse and worse financial condition," Liu said.
"Galanz is mired in a vicious circle. No input in research and development led to no breakthroughs in its product portfolio, which in turn forced the company to further cut product prices to attract customers. Then, the company's profitability was affected and its promises to employees were broken," Liu added.
Galanz is by no means the sole example of this type of employee-related trouble in the home appliance market.
A microblog said that from April 13 to 14, a strike took place in a factory owned by Gree Electronic Appliances, located in Zhuhai of Guangdong, to protest low wages and harsh working conditions. Although the company later denied that a large-scale strike or production halt occurred, it admitted that some employees had engaged in disputes with the company on their low salaries and that the two parties were still negotiating with each other. Earlier, the company was reported to have docked several millions of yuan in bonuses from its employees.