The Silk Road
As Chinese art gains popularity worldwide, artists in China are rediscovering the value of their traditional culture. In a recent interview with Beijing Review, Yang Xiaoyang, President of the China National Academy of Painting, elaborated on the positive interactions between Chinese and Western artistic traditions. Excerpts follow:
Beijing Review: Could you tell us about your experience during your recent trip abroad?
Yang Xiaoyang: We held exhibitions of traditional Chinese paintings in seven countries around the world. Our exhibitions at the UN headquarters in New York City, the Chinese Consulate General in New York, and the U.S. Congress in Washington, D.C. were highly rated. Russia was the last stop on our round-the-world tour. Our exhibition in Russia, thanks to the effective pre-opening promotion and the unique form of the exhibition itself, was a success, and the local audience showed great interest in the same way people in France, Greece, Germany, and Southeast Asian countries did.
I believe the reason for this success is that a delegation of artists followed the exhibitions to each country and were in communication with local artists, so that in-depth discussions on the artworks, artistic theories and techniques as well as cultures were able to be held. Over the past few years, many exhibitions representing Chinese culture have been held overseas. When we had exchange activities like exhibitions and seminars before, however, we mainly concentrated on how Chinese artists could learn from our Westerner counterparts instead of exploring norms and innovation in our own art.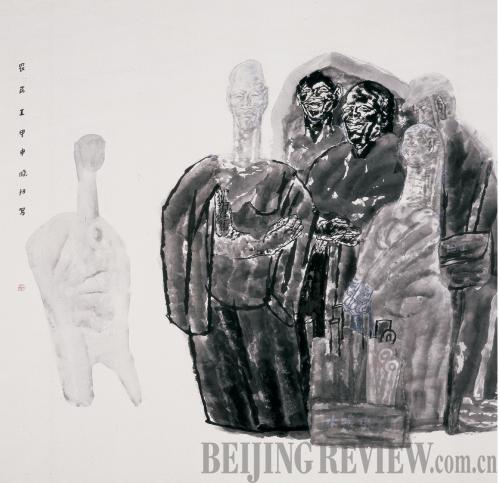 Rural Migrant Workers
Does that mean Chinese art is gaining a voice in the world?
To be honest, over the past five years, I have noticed the foreign attention focused on Chinese art is beyond what we've ever had before. The underlying reason for this attention lies in the national prosperity of China and its increasing influence in the world. People outside the country have begun to recognize China and its culture. Now they would like to sit down and listen to what we have to say. Through this kind of dialogue, Westerners can gain a comprehensive and in-depth understanding of Chinese art and aesthetics.
Currently, many Western artists admire their Chinese peers for their traditional artistic techniques. Seeing the works of Chinese artists, some have said they're beginning to understand why Western artists, like Pablo Picasso, would want to create such a highly stylized genre, and they start to understand Picasso's world through Chinese art. There is much evidence to show that almost every Western master was once influenced by Eastern art, which they might also get through Japan or the Republic of Korea. But this Eastern culture is rooted deeply in China—the same way Western art is in Greece.