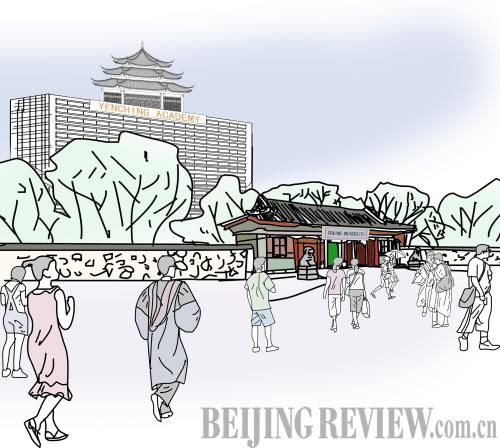 (LI SHIGONG)
To recruit top scholars from China and around the world, Peking University (PKU) is set to launch Yenching Academy next fall, an affiliated school that offers a master's degree in China studies. Students will be enrolled through PKU's cooperation with their colleges at home and abroad and through open recruitment. Investments have already been made to PKU, providing full scholarships to students—the first 100 of whom are expected to arrive in September next year.
Yenching Academy's sinology courses will include philosophy and religion, literature, culture, history and archaeology, public policies, international relations, economics, and law and society. The term of study will be one-three years for international students and two years for Chinese students. Professors will be from both PKU's host of established scholars and foreign academic institutions.
It is hoped that the launching of this program will further expand China's influence on global education and bring international prestige, commensurate with the nation's economic expansion. However, given the university's lofty goal—to recruit top scholars and cultivate powerful international leaders—it's rather questionable whether this is a serious venture or just another way for the privileged academic elite to fluff their resumes. Many wonder: Will this high-profile master's degree program really help China in the way that is expected to?
Tu Jianmin (Hangzhou Daily): First and foremost, it sounds impossible to finish a program comprising so many courses in the span of one year. But, in my opinion, the disputes are not about whether Yenching Academy should be opened or where it should be located, but rather about the transparency of this program. How can PKU operate and manage the school in a more democratic, public-oriented manner? The prestigious university has launched a very impressive program—yet it only serves 100 people. Is this just another place for the privileged? Many are rightly worried about education fairness.
As the holy land in Chinese education, Peking University has laudable goals in creating Yenching Academy. However, this program, which demands a huge investment and whose goal is to "cultivate international leaders who will make a difference in the world," appears to be more a luxury degree factory than an academy. Though the university has said it sought opinions on this topic with its students and teachers many times, doubts remain.
The most important aspects of a university are not its beautiful buildings or large campus, but its academic success and influence. PKU has already attained a sterling reputation and international prestige. Is it really necessary to set up an additional academy? Whose Yenching Academy will it be?