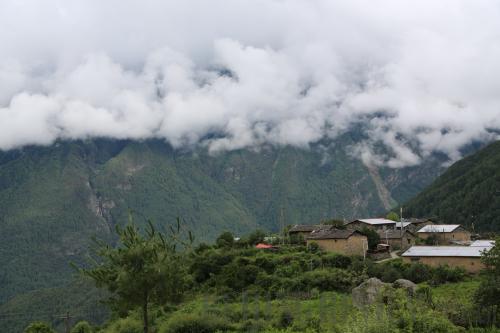 MOUNTAIN VILLAGE: A village in Gyirong County, part of the Mount Qomolangma Nature Reserve in Tibet Autonomous Region (LI GUOWEN)
The Qinghai-Tibet Plateau—the highest elevated region on Earth—is home to five mountain peaks that are more than 8,000 meters above sea level, including the 8,844.43-meter Mount Qomolangma (also known as Mount Everest in the West). In recent years, more and more tourists have traveled to the area to admire Mount Qomolangma, whose name means "holy mother" in the Tibetan language.
This region is highly ecologically fragile and sensitive to climate change. Once the region's ecology is damaged, it would be very difficult to restore.
Under the meticulous care of the local people, this mysterious region has preserved its pristine look, where wild animals and plants still thrive today.
Engaging local residents
Mount Qomolangma straddles Tingri, Nyalam, Gyirong and Dinggye counties in Xigaze Prefecture of southwest China's Tibet Autonomous Region, and China's border with Nepal runs precisely across the summit.
To protect the unique local ecological environment, in 1988, the Tibet Regional Government demarcated a conservation area of Mount Qomolangma covering more than 33,000 square km. In 1994, it was made a national-level nature reserve, and in 2003, it was designated as a biosphere reserve by the UN Educational, Scientific and Cultural Organization's Man and Biosphere Program.
The nature reserve has an average altitude of 4,000 meters. Although the area is very ecologically fragile, it is inhabited by more than 80,000 farmers and herders. Half of the residents in this remote alpine area live below the official poverty line. Their reliance on natural resources poses a major threat to the local ecological system.
The Mount Qomolangma Nature Reserve Administration Bureau (Qomolangma Reserve Bureau) has successfully established a self-sustaining protection system and appointed local residents as environmental guardians, said Gesang Droma, the bureau's deputy director.
Lobsang, a resident in Tingri's Gangkar Town, used to burn wood from dwarf Siberian pine to make fire for cooking. With subsidies from the government, his family has built a biogas digester. Half of the households in the town now use biogas digesters, which have significantly reduced firewood consumption.
Gyirong Town in Gyirong County is relatively low-lying and thus heavily forested. The local government has not relented in its efforts to protect trees. Dorje, Director of the Gyirong County Environmental Protection Bureau, revealed that local farmers and herders are given only three days a year to fell dead trees for use as firewood. Local residents are informed of the time beforehand, and after the three days are over, wood chopping is banned again.
To protect the forest and grassland from overgrazing, the nature reserve restricts the number of yaks, sheep and goats that farmers and herders can take to pasture, and these same farmers and herders are financially compensated for their ecological conservation efforts. Local residents can get an annual subsidy of 200 yuan ($32) for reducing their flock by one sheep and 1,000 yuan ($162) for removing one yak or horse. Lobsang's family can get more than 10,000 yuan ($1,620) in compensation every year, which almost equals the family's one-year income from other sources.
Many farmers and herders no longer engage in agriculture or animal husbandry and have found new jobs in environmental protection, becoming forest rangers, wild animal guards and sanitation workers. Tingri has 1,157 forest rangers, and plans to hire more.