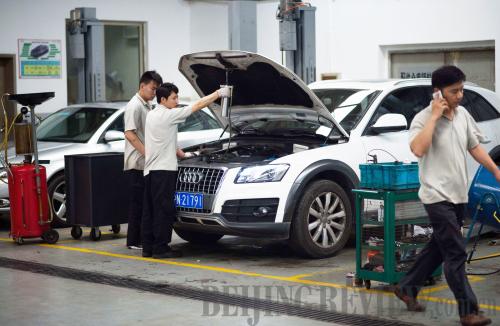 COSTLY MAINTENANCE: An Audi sedan at a repair center in Shanghai on August 6 (CFP)
Deng Ouya, a Chinese Canadian who works as an IT engineer in Montreal, has nurtured an enthusiasm for cars since he was still a student in his homeland. "I bought my Mercedes-Benz GLK 350 at the price of 50,000 Canadian dollars ($45,800) when migrating to Canada, but the price for the same model assembled in China is 450,000 yuan ($73,100) or so in the Chinese market," Deng told Beijing Review.
Moreover, the prices of auto parts can be as astoundingly expensive as those of finished cars in the Chinese market. This inequality largely owes to the monopolistic position of foreign carmakers.
Qiao Liang, executive member of the Society of Automotive Engineers of China, stated that a monopoly formed by part suppliers has kept the prices of automobile components at such a high level, as distributors don't have a say in the process. For example, while it may only cost about $50 to replace a certain individual auto part in isolation, carmakers may require consumers to have a full complement of associated parts needlessly replaced, which can be as expensive as $500, said Qiao.
To tackle the exorbitant charges encompassing finished cars, auto parts and car maintenance in China's consumer market, Chinese authorities have launched a wave of anti-trust investigations into carmakers involved in suspect activity. Li Pumin, Secretary General of the National Development and Reform Commission (NDRC), said on August 6 that two separate anti-trust investigations into Chrysler and Audi have found that the two multinational carmakers have pursued monopolistic practices and will be punished. The NDRC has also finished investigations into 12 Japanese companies and found monopolistic behaviors in auto parts and bearing prices.
According to China's Anti-Monopoly Law, the NDRC is entitled to charge violators with fines ranging from 1 to 10 percent of their annual sales in the Chinese market. In response to the ongoing anti-trust probes initiated by Chinese supervisors, the foreign carmakers involved such as Chrysler, BMW and Mercedes-Benz have scrambled to launch price cuts, demonstrating a willingness to cooperate with authorities so as to alleviate any prospective punishment.
Hubei Provincial Price Bureau has decided to fine four BMW dealers in Wuhan, the provincial capital, a combined 1.63 million yuan ($264,800) for deceptive pricing and setting unified prices for pre-delivery inspections. It's also reported that Audi may confront a fine as high as 1.8 billion yuan ($292 million), which is equivalent to 1 percent of the company's total sales in 2013.
Obviously, price reductions and fines are not the ultimate purpose of the anti-monopoly drive. Only when the flaws and loopholes in the circulation and aftersales services of China's automobile market are eliminated can the interests of Chinese consumers be protected from infringement in the long term.
A squeezed market
Since China replaced the United States as the largest car market in 2009, auto trade magnates have commonly uttered sentiments such as, "we have positioned China as our most important market."
Nevertheless, the fact remains that Chinese consumers have to pay far more than their overseas counterparts for the same car and after-sales services. Experts believe it's the super-national treatment these foreign players have historically received that has given rise to their monopoly.
In the early years of reform and opening up, local governments used to provide foreign companies with numerous preferential policies on land and tax, which, combined with defective supervision system, allowed them to develop a "double standard" in the manufacturing and marketing of products, said Yu Fenghui, a financial commentator.
Aside from that, the Administration of Automobile Brand Sales Implementing Procedures, which has been in operation for nearly 10 years, has inadvertently enabled the vertical monopoly throughout the linked areas of marketing, maintenance and repair to persist. As the document stipulates, the network plan of the same automobile brand shall, in general, be formulated and implemented by a domestic company. Foreign carmakers that sell automobiles in China must authorize a domestic company, or establish a company in China as their automobile general distributor in accordance with the relevant state provisions, to formulate and implement their network plans.
By virtue of their autonomy in drawing up and carrying out these plans, some carmakers have managed to place a high margin on imported cars by setting floor prices and forbidding trans-regional transactions. Moreover, they can also manipulate the supply and prices of auto parts.