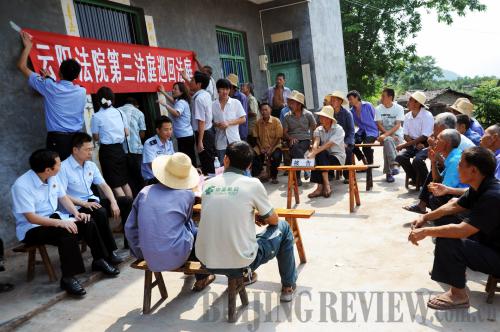 DELIVERING JUSTICE: A circuit court of the People's Court in Yunyang, Chongqing Municipality, prepares to start proceedings in a village on October 22 (CNSPHOTO)
The reeducation-through-labor system, which was instituted in 1957 and allowed detention for up to four years without an open trial, was officially abolished by a motion adopted by the NPC Standing Committee in December 2013.
"I don't fully understand the meaning of the rule of law, but as far as I know, even if there are sensible policies, they might not be properly implemented by authorities at the local level," said Tang recently.
She said her years of petitions in Hunan and Beijing revealed that legal justice was hard to be found in smaller places and "decent people and officials" can only be found in places like Beijing.
China will recruit lawmakers, judges and prosecutors from qualified lawyers and law experts, said the communiqué.
The system of internment and deportation of urban vagrants and beggars was established as an administrative procedure in 1982, which allowed the police to detain people who did not have a residence permit or temporary living permit, and deport them to their hometowns.
Sun Zhigang, a 27-year-old graphic designer from Wuhan, central China's Hubei Province, was picked up by police on March 17, 2003, during a random identity check in Guangzhou in south China, where he worked at a garment company. Immediately put into a detention center, the young man died three days later due to brutal beatings by fellow detainees.
Sun's death received widespread attention in newspapers and on the Internet. Among these reactions, two groups of senior Chinese legal scholars wrote to the NPC, questioning the constitutionality of the custody and repatriation regulation. The system was ended by the State Council in June 2003 when the detention centers were required to be replaced by simply service stations to care for beggars or homeless people.
"Injustice can arise if a country's laws are insufficient or outdated. Laws are like iron and steel as rust must go back to the blast furnace to be melted into metal," said Sun's father, Sun Lusong, recently.
The communiqué dictates that channels for citizens to participate in the legislative efforts will be widened.
International recognition
"I do believe that [the rule of law] will be essential as the Chinese economy becomes more sophisticated, so the need for the rule of law becomes even greater," said Charles Powell, former Chairman of the China-Britain Business Council.
"I think it will give people a lot of confidence in China, if they know the courts are independent, reach their judgments independently, and all institutions of the state and the Party are subject to that same rule of law," he said.
Etienne Reuter, Director at Elliott Consultants Ltd. in Brussels, said the phrase "rule of law" is not new in the CPC's official discourse, but it has new implications given today's new circumstances.
"The opening and transformation of China's economy has entered a new phase requiring greater environmental sustainability and social inclusiveness. The people of China aspire for a better quality of life and a fairer society."
"In this respect, the rule of law provides the essential underpinning for combating pollution and degradation of the environment as well as for the fight against corruption," Reuter said.
Paul Gewirtz, professor of law and Director of the China Center at Yale Law School, wrote in an opinion piece on The New York Times: "There are reasons for a measure of optimism that the plenary session will demonstrate more complex views about the roles law can play and also take meaningful steps to advance new legal reforms."