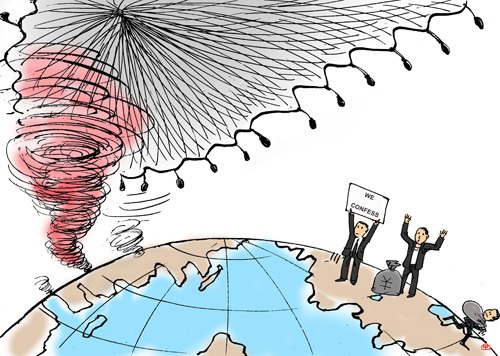 (CFP)
On November 8, a new international organization went into operation in Beijing, with its secretariat being housed in the Ministry of Supervision of China.
On that day, upon the conclusion of the 26th APEC Ministerial Meeting in Beijing, Chinese Foreign Minister Wang Yi told reporters that the meeting adopted the Beijing Declaration on Fighting Corruption and established an APEC Network of Anti-Corruption Authorities and Law Enforcement Agencies (ACT-NET).
In the declaration, APEC members reaffirmed that they will deny safe havens to those engaged in corruption and cooperate with one another through extradition, legal assistance, and the recovery and return of ill-gotten gains. They will adopt more flexible approaches to recovering the proceeds of corruption, and expedite international cooperation in the prevention, investigation and prosecution of graft.
It states that the ACT-NET is to be developed as "an informal network for sharing information and exchanging best practices and techniques between anti-corruption and law enforcement authorities in the Asia-Pacific region, to assist in the detection, investigation and prosecution of corruption, bribery, money laundering, and illicit trade."
The ACT-NET secretariat handles the network's daily administrative tasks. China will serve as the initial host of the office in 2014-15. Members will review the future hosting of the office at the next meeting in 2015. The ACT-NET Chair will be assumed on a rotational basis by the hosting economy of the APEC Anti-Corruption and Transparency Working Group.
These moves mark a new stage in APEC members' joint efforts to battle corruption as well as for China's own internal anti-corruption campaign.
Leaders and representatives of the 21 APEC economies have reached consensus in hunting down fugitives at large, recovering their illegally obtained assets and expanding law enforcement cooperation, Chinese President Xi Jinping said at a press conference after the APEC Economic Leaders' Meeting that closed on November 11.
APEC economies have agreed to put aside political and ideological differences to combat corruption, said Gao Bo, Vice Secretary General of Clean Government Studies Center under the Chinese Academy of Social Sciences.
"By promoting the establishment of the ACT-NET, China has sent a signal to strengthen international cooperation and cut off the escape routes for corrupt officials, which acts as a powerful deterrent to them," said Zhou Shuzhen, a professor in clean-governance research at Beijing-based Renmin University of China.
A new focus
China has launched an intense campaign to "hunt tigers and swat flies" since the 18th National Congress of the Communist Party of China (CPC) in November 2012 when Xi became general secretary of the Party. The campaign has snared high-ranking officials such as Bo Xilai, former Secretary of the CPC's Chongqing Municipal Committee, Zhou Yongkang, former Standing Committee member of the Political Bureau of the CPC Central Committee, Xu Caihou, former Vice Chairman of the CPC Central Military Commission and many lower-ranking ones as well as some executives of state-owned enterprises.
Recently, more and more attention has been paid to tracking down corrupt officials that have fled overseas.
In November, Xi talked about international anti-corruption cooperation during a number of global meetings, including the G20 Summit and APEC Economic Leaders' Meeting.
At the G20 Leaders' Summit held in Brisbane, Australia, leaders endorsed a 2015-16 G20 Anti-Corruption Action Plan, pledging to build cooperation and networks, including enhancing mutual legal assistance, recovery of the proceeds of corruption and denial of safe havens to corrupt officials.
Xi mentioned international cooperation in anti-corruption measures such as hunting down fugitives and recovering their assets while meeting U.S. President Barack Obama and Canadian Prime Minister Stephen Harper during their respective visits to China on the sideline of the 2014 APEC Economic Leaders' Meeting. Xi also discussed the same topic during his visits to Australia, New Zealand and Fiji around the time of the G20 Leaders' Summit.