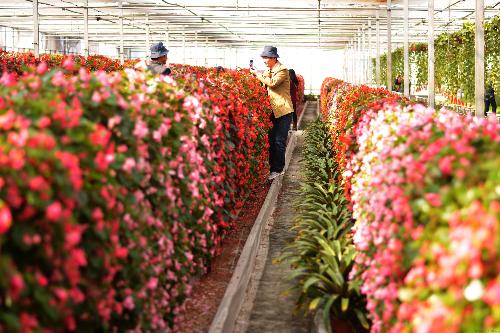 STANDARDIZED PRODUCTION: People visit Sunqiao Modern Agricultural Park in Langxi County of Anhui Province on November 5, 2014, to learn how family farms are run (CFP)
Sun Xiaowei, a young villager who owns 90 mu (6 hectares) of field in Wangwudao Village, Liaoyang County of Liaoning Province, saw his income soaring last year. "I transferred the management right of my land to a rural cooperative. In return, it pays me 750 yuan ($120) per mu every year," said Sun, who now also serves as a technician in the cooperative, reveling in the fact that his annual income almost doubled in 2014.
Land right transfer and scale management were among the key issues discussed at the 2014 Central Rural Work Conference concluded on December 23, which mapped out the plan for 2015. Centered on the transformation and modernization of agricultural development, the conference also tapped into preservation of local culture and ecological environment and infrastructure construction in rural areas.
"Compared with the rapidly advancing urbanization, industrialization and informatization, China's agricultural modernization is relatively stagnant," said Li Guoxiang, a researcher with the Institute of Rural Development under the Chinese Academy of Social Sciences.
Li's argument is echoed by Zheng Fengtian, a professor from the Department of Agriculture and Rural Development at the Renmin University of China, who believes agricultural modernization is a critical variable that significantly affects the progress of industrialization and urbanization. "If agricultural modernization goes on smoothly, more labor force will be freed from farm work to push forward urbanization," said Zheng.
Agricultural challenges
Although China's grain output and rural residents' income have realized consecutive growth for 11 years, agriculture still faces mounting risks and structural problems.
According to statistics provided by Li Wei, President of Development Research Center of the State Council, from 2004 to 2012, the land cost, labor cost and service charge of growing rice, wheat and corn increased respectively by 15.7 percent, 10.4 percent and 8.7 percent, higher than the price growth of the three types of staple grain.
"While agricultural production costs keep climbing domestically, the prices for bulk agricultural commodities are sliding down in the international market. As a result, agricultural import is on the increase," said Minister of Agriculture Han Changfu.
For one thing, China faces a lack of agricultural resources, with its per-capita cultivated land and water only equivalent to one third and one fourth of the world average respectively; for another, its agricultural production heavily depends on the pesticide and chemical fertilizer, which has resulted in declining land capacity and food security risks. A large part of China's agricultural production capacity was achieved at the expense of ecological environment, said Li Wei.