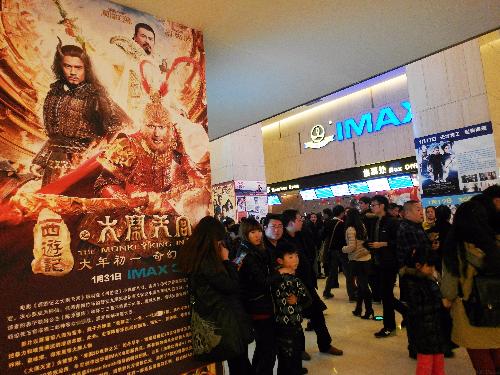 MOMENT OF ANTICIPATION: Moviegoers wait to buy tickets at a Wanda movie theater in Yichang, central China's Hubei Province, on January 31, 2014 (CFP)
The Chinese film industry once again experienced a boom last year. According to a report released by the State Administration of Press, Publication, Radio, Film and Television on January 5, China's box office revenue in 2014 reached 29.6 billion yuan ($4.77 billion), growing 36 percent. Although this sum fell short of the preset target of 30 billion yuan ($4.83 billion) , it more than sufficed to raise a few eyebrows in the international film community, as global box office revenue registered only 4-percent year-on-year growth. In North America, box office numbers actually declined by 6 percent, according to the 2014-15 Chinese Film Industry Report published by EntGroup Consulting, a domestic film industry research firm.
It has taken a paltry four years for China's box office revenue to grow from 10 billion yuan ($1.61 billion) in 2010 to nearly 30 billion yuan in 2014. In 2012, China became the world's second largest film market, the largest being North America.
The report also pointed out that China has of late functioned as the driving engine for global box office growth. Worldwide box office takings in 2014 amounted to $37.5 billion, with that of the United States accounting for 27 percent and that of China constituting 13 percent. Of the $1.6-billion increase of the global box office in 2014 against the previous year, box office takings in the Middle Kingdom contributed 75 percent.
Additionally, the number of tickets sold reached 830 million, 1,015 new cinemas opened and 5,397 screens were added to existing establishments. As of January 5, there had been altogether 23,600 screens across the country.
A booming market
Looking back on China's vibrant film market in 2014, several tendencies become apparent.
The competitive edge of domestic films against their imported counterparts has sharpened. The box office revenue of home-made films surpassed that of imported ones. The 308 domestic films released in theaters last year raked in 16.16 billion yuan ($2.6 billion), accounting for 54.51 percent of the total box office revenue and the 80 imported ones grossed 13.48 billion yuan ($2.17 billion). Among the 20 highest-earning films, Chinese productions occupied half of the spots. "The Chinese film industry has gone through a period of rapid adjustment following the signing of a film agreement with the United States in 2012. As a result, China has been able to register a world-leading growth rate, even in the face of competition from Hollywood blockbusters such as Transformers: Age of Extinction (Transformers 4)," said Hou Tao, Vice President of EntGroup Consulting.
According to the 2012 agreement, Hollywood film imports would increase from 20 to 34 per year. The additional 14 movies were mostly in 3D or IMAX formats. The United States currently takes 25 percent of box office revenues drawn from its film exports to China, a sharp increase from the original 13 percent.
Eighteen of the top 30 films by box office in the United States last year were imported into China and another two of the top 30, The Hunger Games: Mockingjay and The Hobbit: The Battle of the Five Armies, will hit screens later this year. Those 18 films, together with Frozen and The Hobbit: The Desolation of Smaug, took in $1.5 billion in China, accounting for 32 percent of the country's total box office revenue. In the meantime, the top 20 domestic films in terms of box office generated $1.6 billion, amounting to 33 percent of the total box office revenue, indicating the growth of the box office didn't merely rely on imported movies but upon the improvement of the domestic film industry as well.