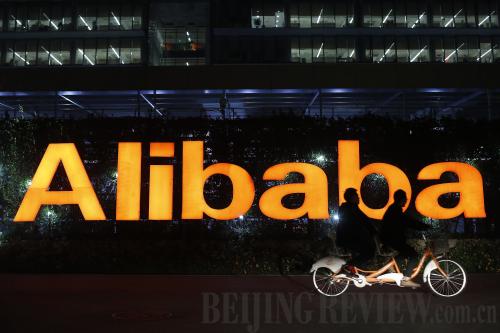 E-COMMERCE GIANT: A bicycle goes past the logo of Alibaba in front of its headquarter in Hangzhou, capital of east China's Zhejiang Province (CFP)
As Jack Ma, founder and Executive Chairman of Alibaba, breezily discussed building his company from the ground up during a panel discussion at the World Economic Forum's annual meeting in Davos, Switzerland, little did he realize that storm clouds were gathering on the horizon.
On January 23, the Internet impresario, who founded his company from his apartment in 1999, told leading figures in business and politics of his plans to take Alibaba beyond China and turn it into an e-commerce platform serving 2 billion customers worldwide.
On the exact same day, the State Administration for Industry and Commerce (SAIC), charged with maintaining market order in China, released the result of an inspection, accusing Alibaba of having exhibited the worst performance among all e-commerce websites inspected in curbing sales of fake products in its customer-to-customer marketplace Taobao.com.
Facing these abrupt allegations, Alibaba fought back tooth and nail, resulting in a four-day public spat with the industry regulator. Both sides suffered great losses after the dispute, with the stock price of Alibaba plunging and the SAIC's credibility being greatly undermined. The dispute, however, is definitely good news for customers as it brought the government's resolution to crack down on fakes and protect consumers to the forefront. As Alibaba and the SAIC finally made peace, the two sides decided to focus on the solution rather than fighting.
Everyone loses
Headquartered in the eastern city of Hangzhou, Alibaba completed the world's biggest IPO with its $25 billion listing on the New York Stock Exchange last September, making Ma China's richest man overnight.
However, for years, Alibaba has faced complaints that it failed to stamp out sales of counterfeit goods on its e-commerce websites.
According to a report released by the SAIC on January 23, less than 40 percent of surveyed commodities sold on Taobao.com were authentic. After being named and shamed as the online shopping site with the most fake goods in China, Taobao fired back by issuing a statement saying the company was unfairly treated.
Facing Alibaba's challenge, the SAIC released a document titled White Paper on Administrative Guidelines for Alibaba, accusing Alibaba of irresponsibly allowing fakes to be sold on its platform. It also said SAIC officials held a meeting with Alibaba's top managers in July to discuss the issue, but chose not to disclose that information because it didn't want to disrupt Alibaba's pending IPO.
In response, Alibaba said the company did not request the replacement of the white paper, nor has it ever requested the SAIC to delay publication of any report.
The two sides finally buried the hatchet on January 30 when the head of China's commerce regulator met with Alibaba's chairman Jack Ma to exchange opinions on joint efforts to fight fake products. The two sides agreed that they will enhance communication and explore a model for managing the online market. The SAIC also claimed the white paper it released earlier only contains meeting minutes and does not have legal validity.
The four-day war of words, combined with the fact that Alibaba missed its revenue estimates and reported a 28-percent drop in net profits in the fourth quarter of 2014, has caused the market capitalization of Alibaba to shrink by more than $30 billion in two days ending January 29.
That, however, is only the start of Alibaba's troubles, as Alibaba has undergone a lengthy audit by lawyers.
At least five U.S. law firms have launched investigations against Alibaba on the claim of protecting Alibaba's investors. Hao Junbo Law Firm, a Beijing-based law firm, is gathering victims of the stock plunge in an attempt to file a class-action lawsuit against the e-commerce giant.
Hao Junbo, head of the firm, told Economic Information Daily that Alibaba had not fulfilled its obligations in information disclosure as it knew about the white paper but chose to not share that information with investors.
He also said the SAIC has no right to determine whether the white paper has legal validity or not. Hao said several dozens of investors who had suffered losses of over $50,000 had already answered his call.
Zhang Yuanzhong, a partner of Beijing-based Wentian Law Firm, told The Beijing News that the content of the white paper can still be used as evidence against Alibaba, despite the fact that the SAIC claims it does not have legal validity.
"If what the white paper said did happen before Alibaba listed in the United States, Alibaba may face harsh penalties for their suspected involvement in a false statement and a fraudulent listing."