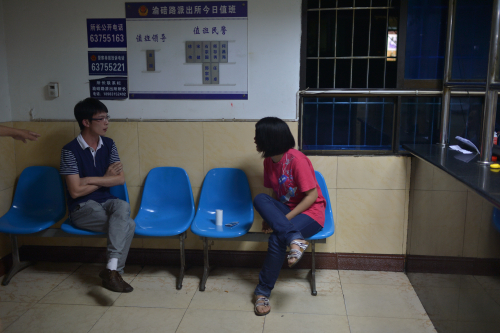 TAKING A STAND: A couple quarrel at a police station in Shapingba District in southwest China's Chongqing Municipality on July 3, 2014. The wife had called the police accusing her husband of beating her (CFP)
On March 8, Guo Jianmei, a Beijing-based lawyer and advocate for women's rights, welcomed the announcement of a legislative plan that she believes is a great boon to those suffering from maltreatment by family members.
That day, top legislator Zhang Dejiang announced that China will speed up the drafting of its first law against domestic violence this year. Zhang, Chairman of the Standing Committee of the National People's Congress (NPC), China's top legislature, made the remarks during his delivery of a work report at the annual full session of the NPC.
"Non-governmental organizations and women's rights campaigners have called for the legislation for more than 20 years," Guo said. "A specific law for dealing with domestic violence may check its widespread occurrence in China."
According to a report released by the All-China Women's Federation (ACWF) last year, nearly 40 percent of Chinese women who are married or involved in a relationship have been victims of physical or psychological abuse.
A 2010 survey by the ACWF and the National Bureau of Statistics indicated that 33.5 percent of girls and 52.9 percent of boys polled had received "physical punishment" from their parents in the previous 12 months.
Similarly, 13.3 percent of Chinese elders have suffered abuse at the hands of younger family members, according to a survey cited by China's national broadcaster CCTV last November.
The lack of a specific law has created difficulties for handling domestic violence proceedings within a legal framework, commented Yang Wanming, President of the No.1 Criminal Court of the Supreme People's Court (SPC), China's highest judicial body.
"Some courts tend to regard maltreatment among family members as a private issue and refuse to accept such cases, while some cases that should be brought to court are treated as civil disputes," Yang said.
Having been published for a month-long feedback process at the end of 2014, the first draft of the Law Against Domestic Violence is expected to be submitted to the NPC Standing Committee for the first reading in August, Fu Ying, spokeswoman for this year's NPC session, told a press conference on March 4.
Law-based solution
The long-awaited law defines the scope of what can be considered crimes of domestic violence for the first time in China's history.
According to the draft, domestic violence refers to physical and psychological abuse perpetuated between family members including spouses, parents, children and other close relatives. Violence in families with adopted children has also been included.
Despite the long-term effect that experts have shown such abuse can have on its victims, domestic violence has remained in the shadows for a long time in China, where traditional culture holds that family conflicts are to be kept within the family and not made public. Only in recent years have the Chinese people begun to examine the issue.
The first national debate on the need for legislation targeting domestic violence happened in 1995, when the Fourth World Conference on Women was held in Beijing.
A condemnation of domestic violence was first written into the Marriage Law in 2001 and then into laws on the protection of minors and women, as well as the Criminal Law. Similar stipulations have also been added to the local regulations of 28 of China's provincial-level regions.
In 2011, a case involving a celebrity entrepreneur brought more public attention to the issue of domestic violence in China. On September 4 of that year, Kim Lee, wife of Li Yang who founded the hugely popular English learning program Crazy English, posted pictures of her bruised face on Sina Weibo, a Twitter-like microblogging service, and accused Li of abusing her. Many people were shocked and urged Kim to use the law to fight back.
Li's response was even more shocking. He admitted beating his wife but blamed her for breaking Chinese tradition and making family affairs public. In 2013, Kim was granted a divorce, alimony and compensation by a court in Beijing on the grounds of domestic violence.
Huang Qiao, a social worker in Shenzhen, south China's Guangdong Province, who has been helping female victims of domestic violence for three years, claimed that the issue is becoming more of a problem among the well-educated.
Moreover, many offenders can escape punishment because of the loopholes and vagueness in the existing legislation concerning domestic violence.