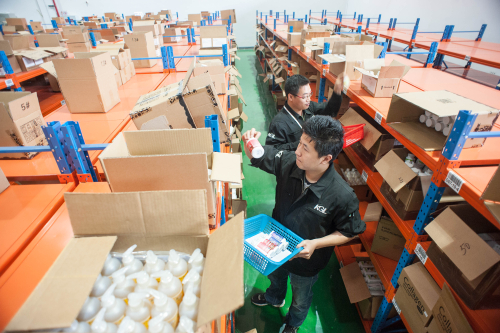 BOOMING TRADE: Deliverymen of Joaye.com, a cross-border e-commerce business in Chongqing, categorize parcels despatched by overseas online shops on November 11, 2014 (LIU CHAN)
Lin Meijuan, a young mother who used to entrust overseas purchasing agencies to buy formula milk powder, can't mask her anger when recalling her unpleasant experience of being cheated by a self-assumed Chinese Australian.
"I bought six cans of milk powder from an online retailer. After waiting for nearly a month, I finally got my hands on them," Lin said.
Feeding her baby with the milk powder she bought online for a few days, Lin found they caused diarrhea. "After comparing it with baby formula by the same brand my friend bought from Hong Kong, I realized my purchases were counterfeit products," she said.
Customers with grievances like Lin's may soon breathe a sigh of relief. The State Council, China's cabinet, recently approved the setup of the country's first state-level cross-border e-commerce pilot zone in Hangzhou, capital of east China's Zhejiang Province. According to the operational plan of the pilot zone, overseas commodities can be stored in bonded warehouses and delivered to Chinese consumers immediately after they place orders.
Therefore, imported baby formula delivered from the pilot zone should have undergone inspection in batches by a quality watchdog and had their quality and safety guaranteed in line with national standards, said Zou Yongming, President of Shanghai Holyca E-business Co. Ltd.
Zou noted that related tax exemption policies, bulk transportation and shorter distances will allow Chinese consumers to pay less and receive the goods earlier than they do if entrusting overseas purchasing agencies or directly asking overseas e-commerce websites to send the goods.
Since most overseas e-commerce websites don't provide direct mail services, Chinese consumers' online purchases of items such as milk powder have to be delivered by transfer companies. In the process, commodities may be damaged, lost or swapped out. Given the uncertainties of international logistics, customs clearance and taxation, delivery time can be indefinite.
"It usually takes at least half a month for end-buyers in China to receive the goods they order abroad through purchasing agencies or on e-commerce sites. In comparison, the time can be squeezed to two or three days if cross-border e-commerce platforms are available," said Huang Side, General Manager of Bermasde International Trade Chongqing Co. Ltd. "Besides that, it's more economical. Consumers only need to pay 1,200 yuan ($193) to buy a Philips shaver on a cross-border e-commerce platform, which may cost 1,800 yuan ($290) in physical stores in China."
Pilot program
Since 2013, the Chinese Government has allowed seven cities--Shanghai, Chongqing, Hangzhou, Ningbo in Zhejiang, Zhengzhou in Henan Province, as well as Guangzhou and Shenzhen in Guangdong Province--to pilot cross-border e-commerce import services.
In March, Premier Li Keqiang pledged that the government will release more favorable import policies and expand comprehensive trials in cross-border e-commerce. The birth of the cross-border e-commerce pilot zone in Hangzhou shows that the emerging industry has received more attention and support.
"After three to five years of efforts, the pilot zone in Hangzhou will grow into an e-commerce center known for entrepreneurship and innovation, quality services and data technology. It will be characterized by the combination of e-commerce, cross-border trade and comprehensive services," said Zhang Hongming, Mayor of Hangzhou.
Yang Guoxun, Deputy Director of the Advisory Committee for State Informatization, insisted that the development of cross-border e-commerce will not only help reshape international industrial chains but also facilitate the transformation of China's foreign trade growth pattern.