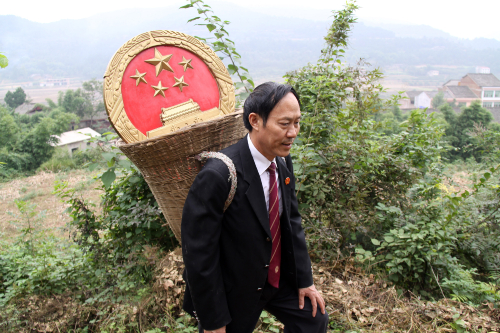 COMMUNITY JUDGE: Guo Xingli, a judge in Jiange County, Guangyuan of Sichuan Province, on his way to a village to hear a case on October 8, 2011. For 24 years, Guo has travelled from village to village in the mountains to handle cases (XINHUA)
Third, a judicial committee makes collective decisions and assumes collective responsibility. Judges might shirk their responsibilities in judging individual cases by transferring them to the judicial committee, he added.
At the National People's Congress annual session in 2014, Shi tabled a motion to reform the judicial committee system. He received a reply from the SPC, informing him that a series of reform measures have been designed, such as clearly specifying the types of cases that can be submitted to a judicial committee and limiting the judicial committees' power to conduct trials of law.
Shi said that although the judicial committee system has already been heavily reformed, there is still much more work to be done. He said that giving judges more adjudicating power could prevent abuses of power.
Nonetheless, with great power comes great responsibility. As for whether judges are ready to take on such responsibility, Xie Shanghua, a CPPCC member and Vice President of Sichuan People's Higher Court, expressed her concerns.
"Currently, professional qualifications of judges vary widely, and their capabilities still fall significantly short of what would be needed after this reform. In this situation, completely delegating power might compromise the handling of cases and undermine social stability," she said.
In addition, social support and institutional guarantees are necessary to improve the responsibility system of handling cases by the presiding judge, she added.
One way to improve judges' professional capability is to improve the selection process, Xie said.
On February 26, the SPC released a circular on comprehensively deepening the reform of the court system. It stressed that judges at high-level courts should be selected from those in lower-level courts, or from outstanding legal professionals in legislative, procuratorate and law enforcement organizations.