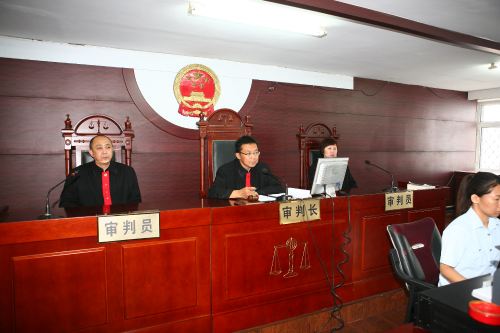 COURT HEARING: Sun Bo (center), a judge in Hegang, Heilongjiang Province, hears a case on June 26, 2014 (XINHUA)
Professionalism
"A strict judge selection system that will recruit judges who can independently adjudicate cases and shoulder that responsibility is crucial to improving judges' professionalism," Cao Yisun, a CPPCC member and a legal professor with the Chinese University of Political Science and Law, told Beijing Review.
Shi with the Sichuan Dingli Law Firm said that currently, judges are selected from university graduates who have passed the civil servant and bar exams. Although they have a good grasp of the theory, they lack practical experience.
"To make independent judgments, judges must be impartial, capable and experienced," Shi said. Lawyers with long work history have relatively rich legal knowledge, experience and track records for evaluating their qualification, so selecting them as judges is more reasonable, he said.
"Judges at higher-level courts have to handle complicated and sometimes entirely new types of cases. Their decisions inform and direct the work of lower-level courts, so they need to be the very capable and professional," Xie said. She said that implementing a proper judge-selecting system is a pressing issue.
Although judges are required to possess esteemed professional qualifications and a strong sense of responsibility, currently, they do not enjoy the prestige or compensation that these skills would get them elsewhere, said Xie.
"For instance, in Sichuan Province, many community judges are doctors of law who have passed strict screening exams. Every year, every judge hears more than 200 cases on average--more than one case every work day. In addition, they handle other work such as attending meetings, conducting research and engaging in publicity activities. Nonetheless, their average monthly wage is little more than 3,000 yuan ($484)," she said.
This situation has dampened judges' work enthusiasm and led to difficulties in attracting talent, Xie said.
She said that reducing judges' work load by hiring assistants and increasing their pay will help promote their professional development. 
Copyedited by Kieran Pringle
Comments to zanjifang@bjreview.com