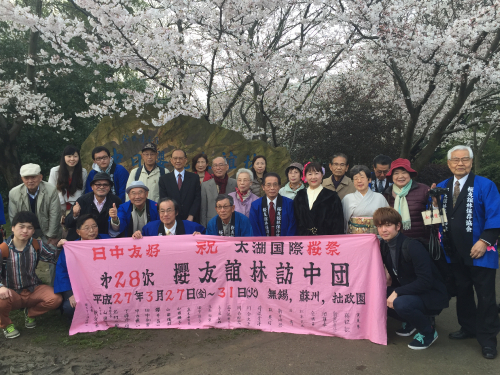 BRANCHING SOLIDARITY: A group picture of the Japanese delegation to China for visiting Sino-Japanese Friendship Cherry Forest (ZENG WENHUI)
Japanese guitarist Hiraku Tanimoto performed at the opening ceremony of the 2015 Wuxi International Cherry Blossom Week on March 10. It was Tanimoto's first visit to the city, one of the most scenic in east China's Jiangsu Province.
Tanimoto's music has taken him to a number of stages around China, a popularity made possible by his integration of Chinese elements. "I found Chinese people love my music," Tanimoto told Beijing Review.
Friendship in bloom
Tanimoto, 30, used to be session guitarist for pop singers including Shinji Tanimura and has gained some popularity in Japan. In 2010, he was listed by the Japanese magazine Swing as one of the 20 most popular guitarists in Japan.
Tanimoto said he loves Chinese culture and Chinese food. He loves to go to Chinese restaurants no matter which country he happens to be in. Now he is studying Chinese and keeps in touch with fans via WeChat and Weibo, two of the most popular social network platforms in China.
Yuantouzhu Park, where the International Cherry Blossom Week is held, has been named "one of the best cherry blossom parks in China as well as a symbol of friendship between China and Japan" by Masahiro Kohara, the Consul General of Japan in Shanghai.
Twenty-eight years ago, the Sino-Japanese Friendship Cherry Forest was planted in Wuxi. For nearly three decades, Japanese delegations have traveled to the city to plant cherry trees every year, with millions of tourists from both nations coming to see the trees they have planted when they blossom.
Wang Jinjian, Vice Mayor of Wuxi, said at the opening ceremony that the non-governmental organizations from both China and Japan have been working hard in the cherry garden. "I hope the younger generation will maintain the friendship between the two countries," said Wang.
Masahiro Kohara shared the same wishes. He mentioned that since last year, media from both China and Japan have reported a sharp rise in the number of Chinese tourists visiting Japan. Last year, the Consulate General of Japan in Shanghai issued a total of 874,000 visas to Chinese citizens, more than double the 435,000 in 2012, the previous record for Chinese visitors to Japan. The number is expected to be even higher in 2015.
Kohara is very happy to see this while on the other hand, the number of Japanese tourists to China is declining. "I worry that the younger generation in Japan is getting more and more unfamiliar with China, which is not good if our two countries are to remain close," said Kohara.
Kohara said he hopes that activities such as Cherry Blossom Week in Wuxi can create more opportunities for strengthening ties between people from both countries.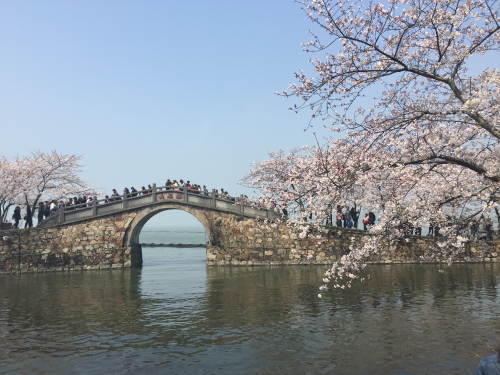 PRETTY IN PINK: The view of Changchun Bridge surrounded by blooming cherry blossoms in Yuantouzhu Park in Wuxi (ZENG WENHUI)
Student exchange takes root
Shun Kuraoka is a Japanese student at Shanghai Jiaotong University. He went to Wuxi for the Cherry Blossom Week with Eita Nakamura, a Japanese student at the Shanghai-based Fudan University. Kuraoka is a representative of the Shanghai branch of Japan-China Friendship, an organization set up in Tokyo in 2011, aiming at promoting exchange and communication between young people in China and Japan.
Kuraoka speaks fluent Chinese and made many new Chinese friends during the event. Nakamura studies journalism and Chinese at Fudan University as a senior student. Nakamura had studied Chinese in Japan but didn't see much progress, and so he decided to come to China. "In order to improve my Chinese, I needed to immerse myself in the language," said Nakamura.
They both had very good impressions of Wuxi, especially the tasty steamed buns the town is known for. "The buns were different to those in Shanghai. They are sweeter and more delicious," said Kuraoka. They said they planned to take the express train frequently from Shanghai to Wuxi, just for the food.
In recent years, activities for the Japanese delegation to China have been expanded from planting cherry trees to cultural exchanges and economic cooperation. Wang Xinan, Director of Wuxi's Association for Friendship with Foreign Countries revealed that young people from both Japan and Wuxi actively take part in the various activities during the Cherry Blossom Week and have laid a solid foundation for the friendship between the countries.
The Consulate General of Japan in Shanghai prepared activities including lectures, cartoonists' talk show at the Yuantouzhu Park in Wuxi.
The invited Chinese cartoonist is Lin Zhu. She has loved Japanese cartoons since her childhood and went to Kyoto to study as an adult. Now she is a freelance illustrator and has gained fame among cartoonists. Lin has been invited by the Japan National Tourism Organization and consulate generals to draw cartoons and share her experiences in Japan to young people in China.
"It is very important to visit another country in person to understand different culture and customs," said Masahiro Kohara, the consul general.
"Although some people in Japan quit their jobs and come to China out of interest, this does not happen often," said Kohara. "Most Japanese don't think about China much. I believe if they come here and visit by themselves, they will like China for sure. I think China is a country with great potential."
Copyedited by Kieran Pringle
Comments to zanjifang@bjreview.com