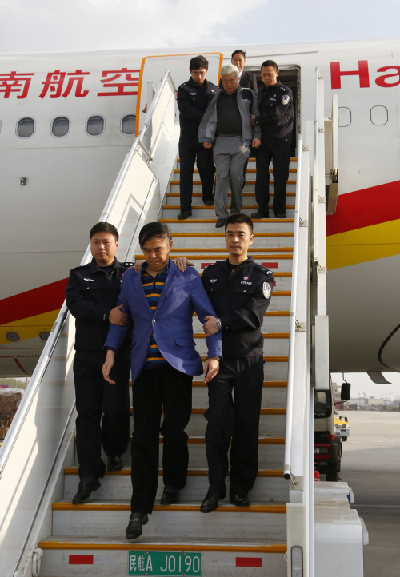 ENSNARED: Two men suspected of economic crimes arrive in Beijing after being captured abroad on September 18, 2014 (YIN GANG)
On April 9, a man surnamed Hu was walked out of a plane cabin, escorted by police officers. Hu was an economic fugitive captured under an operation codenamed Fox Hunt 2015. He was extradited back to China from Greece.
Hu was the former head of Quzhou Baitai Group Ltd. in east China's economically developed Zhejiang Province. In April 2013, he fled to Cyprus with his family and more than 40 million yuan ($6.45 million) of illicitly obtained funds and 4 million yuan ($645,000) of bank loans. The procuratorate of Longyou County in Zhejiang Province issued an arrest warrant and local police began a manhunt for Hu.
In 2014, at the request of China's Ministry of Public Security (MPS), the International Criminal Police Organization issued a red notice for the arrest of Hu. On November 23 of that year, Hu was detained by local police at Athens airport. The MPS requested Hu's extradition, which was agreed to by a Greek court although the two countries are yet to sign a formal extradition agreement.
Fox Hunt 2015 is part of the campaign launched by China's Central Anti-Corruption Coordination Group to track down corrupt officials and suspects in economic crimes that have fled overseas.
The campaign
On March 26, the Fugitive Repatriation and Asset Recovery Office of the Central Anti-Corruption Coordination Group convened a meeting on launching the campaign dubbed Sky Net.
The campaign will engage not only Party organs and law enforcement agencies, but also the central bank and diplomatic services into the overseas anti-corruption campaign.
The MPS will coordinate Fox Hunt 2015 to detain suspects implicated in corruption cases that have fled overseas as fugitives, while the Supreme People's Procuratorate will focus on suspects of duty-related crimes. The country's central bank, the People's Bank of China, will crack down on illegal transfers of funds across borders through underground private banks and offshore accounts. The Organization Department of the Communist Party of China Central Committee will tighten its control of Party cadres' overseas travel documents.
The Central Commission for Discipline Inspection has established a database for former government officials and Party members fleeing overseas. It requires the central and local governments to report fugitives through the system within 24 hours.
The Sky Net operation is a continuation and expansion of Fox Hunt 2014, an earlier incarnation of the campaign to return fugitives to China. According to the MPS, from July to December 2014, 680 suspects had been apprehended from 69 countries and regions under Fox Hunt 2014. The number represents the sum of the total in the previous five years.
"This sends a message that any corrupt person will be caught no matter where he hides, and illegal gains will be recovered no matter how they have been transferred abroad," said Ren Jianming, a professor with Beihang University in Beijing.
International cooperation
China's efforts to bring corrupt officials and other fugitives of economic crimes hiding overseas to justice have won support from the international community.
On April 9-10, U.S. Secretary of Homeland Security Jeh Johnson was hosted by Chinese Minister of Public Security Guo Shengkun in Beijing to discuss issues of shared concern. A press release by the U.S. Department of Homeland Security stated that during the visit, the two sides agreed to "a more streamlined process to repatriate Chinese nationals with final orders of removal, while applications for protection will continue to be handled in accordance with U.S. law and American values." The two countries will work closely to verify the identities of Chinese nationals requiring travel documents and will ensure that regular charter flights are scheduled to facilitate repatriation.
In March, the anti-corruption department of the Supreme People's Procuratorate revealed that China had provided the United States with a priority list of fugitives believed to be hiding in the country.
During a regular press briefing on March 25, the spokesperson of the United States Department of State said that the United States and China "regularly engage on law enforcement matters and mutual concerns such as repatriation and anticorruption through the U.S.-China Joint Liaison Group on Law Enforcement Cooperation." They also stated the U.S. will continue to "encourage China to provide strong evidence and intelligence to ensure that our law enforcement agencies can properly investigate and prosecute cases related to the alleged corruption."
On March 25, Wang Qishan, head of the Communist Party of China Central Commission for Discipline Inspection, met with his Russian counterpart Oleg Plokhoi, head of the anti-corruption department of Russia's presidential executive office. Wang expressed China wish to strengthen bilateral anti-graft cooperation, while Plokhoi said that Russia is ready in kind to exchange experience and deepen collaboration with China.
A number of other countries such as Australia, France and Canada have also expressed their willingness to cooperate with China to combat corruption.
In November 2014, the 26th APEC Ministerial Meeting held in Beijing adopted the Beijing Declaration on Fighting Corruption and established an APEC Network of Anti-Corruption Authorities and Law Enforcement Agencies.
In the declaration, APEC members reaffirmed that they will deny safe haven to those engaged in corruption through extradition, mutual legal assistance, and the recovery and return of proceeds gained through corruption. They will adopt more flexible approaches to recovering funds, and expedite international cooperation in the prevention, investigation, prosecution, and punishment of offenders.
At the G20 Leaders' Summit held in Brisbane, Australia, in November 2014, leaders endorsed a 2015-16 G20 Anti-Corruption Action Plan, pledging to build cooperation and networks in the field of mutual legal assistance, recovery of the proceeds of corruption and denial of safe haven to corrupt officials.
As of November 26, 2014, China had concluded 39 extradition treaties and 52 criminal judicial assistance treaties with other countries, of which 29 extradition treaties and 46 criminal judicial assistance treaties were already in force, according to data released by the Chinese Ministry of Foreign Affairs.
Even in the absence of a bilateral extradition treaty, fugitives can be removed through other channels, as the U.S. Department of State said on March 25, "As a general matter, we can return fugitives to other countries even when there is no extradition treaty or when none exists, including through immigration proceedings."
A high-caliber force
The Sky Net campaign and its Fox Hunt 2015 program is being carried out by well-trained teams. Liu Dong, deputy head of the Economic Crime Investigation Department, Ministry of Public Security, is the director of the Fox Hunt Office.
Liu told Xinhua News Agency that the team members carrying out "fox hunt" 2015 are either staff of the Economic Crime Investigation Department or professionals selected from key provinces and municipalities.
To qualify as a Fox hunter, candidates should be experienced in criminal investigation, well-versed in Chinese and foreign law, proficient in at least one foreign language and shall have engaged in international law-enforcement cooperation at some point in the past, Liu said.
Since foxes are cunning, fox hunters must be even more so, Liu stressed.
Team members should be ready to travel at any time, and work irregular hours, Liu said. Sometimes, members have to depart for a new mission just hours after they just returned home, and some members may make as many as 10 overseas travels within six months, he revealed.
He said that currently many countries and regions including the United States and Canada are active in supporting Fox Hunt 2015 while some countries have set up special action groups, which is encouraging.
"Corruption and economic crimes are resolutely opposed by any country. As long as evidences are sufficient and information is correct, our operation will be successful," he commented.
Copyedited by Kieran Pringle