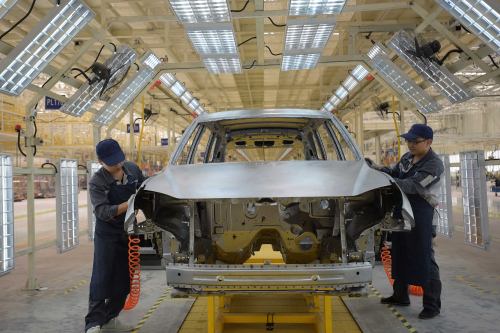 SHINY: Two workers polish a car in a production base of Sichuan Auto Industry Co. Ltd. in Chengdu, capital of southwest China's Sichuan Province (XUE YUBIN)
China's GDP growth slipped to 7 percent in the first quarter of 2015, the lowest level in six years. On the other side of the equation, convincing signs of an improved economic structure, a buoyant job market and faster-than-expected consumer spending are solid evidence of a better-quality and increasingly mature economy. That said, in order to keep the slowdown in check, the central authorities have been urged to take further steps to tackle potential risks, including a lackluster property sector, persistent deflationary pressure and high financing costs for businesses.
The first-quarter GDP figure was better than previously forecast by multiple institutions. It has also met the annual target of 7 percent set by the Central Government for 2015.
"The Chinese economy generally held steady in the first quarter because employment, consumer prices and market expectations are stable, despite a slowdown in economic growth," said Sheng Laiyun, a spokesman for the National Bureau of Statistics (NBS), when releasing first-quarter data at a press conference held in Beijing on April 15.
Sheng attributed the slowdown to sluggish global economic recovery and ongoing structural rebalancing at home. According to him, downward pressure mainly comes from the fact that the Chinese economy is mired in a period when growth drivers are shifting.
"Traditional growth drivers are waning and the new growth drivers have yet to make up for the loss," Sheng said.
Liu Yuanchun, Vice Dean of the School of Economics at the Beijing-based Renmin University of China, said concerns or anxiety about the slowdown are totally unnecessary.
"Some people have gotten used to the breakneck expansion China experienced. However, a more rational mindset should be adopted toward the country's growth rate," Liu said.
"A 7-percent growth rate is nothing short of impressive. For the enormous economic aggregate China now possesses, one percentage point of growth is worth far more than it was years ago. Globally, 7-percent growth is also a quite outstanding figure compared to other economies," Liu said.
Better structure
A positive change in China's economic structure and buoyant domestic consumption were among the most encouraging signs in the first quarter.
The proportion of the service sector in total GDP is increasing and energy consumption per unit of the GDP is dropping, indicating that China's painstaking restructuring efforts have paid off.
The service sector accounted for 51.6 percent of the GDP, 1.8 percentage points higher than the same period last year and outperforming the manufacturing sector by 8.7 percentage points.
Service fields like cosmetology and accounting are more labor-intensive and cause less pollution than factories that use steel furnaces and cement kilns. Granting the services a more significant role could do wonders toward creating a vibrant job market in China, even with the economic slowdown.
According to data from the Ministry of Human Resources and Social Security, 3.2 million new jobs were created in the first quarter of 2015, making the whole-year target of 10 million new jobs achievable.
Owing to continuous upgrade of industrial production, China has also realized greener and more hi-tech growth. Its energy consumption per unit of the GDP dropped 5.6 percent year on year in the first quarter. Output of hi-tech industries increased 11.4 percent in the first quarter, 5 percentage points higher than the overall industrial output.
Another highlight was the stable and increasingly promising consumer spending. Of the three major growth drivers, consumption is the most stable sector, compared with slowing investment and exports.
According to the NBS, retail sales of consumer goods increased 10.8 percent year on year in the first quarter. More importantly, boosted by the strong performance of e-commerce in China, online retail sales of commodities amounted to 631 billion yuan ($101.7 billion), up 41 percent and accounting for 8.9 percent of total retail sales. The business volume of the express delivery industry, a necessary supporting industry for e-commerce, surged 46.8 percent in the first quarter.
"China is a country never short of consumption potential. The key is how to tap that potential," said the NBS spokesman Sheng. Measures such as increasing people's income, improving consumption environment and solving people's concerns in consumptions should be adopted to exploit that potential to the fullest, he said. "That's why we remain confident in China's economic prospects."
According to Liu, the country is experiencing profound economic changes, and the growth rate is only one of the many indexes to evaluate its economy.
"Consumption is growing stably and the service industry is accounting for an increasing proportion of the GDP, signaling more intrinsic growth momentum in the economy," Liu said.
Stabilizing growth
In the East Asia and Pacific Economic Update released on April 13, the World Bank forecasted the Chinese GDP would grow at 7.1 percent in 2015, slow down to 7 percent in 2016 and further slow to 6.9 percent in 2017.
The World Bank also said a sharp slowdown is unlikely to occur in China, as the country has a hefty amount of foreign exchange reserves and the government has plenty of room to take stimulus measures in fiscal policy or financial instruments to sustain steady growth.
Guan Qingyou, Executive Director of Minsheng Securities Research Institute, said greater significance will be attached to sustaining growth in 2015 as first-quarter growth has hit the lower limit of the whole-year target.
"Monetary policy and housing market policy are likely to be further eased in months to come. Fiscal spending increase and tax cuts will become more common," Guan forecasted. "In addition, the implementation of the Vision and Actions on Jointly Building the Silk Road Economic Belt and 21st-Century Maritime Silk Road will bring about a surge in infrastructure investment in 2015."
Liu Zuojun, a senior researcher with the Development Research Center of the State Council, said continuing steady growth should be achieved by loosening fiscal and monetary policies in the short run, and by bolstering reforms, encouraging innovation and fostering new growth points in the long run.
China has been mired in mounting deflationary pressures for months, one of the most acute problems the country faces.
The consumer price index (CPI), the main gauge of inflation, increased merely 1.2 percent in the first quarter, the lowest since the fourth quarter of 2009, while the producer price index (PPI), a measure of costs for goods at the factory gate, contracted 4.6 percent in the first quarter. The PPI has slid for the 37th straight month. It started its downward slope in March 2012 and has yet to turn around, indicating the risk of deflation
"We must remain prudent and alert in assessing whether the tendency toward inflation will continue and whether deflation will occur," Zhou Xiaochuan, Governor of the People's Bank of China, the central bank, said at the Boao Forum for Asia Annual Conference 2015 on March 29.
To bolster the lukewarm economy, the central bank has cut benchmark interest rates twice and banks' reserve requirement ratios once since last November. These measures seem to have taken effect, with producer price deflation narrowing and interest rates in the money market falling for six consecutive weeks, the longest period since 2009.
However, amid mounting deflationary pressure, expectations are high for further monetary easing measures.
Lian Ping, chief economist at the Bank of Communications, contended that monetary policy should be further loosened in months to come.
"To reduce financing costs for businesses and to tackle mounting deflationary risks, China should further cut interest rates by 0.25 percentage points," Lian suggested.