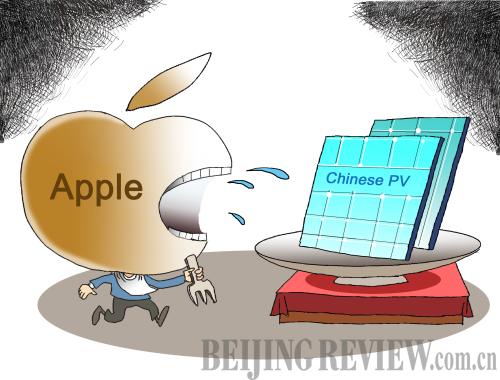 (CFP)
Look out, world. More of Apple is sprouting up in China, just in time for spring. Technology giant Apple Inc., with a market value of more than $700 billion, announced on April 16 that it will invest in Sichuan Shengtian New Energy Development Co. Ltd. (Shengtian) and build its first solar power plant in China.
On the evening of April 15, A-share listed Tianjin Zhonghuan Semiconductor Co. Ltd. (Zhonghuan), the largest shareholder of Shengtian, announced it would suspend the trading of its stocks on April 16 for a possible important news disclosure.
The news soon came out: Lisa Jackson, Apple Inc.'s vice president for environmental initiatives, told Xinhua News Agency that the project, which will be able to power 61,000 homes a year, will add 80 million kilowatt-hours (kWh) of clean energy to the grid annually.
Jackson added that the project contains two arrays of solar panels, which will be installed 85 miles away in Hongyuan County and Zoige County of Ngawa Tibetan and Qiang Autonomous Prefecture, southwest China's Sichuan Province.
"We will put the clean energy onto the local grid in Sichuan and buy the power wherever the stores and offices are," she said.
The project is the first of its kind Apple has launched outside the United States, adding China to the list of countries that power Apple's facilities entirely with renewable energy.
The stock market has kept a cool head regarding this news, but the solar power industry is enthusiastically discussing this project. However, nobody knows how far Apple Inc. will go or how well its new initiative will work.
Solar powering the market
Sichuan Shengtian New Energy Development Co. Ltd. was established in October 2014, with a registered capital of 2.69 billion yuan ($438.83 million).
Among the shareholders, Sichuan Development Holding Co. Ltd. and Tianjin Tsinlien Investment Holdings Ltd. are provincial-level government investment companies; Tianjin Zhonghuan Semiconductor Co. Ltd. and Leshan Electric Power Co. Ltd. are state-owned listed companies; Hong Kong-based SunPower Energy Corp. Ltd. is a wholly owned subsidiary of U.S. solar giant SunPower.
State capitals and foreign capitals join together in Shengtian, and the cooperation originated in 2012 when SunPower decided to purchase N-type monocrystalline silicon wafers produced by a subsidiary of Zhonghuan. These silicon wafers are used to produce high-performance monocrystalline photovoltaic modules, SunPower's knockout products.
This deal soon brought significant benefits. According to a report by Securities Daily, in 2013 when China's photovoltaic industry was in a slump, Zhonghuan saw its sales revenue soar by 632.87 percent with its export volume reaching 1.3 billion yuan ($212.07 million). Although Zhonghuan said its N-type monocrystalline silicon wafers were also sold to Japan and Taiwan, industrial insiders still insist that SunPower is its biggest client.
Drawing benefits from the cooperation, Zhonghuan decided to join hands with SunPower and take on the Chinese photovoltaic market, the fastest-growing in the world.
At the end of 2012, Zhonghuan set up Huaxia CPV (Inner Mongolia) Power Co. Ltd. and held 40 percent of the company's shares.
Other shareholders of Huaxia CPV include SunPower, Inner Mongolia Electric Power (Group) Co. Ltd. and Hohhot Jinqiao Urban Development Co. Ltd. The three contributed 25 percent, 20 percent and 15 percent respectively to the total shares.
Such a shareholder pattern is similar to that of Shengtian, gathering both local government-invested companies and multinationals.
What makes the Inner Mongolia project and the following Sichuan project attractive is that Zhonghuan committed to use SunPower's high-performance photovoltaic modules and low-concentration photovoltaic systems to build power stations, though both technologies differ from those now widely used in China's solar power plants.
Zhonghuan even boasted that even when ideal conditions are partially met, the cost of solar power it builds can be reduced to 0.4 yuan ($0.07) per kWh from the average solar power cost of 1.2 yuan ($0.2) per kWh.
Although the industry still challenges the Zhonghuan-plus-SunPower model because there is no enough evidence supporting this ambition, Zhonghuan still projects that Huaxia CPV will build a 7.5-gigawatt solar power plant in Inner Mongolia by 2017 and Shengtian will build a 3-gigawatt solar power plant in Sichuan.
Meeting under the sun
Following pleasant cooperation and ambitious blueprints, SunPower seems more devoted to the Chinese market and its cooperation with Zhonghuan. It is SunPower that brought Apple Inc. and Zhonghuan into contact with each other. In the United States, SunPower has built accessory solar farms for many of Apple's office buildings and data centers.
According to analysis of the Securities Daily report, Apple Inc. will gain three benefits from investing in solar power in the United States: establishing a corporate image of environmental protection (it has committed to powering all its facilities with renewable energy), enjoying a 30-percent federal tax credit for solar investment, and earning benefits from carbon trade and photovoltaic power generation.
In China, however, the 30-percent tax credit is unavailable, and the carbon trade market has not yet been established, which is unable to add more value to Apple's photovoltaic investment. Moreover, the present average 8-12 percent investment returns rate on photovoltaic investment is not worth mentioning compared to the company's gross profit margin of 40 percent.
At least in the short term, Apple does not aim to gain a profit from investment in photovoltaic projects in China. Then what is Apple's goal?
"Before SunPower brought Apple and Zhonghuan together, Apple had come into contact with some other Chinese photovoltaic companies. Apple had offered to control Shengtian but later abandoned the proposal. Besides restrictions as a foreign company, Apple also highly values the cooperation with companies invested by local governments," an anonymous industrial insider told Securities Daily.
"Getting this deal with Apple, Shengtian and even Huaxia CPV will easily win more projects in Sichuan and Inner Mongolia, and the Zhonghuan-Apple-Sunpower alliance will be accepted by more local governments in China," said the source.
Copyedited by Kylee McIntyre
Comments to wangjun@bjreview.com