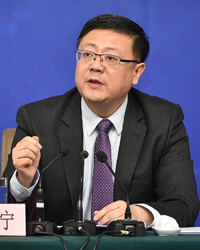 Chen Jining, Minister of Environmental Protection (XINHUA)
A striking trend arose after the State Council, China's cabinet, appointed several new officials on March 5: many were former academics.
Among them, Huai Jinpeng, former President of Beihang University, was appointed vice minister of the Ministry of Industry and Information Technology. Wang Enge, former President of Peking University, was appointed vice president of the Chinese Academy of Sciences.
Scholars being appointed to important positions in government departments has become a common sight under President Xi Jinping's administration. The first of the recent appointments was Chen Jining, a well-known environmental scientist and former president of Tsinghua University, who was appointed minister of environmental protection on February 27.
Man of the hour
For Chen, the first thing to consider after waking up every morning is no longer his students, but the color of the sky.
As a minister, he is tasked with spearheading the country's uphill drive to resolve a conflict between environmental protection and economic development that he has described as being unprecedented in human history.
Analysts believe that Chen's outstanding knowledge in environmental protection as well as his expertise have resulted in central leadership placing him on the frontline against environmental problems.
Chen became involved in studying the impact of human activity on the environment back in 1981. For seven years, he studied at Tsinghua University's Department of Civil and Environmental Engineering, eventually earning his Master of Science Degree. In 1993, he received a PhD from the Imperial College London and later served as an assistant researcher at the college.
Five years after finishing his doctorate in 1998, Chen joined the Tsinghua faculty. A year later, he was appointed director of the university's Department of Environmental Science and Engineering. In January 2012, Chen was promoted to the position of president of Tsinghua University, traditionally recognized as China's top university for scientific studies. During this time, he published more than 200 papers and authored or co-edited a number of books.
Academically, Chen is an expert in the field of environmental protection, devoting much of his research into analyzing the environment and putting his analytic methods into practice for environmental planning and management.
As the owner of more than a dozen patents and registered environmental software products, Chen has also served as a member of the National Environmental Advisory Commission and as vice chairman of the Science and Technology Committee of the Ministry of Environmental Protection.
The month before Chen's appointment, Hou Jianguo, former President of University of Science and Technology of China, was appointed the nation's vice minister of science and technology.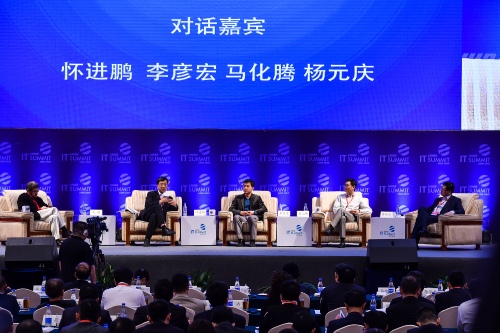 IT'S ELEMENTARY: Huai Jinpeng (second left), Vice Minister of Industry and Information Technology, attends an Internet Forum in Shenzhen, Guangdong Province, on March 22 (MAO SIQIAN)
Like Chen, Hou was also devoted to research before being appointed vice minister. His research included nanomaterials and structures, single molecule physics and chemistry, and scanning tunneling microscopy.
Hou was born in southeast China's Fujian Province in October 1959. During the period of 1978-89, he studied at the University of Science and Technology of China and earned a doctorate in condensed matter physics. In 1995, he started teaching at the university and was made an academician of the Chinese Academy of Sciences. In September 2008, Hou became president of the University of Science and Technology of China.
Picking up steam
"Academics being given such positions is in line with the trend of experts managing government during peacetime," said Yan Shuhan, Director of the Research Department of Scientific Socialism with the Party School of the Communist Party of China (CPC) Central Committee.
Yan believes that academics, with their in-depth and specific knowledge accumulated during decades of years of research, are better equipped to formulate pragmatic and effective policy for their country.
"They are better at putting forward efficient solutions to specific problems by referring to the outcomes of their research," he said.
According to the guideline released by the General Office of the CPC Central Committee in late 2014, which lays out the proper procedure for selecting Party and government officials from 2014-18, Party organizations and government departments are encouraged to train and select leadership members from the leaders of state-owned enterprises, colleges and universities, and research institutes.
"The move indicates that the Central Government is determined to realize the modernization of its administration and the professionalism of its officials," said Zhu Lijia, a professor with the Chinese Academy of Governance (CAG).
Zhu has particular hopes for the new minister of environmental protection. "I cannot wait to see what Chen will bring to the table for China's environmental protection work," he said.
Liu Qing, an associate professor with the Party School of CPC Jiangsu Provincial Committee, also expressed support for the move.
"As a supplement to the civil-servant system, appointing academics as government officials will bring a new dynamic to the administrative system of the country," Liu said.
Zhou Wenyu, a Shanxi-based commentator, said that he believes the new emphasis on scholars could give the country's administrative system a makeover and help break the rigid preference for seniority, broadening the way for those leading scholars with their extensive knowledge to enter senior positions in government departments.
Though the recent guideline puts specific emphasis on the appointment of scholars as government officials, the practice has existed for a while, though less widespread than it is becoming now.
For example, Wan Gang, Minister of Science and Technology, was president of the Shanghai-based Tongji University before. He was appointed to his current position in 2007. Current Minister of Education Yuan Guiren had been studying and teaching at Beijing Normal University for 20 years. In 2001, he was appointed vice minister of education after acting as president of the university.
An example that attracted particular amounts of public attention included Hu Heping's appointment as minister of the Organization Department of CPC Zhejiang Provincial Committee, though the attention was initially negative on the grounds that the relevance of Hu's experience was not immediately apparent.
Hu studied at the Department of Hydraulic Engineering of Tsinghua University in 1980-90 and earned his master's degree there. In 1995, he earned a doctor's degree from the Department of Civil Engineering at Tokyo University. A year later, Hu returned to Tsinghua University as deputy director of the Department of Hydraulic Engineering. From 2008 to 2013, Hu acted as Party chief of Tsinghua University.
"The position requires the leader to have experience in human resources. It's obvious that Hu did not have this," Zhu, the CAG professor, commented.
Xu Yaotong, another professor with CAG, held a different opinion. "Before taking a new position, the appointed person should prepare thoroughly and must accept evaluations from leaders and departments that will be affected. I believe Hu prepared properly before taking the position," he said.
Sophos moros
However, there are a number of scholars who have failed in their appointments.
In 1998, Guo Yuanxi, a professor at Chengdu-based Southwestern University of Finance and Economics, was appointed vice mayor of Deyang, southwest China's Sichuan Province. However, five years later, he resigned saying he was "not being able to adapt to the position" and returned to his old post.
Pu Xingzu, a professor who specializes in the congress system at Shanghai-based Fudan University, said that the example set by Guo's appointment indicates that administrative jobs require more than just book smarts.
"Academics that become officials must learn about administration to adapt to the new positions," Pu said.
Liu Xiaobing, Dean of the Law School of Nanjing Tech University, agreed that there will undoubtedly be an adaptive period for academic-turned officials, but he also emphasized that academics should continue keeping their independent thinking in their new jobs.
"If academic officials lose their independent thinking in their new positions, the initiative will miss its original purpose," Liu said.
Copyedited by Kieran Pringle 
Comments to yinpumin@bjreview.com