CRAVING A TASTE: Jamyang Lotan shows the products from his factory on March 25 (MA LI)
Jamyang Lotan gets up early every day to make Tibetan tea for his 76-year-old mother. It has been a tradition in his family for almost a century.
Fancy a cuppa?
Tibetan tea is a staple drink for Tibetans. Since they live at a high altitude and experience the lower levels of oxygen that come with it, they need a diet rich in fat and sugar. Tibetan tea, which is fermented, helps digest the fat and keep a metabolic balance.
However, tea can't grow at high-altitude areas such as Tibet, and can only be imported from lower regions away from the plateau. As a result, tea has acted as a bridge between Tibet Autonomous Region and the rest of China for centuries.
Jamyang Lotan's family has a strong connection with Tibetan tea. Lotan's father and grandfather both traded it for a living.
The Ya'an area in southwest China's Sichuan Province, which neighbors Tibet, has long been the main source of tea for Tibet. In the late 1990s, as some tea companies blindly chased profits, the quality of the Tibetan tea was negatively affected. Lotan's father made the decision to set up his own tea factory in Ya'an and create his own tea brand to ensure the quality of his product.
Although everybody in the family thought it was a crazy idea, Lotan's father still withdrew all his savings and even borrowed another 8 million yuan ($1.29 million) from relatives and friends. In 2000, the factory was set up.
At that time, Lotan was working at the Lhasa Tobacco Monopoly Bureau and never thought that one day, he would be involved in the Tibetan tea business too.
The factory was soon put into operation and the business developed pretty well. Apart from making traditional Tibetan tea, they also added new products like tea powder and Tibetan sugar tea, which were new in Ya'an. Lotan was impressed by his father's ability to manage the business and innovative ideas.
With his health suffering for a long time, Lotan went to Ya'an and stayed there for a month. The humid and pleasant climate there improved Lotan's physical condition and he finally decided to settle down there.
Lotan's father was very happy that Lotan came and wanted to give the factory to Lotan. "My father said he was too old to manage the factory and also staying in Ya'an is good for my health," said Lotan, who finally took over the family business.
Lotan dove into his new life with gusto.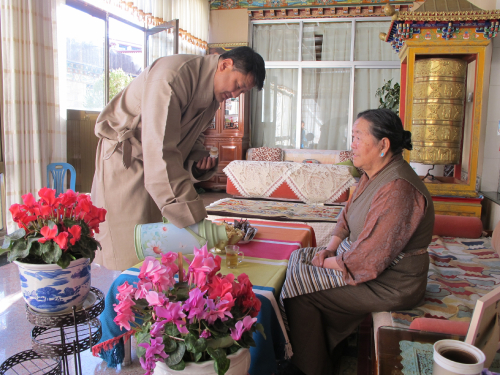 PUT THE KETTLE ON: Jamyang Lotan makes Tibetan tea for his mother at home (MA LI)
Turning leaves into green
Since 2005, Lhasa has become a popular destination for tourists, who are very interested in the instant Tibetan tea powder. Lotan took note of this and started to develop a series of instant Tibetan tea powders, including Yak butter tea powder and Tibetan sugar tea powder. The number of items produced in the factory increased from less than 10 to dozens.
While in 2007, the factory stagnated as only tourists would buy their instant powders and local Tibetans still stuck to the habit of boiling tea and more tea factories, seeing the profits in the tea powder market, swarmed in to make similar products, but of much worse quality. This plunged the Tibetan tea market into disarray.
"It was the worst time for the business," said Lotan.
At that time, Lotan's wife had just given birth to their first child and needed him to be at home in Lhasa. Lotan was not sure whether to give up the business and factory in Ya'an.
A steep climb
"If I had given up at that time, all my father's efforts before would have been in vain," said Lotan. "As the eldest son in the family, I decided to continue no matter how hard it was."
In order to support the Tibetan tea companies, the local government of Ya'an organized experts to provide professional ideas for entrepreneurs like Lotan.
Lotan was introduced to two senior professors from Sichuan Agricultural University. After evaluating Lotan's factory and tea products, the professors suggested he upgrade the factory's machinery and produce low-fluorine tea.
The suggestions opened a new door for Lotan. Most Tibetan tea in the market contains high amounts of fluorine, which is harmful to people's health, especially that of seniors, who are more likely to have osteoporosis.
"The purpose of opening this factory is to provide safe tea for the consumers," said Lotan, who decided to follow the suggestions and this decision was supported by his father.
This meant a revamp of the factory. Making qualified low-fluorine Tibetan tea required a hefty investment in new machines, technology and brand promotion. Lotan put all the money he had made for years into this innovation. "I tried to persuade him to sell the factory and switch to another business, but he wouldn't give up," said Lotan's wife.
When Lotan was getting all ready for the production of the new item, a series of accidents almost ruined everything. From the end of 2007 to early 2008, his factory was hit by three fires, and the May 12 earthquake that hit Wenchuan in Sichuan Province in 2008 almost wiped out the factory.
These were the most difficult days for Lotan, but at this time, all his family members were very supportive and the local government of Ya'an had also introduced beneficial policies that included a tax break. The factory business soon improved.
"It was Ya'an and Lhasa that gave me the confidence to move on. What is behind Ya'an and Lhasa is our great country," said Lotan.
After years of efforts, Lotan's low-fluorine tea and items targeted at tourists occupy almost 50 percent of Lhasa's market. More local Tibetans and tea drinkers in other places in the country started to drink the low-fluorine tea.
"I've been making tea for eight years since 2007. My father told me to make good tea and be a good person. I will keep this in mind throughout my life," said Lotan. 
Copyedited by Kieran Pringle
Comments to zanjifang@bjreview.com