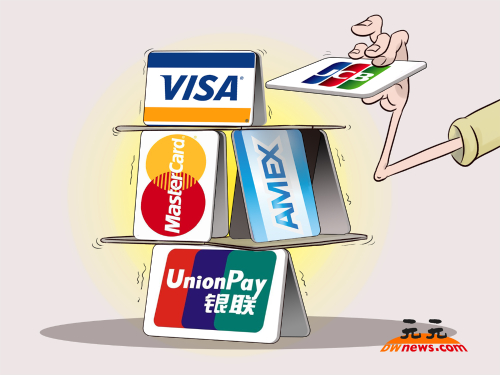 (CFP)
After years of knocking, the door to the Chinese market finally opened for the world's two largest card suppliers Visa and MasterCard. Starting from June 1, qualified foreign and domestic clearing firms can apply for a license in the bank card clearing market, which has been monopolized by state-owned China UnionPay (UnionPay) for over a decade, according to an announcement from the State Council on April 22. Stock prices of MasterCard and Visa rose following the news.
Back in 1988, international payment organization MasterCard set up an office in Beijing, and five years later, Visa followed suit, both drooling over the promising bank card clearing market in the world's most populous country. However, the two companies have been rejected from the multi-trillion-dollar market for nearly three decades and can only focus on Chinese travelers' overseas card transactions.
China's central authorities decided to create a level playing field for all players in the clearing market as more competition will bring about more benefits for consumers.
Visa issued a statement on April 22, saying that the company is hopeful that these new regulations will permit additional participants in the Chinese market. "Visa will review the new regulations and looks forward to further implementation details to be published by the relevant authority. Visa's long-term commitment to our client financial institutions and business in China remains unchanged," read the statement.
"We welcome the announcement from the Chinese State Council and see this as a step in the right direction. As we digest and understand the details of the decree, we look forward to continuing to work with our partners in China to help consumers and businesses benefit from the convenience, security and innovative offerings of our global payment network," MasterCard said in a statement to Beijing Review.
High hopes have been pinned on the two foreign giants and Alipay, the third-party payment segment owned by China's e-commerce king Alibaba, challenging UnionPay's monopoly.
The end of an era
Clearing companies connect banks, shops and card users. Clearing firms turn the promise of payment into the actual transfer of money from one bank to another and make profits mainly by charging commissions on transactions.
Up until now, UnionPay is the only clearing service provider for yuan-denominated bank card payments in the country. Established in 2002, UnionPay has made great contributions to the rapid development of bank cards in China by inventing a whole set of bank card clearing standards and establishing an infrastructure network that allows Chinese customers to swipe bank cards in shops, hotels and restaurants.
China had 4.9 billion bank cards as of the end of 2014, an equivalent of 3.64 cards for each person on average. In 2014, a total of 59.57 billion bank card transactions took place in China, valued at 449.9 trillion yuan ($72.75 trillion) and about 48 percent of the country's retail sales were paid through bank cards, up from the meager 4.7 percent in 2002, according to data from the People's Bank of China, the central bank.
UnionPay has more than 4.6 billion bank cards, which can be used in more than 150 countries and regions, according to its official website.
Despite its glorious achievements, the company has been long criticized for its monopolistic status in the Chinese clearing market as it raked in hefty profits by charging commissions in card transactions. Foreign rivals such as Visa and MasterCard could only handle Chinese travelers' card transactions overseas or rely on UnionPay's network by paying a fee to process transactions in China.
The opening up of the bank card clearing market came after the U.S. Government brought a case to the WTO in 2012. The United States challenged China's requirements that foreign card companies must use UnionPay's network for yuan-denominated transactions.
In July 2012, the WTO told China to stop discriminating against foreign payment companies and to open up its bank card clearing market as soon as possible.
Under the new rules, Chinese central authorities hope to increase competition in the industry and provide better services for Chinese consumers.
"Opening up the market for bank card clearing will help improve the country's card clearing services through market competition," said the central bank in an online statement.
Although the new policy is still short of details, a more extensive framework of rules will be introduced later this year, according to the central bank.
A statement on April 22 by UnionPay said it supports the State Council's decision to open up the bank card clearing market.
UnionPay President Shi Wenzhao said the company will go completely unprotected from now on.
To apply for a clearing license, a company should fulfill at least six requirements, including a minimum 1 billion yuan ($161 million) in registered capital, according to the State Council announcement.
Yang Tao, a researcher with the Institute of Finance and Banking with the Chinese Academy of Social Sciences, said it's necessary to set a market entrance threshold for the business.
"Globally speaking, clearing companies for bank card transactions are a vital part of financial institutions," Yang said. "The intention of setting a market entrance threshold is to strike a balance between opening up the market and controlling risks."
Yang said the new move will influence UnionPay to a certain extent, but not necessarily in a bad way. "UnionPay has started transforming its business model since last year. In addition, the overall size of China's clearing market is growing. Introducing competition into the market is not necessarily a bad thing for UnionPay. It may be a good thing for its business transformation."
Who will come to play?
Yang said it may take a company two years after applying for the license to eventually carry out the business. He also said it's hard to tell which company will apply for the license as the detailed regulation has yet to be released.
"But no matter who applies for the license, UnionPay has become a ubiquitous logo in China; therefore, it's extremely difficult for other companies to build another brand to challenge UnionPay," Yang said.
"To make breakthroughs, the newcomers should focus on new Internet-based clearing methods and providing differentiated and better services than UnionPay."
Yang said foreign bank card providers, such as Visa and MasterCard, and the hundreds of third-party payment companies are potential applicants for the clearing license.
"Foreign firms have many years of experience in global markets and will be a strong challenge for UnionPay," Yang said. "On the other side of the equation, it's a good chance from those third-party payment companies to standardize some of their previously gray-area businesses."
A source from the third-party payment platform Alipay told China Business News that the company is studying the State Council circular and mulling over its next move.
Some companies, however, don't seem interested in the new policy.
Sun Taoran, President of Lakala, a third-party payment company, said the company has no intention of applying for the license at all.
"UnionPay has already established a system that connects all banks. It's not economical for us to build a new system from scratch. We'd rather build our channels and user base by employing the current UnionPay system," Sun said.
In Yang's opinion, only top companies have a shot at selection. "The State Council circular only states the basic prerequisites for applying for the license. When eventually issuing the license, a lot needs to be assessed, such as the company's ability in building clearing infrastructure and in operating the clearing system," Yang said.
"According to global experiences, moderate competition in the clearing market is in line with the principle of the economy of scale and the interests of all parties concerned, rather than excessive and out-of-order competition," Yang said.
"Therefore, it's unlikely that licenses will be granted in large numbers," he said.
Copyedited by Kylee McIntyre
Comments to:zhouxiaoyan@bjreview.com