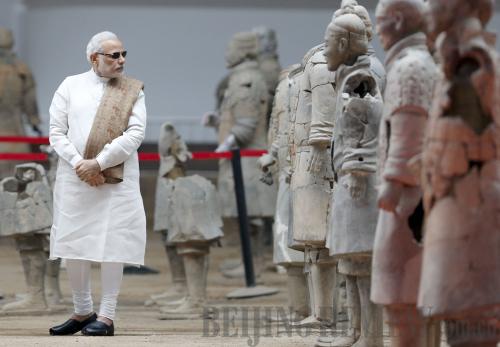 Indian Prime Minister Narendra Modi visits the Emperor Qinshihuang's famous Terracotta Army in Xi'an, capital of northwest China's Shaanxi Province, on May 14 during his maiden official visit to China as Indian head of government (CNSPHOTO)
In addition, India is a firm supporter and will be a big shareholder of the China-led Asian Infrastructure Investment Bank (AIIB)that aims mainly to complement the Belt and Road Initiative and provide financial support for the strategy. In addition, New Delhi is also partnering Beijing in the New Development Bank, which, oriented toward the "global south," would be run by the BRICS group that comprises Brazil, Russia, India, China and South Africa.
Modi also voiced hope for more bilateral trade and closer cooperation with China within the AIIB. The prime minister said he believed the AIIB will play an important role in regional economic and social development, and that India welcomes China to increase investment.
Wang told Beijing Review that India is in fact very interested in regional economic integration. India has its own regional economic integration plans such as the Mausam Project. Initiated in 2014, the project aims to reestablish India's ties with its ancient trade partners and rebuild an "Indian Ocean world" along the littoral of the Indian Ocean.
"In my communication with Indian colleagues, I learned that they have come to understand the Belt and Road Initiative deeper and deeper, and that the Indian side is also considering ways to integrate the Chinese initiative with its Mausam Project. Then, it would be a win-win outcome for both sides, rather than a zero-sum game," said Wang.
Investment and exchange
On Modi's trip, chief ministers from Gujarat, Maharashtra and Karnataka also accompanied the prime minister, which, according to some Chinese observers, shows clearly that the Indian side, particularly these three states, is eager to attract more Chinese investment.
Attracting more Chinese investment to set up factories in India is actually also one of the most practical ways to deal with the trade imbalance between the two countries, Wang with the CICIR said.
China is India's biggest trading partner, with two-way trade totaling more than $70 billion in 2014. Meanwhile, India's trade deficit with China equals about $37.8 billion. Modi, therefore, wanted to negotiate with China in the hopes of minimizing the trade deficit.
"The products that China exports to India are mostly daily necessities. They are very popular in the Indian market. Having Chinese enterprises setting up plants in India to produce the products locally will not only help reduce the bilateral trade deficit but also create jobs for local people," Wang said.
Wang also said that India needs to improve its domestic business environment including upgrading infrastructure and raising government working efficiency.
Wang Wenge, General Manager of Fortune Plus, a Beijing-based cross-cultural communication enterprise that has close connections with Indian market, echoed Wang with the CICIR's sentiments, noting that India needs to make more efforts in attracting Chinese investment for the sake of reducing its trade deficit with China.
He told Beijing Review that though more and more Chinese enterprises are investing in India, the Indian Government still needs to expand publicity to attract more Chinese investment.
Wang Wenge noted that due to cultural differences, there is still a lack of mutual understanding between the two countries, which he claimed is a major reason that hinders mutual investment in each other.
"Actually, with a large number of young people, the Indian market is full of vigor," Wang Wenge said.
Wang Wenge also proposed expanding bilateral people-to-people exchange to deepen mutual understanding and promote trade and economic contact. His company, Fortune Plus, is working closely with the Podar Enterprise of India to build a Chinese-centric neighborhood in the state of Gujarat. According to him, the neighborhood aims to deliver superior Chinese industries and products directly to India, which will display pragmatic cooperation opportunities to local people.
In addition, the Fourth China-India Forum cohosted by Chinese People's Association for Friendship with Foreign Countries and China-India Friendship Association, and co-organized by Fortune Plus and the Podar Enterprise, will also be staged this November in India's economic hub Mumbai, in the hopes of providing a good platform for communication between the business circles of the two countries, Wang Wenge said.
Copyedited by Kylee McIntyre
Comments to yulintao@bjreview.com