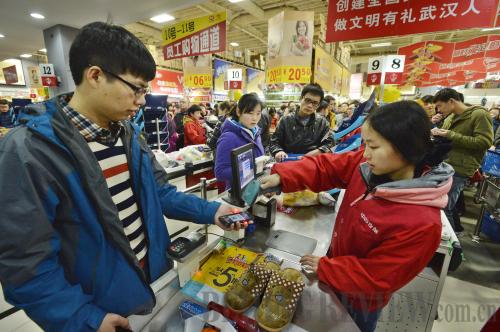 A cashier scans a customer's Alipay account in a supermarket in Wuhan, capital of central China's Hubei Province, on December 12, 2014. That day, Alipay users enjoyed a 50-percent discount in Alipay's partner supermarkets (CFP)
Wang Dawei, a 31-year-old civil servant living in Beijing, manages to live a wallet-less life in the capital, thanks to online mobile payment apps on his smartphone.
"I use mobile apps to solve almost all payment demands in my life. I don't need to go to banks anymore, and my bank cards have been sitting idle at home for a long time. I can get a taxi by using taxi-hailing apps and pay the driver with my phone, shop online and pay for the product on my phone, pay my electricity bills and transfer money to other parties," Wang told Beijing Review. "Anything you can think of can be accomplished on the phone."
Previously, in China, one survived with cash in hand. Later, bank cards became the new cash. Now, phones are taking cards' place at the forefront, Wang summarized.
Wang said his cellphone-driven life progressed even further when the two online payment giants—Alipay, China's e-commerce king Alibaba's mobile payment platform, and WeChat Payment, mobile payment platform of China's tech giant Tencent—started to cooperate with brick-and-mortar supermarkets in a bid to expand their territory.
In the past, shoppers had to wait for the cashier to get change or swipe the card and sign their name to confirm the transaction, which took several minutes. Now, Alipay and WeChat have provided a faster and more convenient payment option.
Both Alipay and Wechat allow consumers to pay with a smartphone. With a tap on those mobile payment apps, a QR code and a bar code will be generated. Cashiers can simply scan the code on the screen to make the transaction within three seconds, a much faster and less complicated process than paying in cash or in bank cards.
The tug-of-war between Alipay and WeChat Payment has been going on for a while, as the two backed different taxi-hailing apps to promote their services last year and launched digital red envelope wars during the Spring Festival holiday, which ran from February 18 to 24 this year. Now, their battleground has shifted as they move to expand their offline businesses by teaming up with retailers.
A lucrative market
China's mobile payment market is rising, with the transaction volume on third-party platforms exceeding 5.99 trillion yuan ($966.2 billion) in 2014, almost four times the volume of 2013, according to consultancy company iResearch. The transaction volume will reach 18.5 trillion yuan ($3 trillion) in 2017, iResearch forecasts.
To fight for a larger share of the vast and increasingly promising market, China's two popular mobile payment systems Alipay and WeChat Payment are both working closely with supermarkets and convenience stores to expand their market shares from online to offline.
On April 28, Alipay, which boasts over 600 million users, announced a payment partnership with domestic giant China Resources Vanguard Co. and international retail heavyweight Carrefour. On May 13, Alipay also announced a liaison with Walmart. Walmart's 25 stores in Shenzhen, south China's Guangdong Province, will be the first batch to adopt the popular payment method. Other stores are expected to join the trend in future.
After two years of hard work, Alipay's mobile payment service now covers over 70 supermarkets including Wu Mart, Century Market, Auchan and 7-11.
Alipay's archrival WeChat Payment, which claims it has over 400 million users, shows no sign of retreat as well. On May 5, Carrefour signed a payment agreement with WeChat, which will allow shoppers to pay their bills in 237 Carrefour outlets in China.
The cooperation between mobile payment providers and supermarkets goes beyond payment services, according to both sides.
Long lines during weekends and holidays have long plagued supermarkets, while a partnership with Alipay and WeChat could lead to a less time-consuming payment process.
However, that's not the only thing supermarkets aim for. Payment platforms and supermarkets will share transaction information and use a big data platform to provide better solutions for inventory management, logistics and delivery as well as marketing and promotion.
Cao Chengzhi, Vice President of Carrefour China, said the retail giant aims at long-term development in China, and brick-and-mortar stores are just part of their ambition.
"Carrefour's cooperation with WeChat is not only directed toward a new type of payment method but also creating an online platform for customers so that they can know about the latest discounts and promotional activities," Cao said.
"Carrefour wants to develop its own logistic centers, convenience stores and exploit online-to-offline (O2O) business. Cooperation with third-party payment platforms can help us accumulate mass user data, which can later be used to analyze users' demand and forge a solid foundation for Carrefour's O2O strategy," Cao said.
Huang Wenjie, Executive President of Guangdong Circulation Chamber of Commerce, said the profit margin of supermarkets has been shrinking in recent years, due to rising rental and human resource costs. "A transformation of their growth pattern based on O2O is an inevitable trend."
As for Alipay and WeChat, they are cultivating user habits by offering discounts to users.
"We have successfully educated users on how to use WeChat to pay their bills," said Wu Yi, General Manager of Tencent's WeChat Payment.
"WeChat has already completed the connection between people. Now, it plans to connect people with the world, people with shops and people with hardware, so that shops, users, restaurants and convenience stores are all nodes on the broader Internet. Overall, more connections will generate big data that can help shops better understand their customers and offer better services," said Wu.
Safe or not?
Qian Haili, an analyst with China E-commerce Research Center, said when Alipay and WeChat offer discounts, users are willing to use them to pay their bills. "However, when they stop the discounts, users may still use their bank cards instead of cellphones."
"In order to change their habit, discounts should be continued and a more diversified marketing scheme should be carried out," said Qian.
Many people find it hard to entirely rely on those payment apps due to concerns over safety issues. With a growing number of people linking their debit cards to smartphones, any technical glitch or personal information leak could have serious ramifications. For instance, on May 27, Alipay users couldn't log on to the platform because a portion of the optical fiber lines in Hangzhou, east China's Zhejiang Province, where one of Alipay's major data centers is based, was cut.
According to a survey released by auditing firm PricewaterhouseCoopers, 71 percent of the respondents expressed concern over safety risks when using a smartphone to pay the bill.
A report released by Tencent summarized three major risks in mobile payment—viruses implanted in e-commerce websites, payment apps and QR codes.
However, the report said users don't need to worry overly about the risks, as long as they download apps from official channels and scan safe QR codes.
Wang, the 31-year-old civil servant living in Beijing, said some of his colleagues are too afraid of the risks to use the service, although they are as young as in their 20s.
"It has nothing to do with age. It's all about whether you want to be open-minded toward the future," Wang said.
Wang, however, said he is willing to embrace the new era, not because he is not aware of the risks, but because he trusts the technology of big firms like Alibaba and Tencent.
"Indeed, it will bring convenience to customers. But on the other side of the equation, there is no such thing as privacy if you want the convenience," Wang said.
With convenience, then, Wang suggests, comes responsibility.
"To control the risks and at the same time live a more convenient life, the first thing you should do is to guard your cellphone with your life, as it has become a key to your fortune," Wang said. "Also, you can buy insurance products to cover any potential financial loss in online payment. Some third-party payment platforms offer the insurance for free or at a quite low price to lure more uses."
Copyedited by Kylee McIntyre
Comments to zhouxiaoyan@bjreview.com