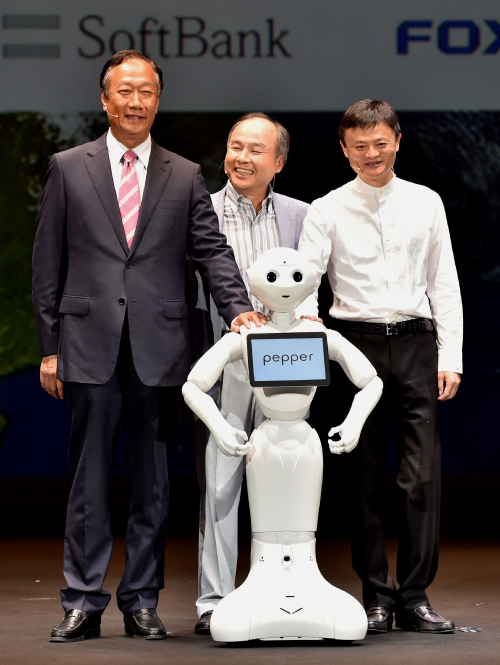 Masayoshi Son (center), Chairman and CEO of SoftBank, Jack Ma (right), Chairman of Alibaba, and Terry Gou, CEO of Foxconn, pose with Pepper the humanoid robot in Tokyo, Japan, on June 18 (XINHUA/AFP)
Remember BayMax, the personal healthcare companion from Disney's 2014 animated feature film Big Hero 6? Well, it appears that owning such a gentle, loving and caring robot might not be such a distant dream after all.
E-commerce king Alibaba Group recently announced it will invest in a company that has produced Pepper, the world's first personal robot that reads emotions.
According to an agreement reached on June 18, Alibaba and Taiwan-based electronics manufacturer Foxconn will each invest 14.5 billion Japanese yen ($117.45 million) in and hold a 20-percent stake in SoftBank Robotics Holdings Corp. (SBRH), a robotics company under Japan's SoftBank Group. The remaining 60 percent of shares will be held by SoftBank.
As it strives to become a key player in the nascent humanoid robot sector, Alibaba pledged to bring Pepper and other robotics businesses to global markets, and to cooperate with the other two companies with the aim of spreading and developing the robotics industry on a worldwide scale.
Pepper, the human-like robot, is so popular that it sold out in a minute during its consumer release on June 20 in Japan.
Only 1,000 models were available for the consumer launch, with the base price being set at 198,000 Japanese yen ($1,600) with an additional 24,600 Japanese yen ($200) monthly data and insurance fees. This autumn, SBRH plans to launch a dedicated model for enterprises—Pepper for Biz.
Who's Pepper?
About a year back, SBRH introduced the asexual 1.2-meter tall and 28-kg heavy robot—Pepper—which moves around on wheels and wears an iPad as a pendant. Touted by SoftBank as the world's first emotional robot that can read human emotions, the personal humanoid robot has been designed for taking care of elders, assisting school kids with home assignments and delivering digital entertainment.
Unlike the functional robots, Pepper will make people happy by emotionally interacting with people and will help people, enhance their life and facilitate relationships.
"The latest creation from SBRH, Pepper is the first humanoid robot designed to live with humans. At the risk of disappointing you, he doesn't clean, doesn't cook and doesn't have super powers... Pepper is a social robot able to converse with you, recognize and react to your emotions, move and live autonomously," said an introduction to Pepper on the SBRH website.
The introduction also said that to be a true social companion, Pepper needs to be able to understand your emotions. If you burst out laughing, he will know you are in a good mood. If you frown, Pepper will understand that something is bothering you.
Pepper currently has the ability to speak English, French, Japanese and Spanish. In the next few months, there will be more language releases in its app store, which already has around 200 apps.
According to SoftBank, Pepper will not only be able to read emotions—the robot has been designed to have emotions.
Pepper's emotions use emotion functions developed to enable robots to artificially generate their own emotions. These emotion functions in Pepper are modeled on the human release of hormones in response to stimuli absorbed by the five senses, which in turn generate emotions.
Popularity factor
The potentially immense robotics market is a major reason for Alibaba's hefty investment in the sector, as the robotics industry has ascended to the position of a strategic emerging one in many countries.
On May 19, China's State Council unveiled a national plan, dubbed Made in China 2025, which calls for green, intelligent manufacturing, with a focus on quality and Internet integration. The plan aims to lift China from its current position as a powerhouse to a superpower in the manufacturing industry. In the plan, the robotics industry is listed as one of the 10 mainstay industries in China.
According to the International Federation of Robotics, China has become the world's largest robot market in terms of annual sales in 2013 with an annual growth rate of over 25 percent.
China is not the only one that has pinned high hopes on the emerging industry. Some developed countries such as Germany, Japan and the United States have included the robotics industry in their plans to revitalize their domestic manufacturing sector.
A recent report from BI Intelligence, a syndicated research and information service provider, shows that the global market for consumer and business robots is expected to reach $1.5 billion by 2019, as their usage increases from manufacturing assembly lines to offices and households.
"I am very excited that we will partner with Alibaba and Foxconn, and challenge ourselves to go global with our robotics business, including Pepper, as a first step to realize our vision. To bring more smiles to people around the world, we will aim to be the No.1 robotics company," said Masayoshi Son, Chairman and CEO of SoftBank.
According to Jack Ma, Alibaba's Board Chairman, human society is transforming from the information technology (IT) era wherein the main purpose is to control, to the data technology (DT) era, targeted at activating productivity.
The IT era turns humans into robots, whilst the DT era turns robots into humans, backed by big data and cloud computing. In the future, robots will become smarter, or even possess some abilities that were previously exclusive to human beings, such as perception, thought and wisdom, Ma said.
"As we enter the DT era, robotics will become a critical field that catalyzes technological breakthroughs in numerous sectors such as healthcare, public services and intelligent homes," Ma said.
In addition to exploiting the promising robotics market, Alibaba looks to cooperate with SBRH on smart technology.
Zhang Jianfeng, president of Alibaba's retail business, including Tmall, Taobao and Juhuasuan, said investing in SBRH can help Alibaba develop its smart technology.
"Alibaba's smart platforms will roll out cooperation with SBRH on machine vision, voice analysis, home intelligent control and intelligent network security, so as to help Alibaba improve its smart technology," Zhang said.
Alibaba, which boasts a sharp edge in massive user base, cloud storage and computing and big data, also said it will help SBRH research on robotics application and user experience.
According to Ma, leapfrog progress will be made in the robotics industry in the upcoming three decades.
"Robots are going to be as popular as cars and planes, and they will become part of our families," he said.
SoftBank Robotics Holdings Corp.
Founded in July 2014, SoftBank Robotics Holdings Corp. is the SoftBank Group's intermediate holding company responsible for its robotics business. The company develops robots and offers robot-related products and services, including Pepper the humanoid robot.
(Source: SoftBank Group)
Alibaba Group
Alibaba Group was founded in 1999 by 18 people led by Jack Ma, a former English teacher from Hangzhou, east China's Zhejiang Province. The company got listed in the New York Stock Exchange on September 19, 2014.
Alibaba Group's major businesses include:
- Taobao.com China's most visited customer-to-customer (C2C) online shopping website
- Tmall.com China's leading online business-to-customer (B2C) mall
- Juhuasuan.com China's most popular online group buying marketplace
- Alibaba.com Leading global wholesale business-to-business (B2B) platform
- AliExpress.com Popular international e-marketplace for consumers
- Alibaba Cloud Computing (aliyun.com) Developer of platforms for cloud computing and data management
- Alipay.com Leading online and mobile payment solution in China
- China Smart Logistics Operator of a logistics information platform
(Source: Alibaba Group)
Copyedited by Kylee McIntyre
Comments to zhouxiaoyan@bjreview.com