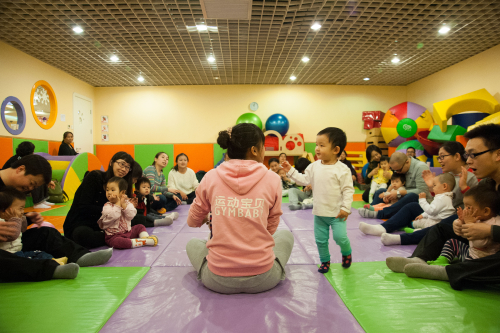 Parents and children have a lesson at an early education institution in Beijing on December 15, 2013 (CFP)
Parents are willing to spend for their children, no matter their financial situations. According to a recent survey conducted by the China Research Center for Children's Industry, an institution specializing in research in children's industry, spending for children accounts for 30 to 50 percent of 80 percent of families and has become one of the biggest areas of consumption in the Chinese mainland.
The family-planning policy put in place over 30 years ago has resulted in a large number of only children, who have been indulged by their parents and grandparents and are often referred to as "little emperors" or "little princesses." In a society characterized by increasingly fierce competition, parents are sparing no effort to gain advantages for their offspring. Such a mentality has spawned huge opportunities for businesses producing and selling products for children.
Moreover, the large number of newborn babies every year, approximately over 16 million, a sum tantamount to the total population of the Netherlands, entails a sizable market for products targeted to children. According to the predictions of Children-Baby-Maternity Industry Expo (CBME), China is expected to become the second largest market for children's products after the United States. Experts have estimated that the value of China's maternity and baby products market alone stands as high as 2 trillion yuan ($322 billion).
High-quality education
The Chinese have been attaching great value to education since ancient times. Today, preschool education is accorded with great importance, and parents in the middle class and higher are signing up their children for private kindergartens, especially those founded by foreign companies, which usually charge a higher fee than public institutions.
The Klett Education Consulting Co. Ltd. (Klett China) represents a company dedicated to founding such high-end private kindergartens. It was jointly founded by New Star Press under China International Publishing Group and Germany-based Klett Group in May 2011.
Klett China is aimed at introducing advanced educational ideologies to China. In Germany, kindergarten children are taught how to call the police, escape from a fire and grow plants. A German child acquires basic living abilities after three years in kindergarten, including mending their own toys, managing their time and dressing themselves properly. However, many Chinese kindergartens put more emphasis on courses such as Chinese, English and mathematics, which should have been taught in primary schools.
So far, Klett China has established several kindergartens in China which target children aged between 2 to 6. The educational ideologies endorsed by the company constitute a major attraction for Chinese parents. German kindergartens encourage children to actively explore the world themselves and train them to develop learning into a lifelong habit.
The activities organized by the kindergarten incorporate a wide range, including artistic creation, sports, games, language skills, music, English reading and science.
While English is regarded as a basic language skill required for success in one's career, bilingual or English-language-dominated kindergartens and English training centers targeting young children are thriving in China.
According to a report by Citibank, consumption in English teaching targeting young children has reached $4.5 billion.
On June 7, 31 students from Beijing Shuren English Training School became the first group of Chinese primary school students to receive the TOEFL Primary certificate.
With broadened access to the Internet, online education is also experiencing rapid growth. According to statistics, the investment in online education was $137 million in 2013, while such a sum climbed to $1.09 billion last year. Every day, 2.6 new online education websites are being put into operation.
On May 30, the American educational website for young children ABCmouse.com entered the Chinese market and launched a new English learning app designed for Chinese children aged between 3 and 8.
Another online English teaching website VIPKID has hired teachers from the United States and Canada to teach. They are required to have over three years' teaching experience in English as a second language or primary school teaching experience in their respective countries.
In order to capture the attention of young students who are easily distracted, every course is limited to 25 minutes and teachers are encouraged to make their courses as interesting and lively as possible.
"Although these foreign teachers cannot speak Chinese, they are able to communicate with their students using facial expressions and body language," said Mi Wenjuan, CEO of VIPKID.
Safe and healthy food
Safety and healthiness are the two most vital criteria for children-targeted products. "Chinese children often have cavities. Therefore we must keep a watchful eye on the safety and healthiness of beverages," said Chanchai Ruayrungruang, a Thai-Chinese who is Chairman of Reignwood Group.
The business tycoon who has successfully introduced Thailand's Red Bull beverage to China, launched this April Capri-Sun, a brand of juice concentrate drink owned by the German Company WILD and sold in laminated foil pouches.
Chanchai's new move has been based on a careful observation of China's beverage market.
Carbonated beverages are gradually losing favor due to health concerns. For example, last year multinational beverage cooperation Coca-Cola saw its profit decline compared with the precious year.
Beverages branding themselves as healthy is currying more favor in the domestic beverage market. Therefore, juices such as Capri-sun are destined to carve a portion out of the market.
Capri-Sun originated in 1969 and has production bases in 24 countries. It has stuck to the principle of using natural raw materials, adding no artificial sweeteners, fragrances, dyes or preservatives.
The first batch of juice launched targets children aged from 6 to 15 and has four different flavors catering to Chinese children's palates: orange, pear, white grape and a compound of peach and apple.
The Reignwood Group invested 52 million yuan ($8.4 million) to build China's first Capri-sun producing factory in Huairou District of Beijing last year. The factory had the capacity to produce 65 million pouches of juice every year and all its five production lines were imported from Germany. Besides, all the materials, pouches and straws were imported from Germany.
"As the consumption of families is increasingly centering on children, the market of children-targeted products is booming. The demand for children's juices is likely to experience explosive growth," said Lu Zhan, Chairwoman of the Fast-Moving Consumer Products Group under the Reignwood Group.
"The Reignwood Group has seen the huge potential in the market for children's juices in China and hopes to bring Chinese customers a reliable juice through cooperation with the German brand Capri-Sun," Lu added.
"Children's beverage should not only be produced according to relevant laws and regulations but also meet children's special needs in order to ensure healthy and safe dining experiences for children," said Cheng Yi, Deputy Director of the China Beverage Industry Association.
In recent years, the frequent occurrence of food safety scandals surrounding food for children has diminished consumers' trust in domestic brands. In 2008, domestically produced baby milk powders and other dairy products were found to contain high levels of the industrial chemical melamine. At least six babies died and more than 300,000 fell ill from the incident.
The toughest ever Food Safety Law which will come into effect on October 1 is expected to remedy the aforementioned food safety problems.
"The new law has raised the threshold for baby formulas to enter the market, which will prompt baby formula companies to increase spending on research and development of new products and upgrade their formulas," said Song Liang, a senior researcher on the dairy product market.
"The new law requires us to exercise the strictest control over the quality of the raw materials and finished products in milk powder production," Song added.
As a number of additives need to be added in the process of milk powder production, strengthening control over the whole process will ensure quality and safety to the maximum extent.
"It needs to be noted that the new law bans the subpackaging of milk powders in order to avoid pollution and safety problems," said Song.
Copyedited by Kylee McIntyre
Comments to tangyuankai@bjreview.com