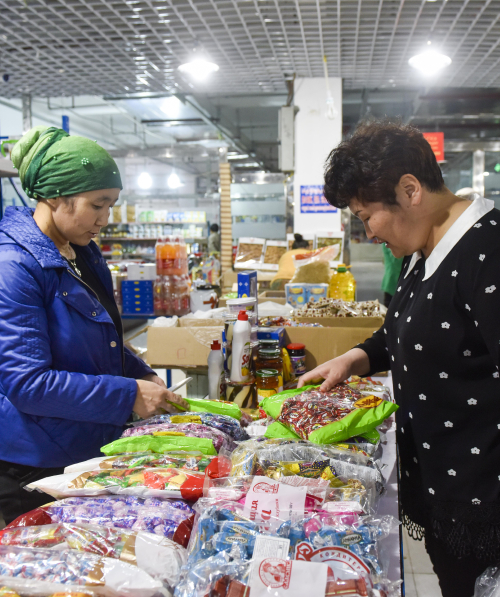 A vendor from Kazakhstan sells chocolates and candies at a border trade marketplace in Jimunai County, Xinjiang Uygur Autonomous Region on April 23 (XINHUA)
Sam Zhang, a 40-year-old bespectacled man with a Shandong accent, relishes a recent expansion of business territory into Central Asia by Wuzheng Group, an agricultural machinery manufacturer based in Rizhao, east China's Shandong Province.
"We have formed a special team to explore countries like Uzbekistan and Kyrgyzstan, and plan to shift some resources and attention from previously cultivated markets, such as Africa and South America to the relatively unexploited region," Zhang told Beijing Review, confirming that they managed to blaze a path by exporting more than 100 farm machines to Uzbekistan last year.
"It's only the beginning," Zhang added. The same is true for the Silk Road Economic Belt, which was put forward by Chinese President Xi Jinping during his visit to Kazakhstan in September 2013. Since then, the five countries in Central Asia, an integral section of the ancient Silk Road, have gradually worked out an integrating point between their national development strategies and the building of the Silk Road Economic Belt.
"A series of achievements have been made since the grand initiative was put forward. As it proceeds, the cooperation between China and Central Asia will embrace a golden era," said Meng Jianzhu, a member of the Political Bureau of the Communist Party of China Central Committee, at the Third China-Central Asia Cooperation Forum held in Rizhao in June.
As the initiator of the Silk Road Economic Belt, China has proven that it has grown into a powerful engine driving global growth and is capable of fueling up other nations through its own stable development, said Uzbekistan's First Deputy Prime Minister Rustam Azimov.
To keep up with the tide, some Chinese enterprises have set out to exploit commercial opportunities in fields such as agricultural machinery, automobile, small commodities, etc.
Overseas expedition
Perceiving the declining domestic demand for wine bottle caps, Chung Hing Packaging Co. Ltd., a Rizhao-based cosmetic packaging products manufacturer, has promptly moved this part of business to Kyrgyzstan and concentrated its domestic resources on the research and development of a new hi-tech material dubbed "Ag nanowires transparent conductive slurry," which can keep the company afloat in the domestic market.
To avoid loss caused by the long international haul distance and complicated customs clearance procedures, the company invested roughly 20 million yuan ($3.22 million) in setting up a joint venture with a local white spirit producer in Kyrgyzstan in 2011, aiming to spread throughout Central Asian countries and Russia.
"Considering the overcapacity problem in China and huge opportunities brought about by the implementation of the Silk Road Economic Belt initiative, we again invested more than 10 million yuan ($1.61 million) to build a tube blank production line in Kyrgyzstan," said Chen Shuhai, President of the company, calculating that it will generate a sales revenue of 70 million yuan ($11.28 million) after going into operation.
There is also huge potential for trade and business cooperation in agriculture. Given the abundant agricultural resources in Central Asia, Wuzheng Group has mulled over establishing an assembling factory in Xinjiang Uygur Autonomous Region to specially manufacture agricultural machines for Central Asia.
"Due to backward agricultural infrastructure and incomplete industrial facilities, most countries in the region have to import agricultural machinery products from Belarus and other European countries," said Zhang, noting that Chinese-made agricultural machines usually outstrip those made by Belarus in terms of functions and cost performance.
So far, Chinese enterprises have participated in the operation of more than 600 joint ventures in Uzbekistan, the major "bridgehead" of the ancient Silk Road, said Azimov.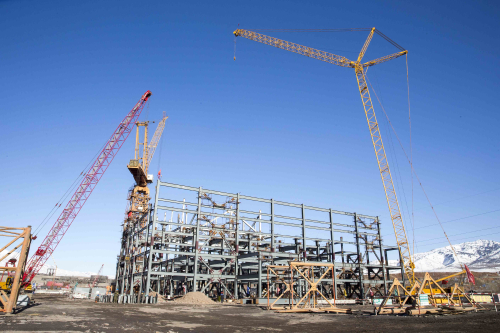 A power station in Angren, Uzbekistan, which is contracted to China's Harbin Electric International Co. Ltd., is under construction on February 4 (XINHUA)
Energy cooperation
China and Uzbekistan have accomplished the building of three natural gas pipelines, with Line-D under construction and entering service in 2016.
"The three pipelines deliver 55 billion cubic meters of natural gas to different parts of China, including the Yangtze River Delta, the Pearl River Delta and Hong Kong, benefiting 500 million Chinese people," Meng Fanchun, Vice President of Trans-Asia Gas Pipeline Co. Ltd., told Beijing Review, suggesting that natural gas transported from Central Asia accounts for 30 percent of the total consumption.
"The structural adjustment of energy consumption in China has further stimulated the demand for natural gas. However, since seaway transportation may be disrupted by uncertainties like war, we tend to take Turkmenistan and Uzbekistan as our major natural gas sources," said Meng Fanchun, noting that Kazakhstan will also join the ranks when the Line-D is completed.
In the days to come, efforts should be made to enhance the quality of trade by increasing the proportion of hi-tech products, said Meng Jianzhu at the opening ceremony of the forum, proposing that both China and Central Asian countries should continue to expand energy collaboration, strengthen agricultural partnerships and develop deeper financial cooperation.
Concerns
"As a matter of fact, nations in Central Asia are very glad to see China opening up wider to them and hold high hopes that the Silk Road Economic Belt initiative can bring them welfare and prosperity," said Yu Ping, Vice President of China Council for the Promotion of International Trade.
However, as far as Chinese enterprises are concerned, the going will not be smooth. Divergences in legislation and culture can easily lead to labor disputes. Some nations require that 70 percent of the workforce of foreign-funded enterprises be local people, while Chinese employers frown upon their self-discipline and efficiency. "Since there is a gap between Chinese and local technicians, we have to pay attention to the training of local workforce," said Meng Fanchun.
On the other side, energy safety is a major concern on the minds of Central Asian nations. "To make sure that their energy is self-sufficient and boosts local economic development, some nations in the region now intend to tighten their cooperation policies in energy," Meng Fanchun said.
"General speaking, when foreign companies control more than 30-35 percent of crude oil sources, the nation's energy security will be threatened. Now, nearly 30 percent of the total crude output in Kazakhstan has been controlled by Chinese investors in the form of stake holding," he said, who has perceived that some nations including Kazakhstan have begun to adjust China's status in the ownership, exploitation and development of new oil fields and substantially lift taxation on foreign companies.
In addition, their relatively closed political and economic systems also block the progress of Chinese investors. "Complicated visa procedures make it difficult for our staff to conduct market surveys in these countries," Zhang complained, citing the fact that in some cases, visas have to be issued by the head of the state.
For fear of falling into the same morass in countries like Russia and Ukraine, many Chinese companies hope that nations in Central Asia can further improve their laws and regulations to guarantee the rights and interests of foreign investors. "A transparent and stable investment environment is what we really care about and need," said Zhang.
Despite all these challenges and obstacles, Central Asia, which was rigidly divided into different functional areas by the former Soviet Union, means indefinite possibilities and opportunities to Chinese investors. "We have spotted new cooperation potential when attending trade shows in these nations, and our next target is Kyrgyzstan, and maybe Kazakhstan," Zhang said.
Copyedited by Kylee McIntyre
Comments to dengyaqing@bjreview.com