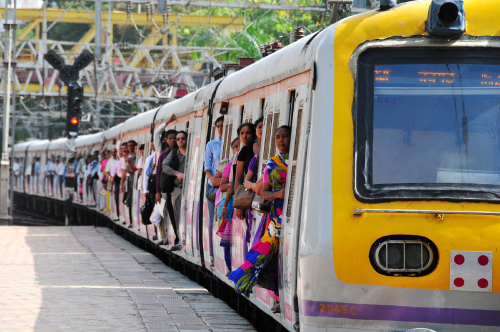 An overcrowded train sails into a Mumbai station on June 26, 2014 (XINHUA)
Despite the fact that he has witnessed his company grow from scratch there in the past few years, Yu Yongbin, the former Executive Director of Huawei Technologies Co. Ltd. (India), still doesn't feel like he has the world's second most populous country all figured out. "You can never completely understand the time-honored country, just like you can't see its entire national emblem at a glance, of which only three lions are visible and the fourth one is hidden from the view," Yu said with a smile.
"In the eyes of Chinese people who know little about India, the country is impressive for its overloaded trains and crowded, dirty residential communities. In fact, there is also no lack of modern business districts and all-encompassing shopping malls," said Li Jian, Chief Executive Officer of Draphant Group, an India-oriented business solution provider, who noted that in 2014, of the 109 million Chinese outbound travelers, merely 180,000 headed for India.
With the promotion of the Belt and Road Initiative, an increasing number of Chinese enterprises have mulled over exploring countries along the route, especially India, an important node. "In 2014 and 2015, India's GDP is expected to increase by 7.5 to 8 percent, while China is likely to see its economic growth stand at 6.5 to 7 percent, which means India will replace China to become the fastest growing economy worldwide," said Yu, citing the fact that India has maintained an average growth pace of 7.73 percent over the past 12 years.
Aside from that, India is populated by 1.28 billion people, and its demographic structure is quite young, with people under 15 years old and 35 years old making up 30 percent and 65 percent of the total population, respectively, according to statistics from Draphant Group. This will ensure sufficient labor supply over the next two decades.
To fully exploit its advantages in population and labor force, the Indian Government initiated the Made in India program last year to invite investments from foreign enterprises. India is not just an attractive market but also a land of opportunities generated by a huge local demand and labor pool, said Chitrangna Singh, Second Secretary (Trade & Commerce) of the Indian Embassy in Beijing, on July 24.
In 2014 and 2015, China eventually saw its ranking in terms of foreign direct investment in India climbing to the 20th place after 13 years of stagnation, according to statistics provided by Draphant. "The business environment in India is complicated, for the nation is a synthesis of historical inertia, traditional culture and the shadow of British colonialism," said Yu.
Tremendous opportunities
As India's 12th Five-Year Plan (2012-17) projects, the nation will raise roughly $1 trillion to fund infrastructure construction, including roads, ports and airports, which urgently call for foreign investment. Indian authorities are trying to improve the business environment by streamlining administrative procedures, enhancing the transparency, stability and predictability of its taxation system, and tracking the examination and approval of industrial and infrastructure projects, said Singh.
India will produce 175 gigawatts of renewable energy and give equal attention to power transmission and distribution as well as power generation; a total of 500,000 houses will be built before 2022, and efforts will be made in developing intelligent cities and large industrial corridors; roughly 50 cities will be equipped with subways, and the modernization of railway systems will be pushed forward.
Yet grasping the opportunities is by no means an easy task. Though Chinese companies outstrip their Indian counterparts in technology and cost performance, they confront severe challenges in realizing sustainable development in local markets. Only those who learn the rules of the game can survive.
"India features a complex political system and mountains of religions and languages. In this sense, if you can achieve success in India, you can adapt to the business environment of any other country," said Yu, who believes combining globalization with localization, contributing to local economies and creating a favorable living environment are essential to Huawei's development in India.
"Since Huawei first set foot in India, it has been committed to becoming a local enterprise. At the same time, we have never stopped advancing technological and industrial progress in India," said Yu, pointing out that more than 90 percent of Huawei's employees in India are local people, who are quite familiar with the nation's business rules.
"When an enterprise has more supporters than opponents there, it will prosper in the local market," said Yu.
Chinese enterprises need to know which people and institutions are vital to their survival, how these stakeholders look at foreign companies, and how to set up and strengthen alliances with them in the long term, said Li.
Li added with a sigh that most Chinese enterprises tend to fix their eyes solely on clients while neglecting related government institutions, industry associations and communities and failing to align them with these stakeholders.
"The high-cost performance of Chinese companies' products may undermine the development of Western and local enterprises in India, which have established connections with local stakeholders and can make use of these relations to hold them against their Chinese rivals," said Li.
In most business competitions, one side will first win support from some industry associations, media and government institutions, and mobilize them to urge the government to adjust policies. For instance, when Indian companies began to produce mobile phones themselves, the import tariff was elevated to 12.5 percent, while the tax rate for domestic manufacturing became 2 percent.
"Chinese companies should be open-minded in fostering and utilizing their advantages in India. Then, they will find the nation is not only a market waiting for explorers but also a springboard of globalization," said Li.
Take Maruti-Suzuki for example. The successful India-Japan joint venture has not only prospered in India, but also sells cars manufactured in its Indian production base into South Asia, Oceania and Africa, because the consumption power of people dwelling in these regions is roughly on par with Indian residents, and these destination countries don't have the necessary conditions for establishing large-scale production centers.
Predicament
According to a survey by the Chamber of Chinese Enterprises in India, Chinese enterprises now face four major challenges--unsustainable trade models, limits on bulk commodity imports and exports, rising local manufacturing capacity and the upgrading of local infrastructure construction capacity.
"In India, Chinese enterprises mostly feed on trading small commodities, procurement of bulk commodities and infrastructure project contracting. Now, that trade model has reached a bottleneck," said Li.
As India's manufacturing strength continues to improve, the cost performance of Chinese-made products is dwindling. In the past 15 years, the nation has realized domestic production of ready-made clothes, automobile parts and white household appliances, product areas in which Chinese manufacturers formerly maintained an edge.
Moreover, Indian infrastructure construction companies like Larsen & Toubro are growing strong enough to compete with Chinese enterprises in domestic market and even in South and Southeast Asia.
In addition, owing to a lack of marketing channels, a myriad of Chinese small commodity manufacturers have to sell their products to Indian traders at very low margins and watch the traders' profits soar upon resale.
"Chinese companies need to be more resolute and determined to pursue internationalization. If they can set up branches or factories and mold their own marketing channels in India, sustainable development will be obtained," said Li.
"As far as many Chinese entrepreneurs are concerned, exploring beyond the borders means hardship and frustration. If they are not determined enough, India, to a large extent, is a land fraught with risks and potential pitfalls," said Yu.
When Vasco da Gama, against all odds, first blazed the West Europe-India sea route 500 years ago, the West began to dominate the world. Going abroad may seem like going out of the way, but the potential rewards are great.
Copyedited by Kylee McIntyre
Comments to dengyaqing@bjreview.com