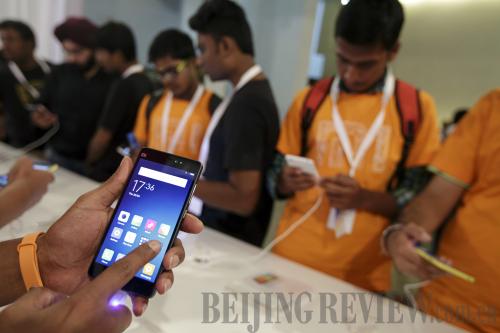 Attendees try out the Xiaomi Corp. Mi 4i smartphone during a launch event in New Delhi, India, on April 23 (CFP)
Innovation hub
China has been making strenuous efforts to give more space to entrepreneurship and ensure that the blood of innovation can filter into the social fabric of the country.
Entrepreneurship and innovation have become buzzwords in China over the past few years. According to data from the Ministry of Science and Technology, the number of hi-tech business incubators exceeded 1,600 in 2014, offering a hand to more than 80,000 hi-tech startups that employ 1.75 million people. The number of national hi-tech industrial development zones amounts to 115, with over 500,000 businesses registered in the regions.
In a report titled The China Effect on Global Innovation, the McKinsey Global Institute applauded China's rising innovative power and its implications for the global economy.
According to the report, China leads the world in innovative capacity—the country spent more than $200 billion on research and development in 2014, the second largest investment by any country in absolute terms (and about 2 percent of GDP). Its universities graduate more than 1.2 million engineers each year—more than the next five countries combined. China also leads in patent applications, with more than 730,000 in 2013.
The report concludes that China does have the potential to become a global innovation leader and will need to accelerate the evolution from innovation sponge to innovation leader, capable of driving more breakthroughs and competing in global markets.
The report also says China is flourishing in industries where innovation is about meeting unmet consumer needs or driving efficiencies in manufacturing—for example, appliances and solar panels. China's massive consumer market and unmatched manufacturing ecosystem give it unique advantages in these sectors. Perhaps the most striking examples of this success are in e-commerce and consumer electronics, where companies such as Alibaba and Xiaomi are rapidly emerging as top global players.
Hsiao-Wuen Hon, Chairman of Microsoft Asia-Pacific R&D Group, said no one would question Chinese people's capability in innovation.
"Who would still question that, with the huge success Baidu, Alibaba and Tencent have achieved?" Hon said.
Such a great number of multinationals, including Microsoft, have set up their R&D centers in China, solid evidence that Chinese scientists and engineers are capable of innovation, Hon said. "The days when people thought Chinese companies were only capable of copying Western technologies and business models are long gone."
According to Hon, China leads the world in some areas—for instance, the country has surpassed the United States in mobile Internet and mobile payment technologies.
"In the mobile payment sector, more innovations will come from China in the future," Hon said. "Even Facebook's founder Mark Zuckerberg is learning from China's Internet giants on mobile payment technology. Silicon Valley giants learning from emerging Chinese Internet companies—nobody would have thought of that several years ago," Hon said.
Investment power
Growing wealth also enables China to pursue its comprehensive global strategy. China has spent the last decade tactically investing around the world.
According to the Ministry of Commerce (MOFCOM), China's outbound direct investment (ODI) increased nearly 40 times over the past decade, from $2.7 billion in 2002 to $107.8 billion in 2013.
In the first seven months of this year, ODI from the Chinese mainland totaled $63.5 billion, surging 20.8 percent year on year, according to the MOFCOM.
"ODI growth will remain at a relatively high level throughout the year, probably at 10-15 percent or even higher," MOFCOM spokesman Shen Danyang forecasted.
Statistics also showed that direct investment stock from China to Africa jumped to $21.23 billion in 2012 from $9.33 billion in 2009, helping the continent build desperately needed roads, rails, and ports.
In Latin America, China has already pledged to invest $250 billion over the coming decade.
China also wants to use its money to improve infrastructural conditions in Asia. To that end, the country has launched the Asian Infrastructure Investment Bank. Given that 57 countries have signed up as founding members, the bank is on its way to reshape the world's financial architecture.
Ding Yifan, a senior researcher with the Development Research Center of the State Council, said outbound investment is one of the biggest contributions from China to global growth.
China has been one of the major capital exporters over the past decade, greatly improving people's lives in countries, including those in the African continent and Southeast Asia, Ding said.
Economic Deployments for the Second Half of 2015
- Paying high attention to downward pressure and the prevention and relief of systematic risks
- Maintaining a proactive fiscal policy to alleviate the burdens of businesses and giving more room to the utilization of private capital
- Keeping the prudent monetary policy and maintaining a reasonable level of liquidity to serve the real economy;
- Pushing forward economic restructuring through reforms, especially the reforms on state-owned enterprises, fiscal and financial systems
- Improving living standards, especially basic living standards of the low-income, unemployed and disabled individuals
(Compiled by Beijing Review)
Copyedited by Kylee McIntyre
Comments to zhouxiaoyan@bjreview.com