A multicolored mountain lies in the east suburb of Hefei, the capital city of east China's Anhui Province, but there are no footprints of tourists. Sadly, it's a mountain of garbage and waste generated by the nearby busy and bustling city. However, this story has an unusually auspicious ending. Three days later, the unpalatable giant monster will turn into electricity to illuminate urban residents.
"Every day, at least 3,000 tons of household wastes are discharged by local residents, and 70 percent of them are incinerated here to generate electricity. According to rough calculations, a total of 200 million kilowatt-hours (kWh) are produced annually, which can sustain the normal operation of the city for 27 days," Liu Chunliang, who was on duty at the unique refuse incineration plant in Hefei, told Beijing Review.
"After fermenting for three to seven days, the garbage will be burned in a destructor at a temperature as high as 1,000 degrees Celsius without adding other fuel. Since key equipment such as incinerators and flue gas purification systems are state-of-the-art imports and have been adapted to Chinese municipal solid waste featuring high water content and low heat value, all the indicators of pollutant emission here are well below the limits adopted by the European Union," said Liu.
As a matter of fact, roughly 50 solid waste disposal projects have been built by China Energy Conservation and Environmental Protection Group (CECEP) in 16 provinces, the one and only centrally administered state-owned enterprise (SOE) committed to promoting energy saving and environmental protection through advanced science and technology.
As China's urbanization keeps progressing, many cities begin to frown upon mounting garbage. CECEP's endeavors have gradually make it an increasingly popular idea to generate power through refuse incineration, with its solid waste disposal capacity exceeding 45,000 tons per day, accounting for 10 percent of the national total.
"The energy conservation and environmental protection industry is characterized by high investment and long payback period. Only large central SOEs have the strength to take an initiative and play a role of herald in this field," said Li Jin, chief expert at the State-Owned Assets Supervision and Administration Commission of the State Council.
Powering green economy
Aside from generating electricity through refuse incineration, the green titan has set up more than 60 solar power stations nationwide, with total installed capacity hitting 1,900 megawatts, making it the largest investor and operator of solar power station in China. According to statistics from CECEP, a total of 1.8 billion kWh solar power are generated every year, saving 720,000 tons of standard coal and reducing the emissions of carbon dioxide and sulfur dioxide by 1.54 billion tons and 54,000 tons respectively. Take its Shanghai Hongqiao Railway Station project for example. On the sunshade ceiling of the gigantic building lies clusters of solar panels of 6.88 megawatts, which transmit 100 kWh power to the railway station every minute.
In fact, all the solar panels and modules installed in these power stations are independently developed and manufactured by CECEP. In the plant of CECEP Solar Energy Technology (Zhenjiang) Co. Ltd., about 70 percent of the manufacturing procedures are mastered by robots, while workers only need to control and supervise the process by computer. The efficiency of its self-developed solar panels stands at 18.4 percent. The panels themselves have been authorized 109 patents, 60 percent of which have been put into production, making it a frontrunner in this trade.
Of the four major energy-consuming sectors—construction, agriculture, manufacturing and transportation, construction contributes 41 percent to China's total energy consumption, said Chen Tao, Deputy General Manager of CECEP Industry Development Co. Ltd., who noted, of the 50 billion square meters of existing buildings in China, more than 90 percent are energy-intensive.
During the 12th Five-Year Plan (2011-15) period, the nation aims to construct 100 green ecological urban areas and 1 billion square meters of green building. By the year of 2020, a total of 400 million square meters of buildings will be transformed and upgraded to better serve the goal of energy conservation. Then, 50 percent of existing construction will reach the standards of green building.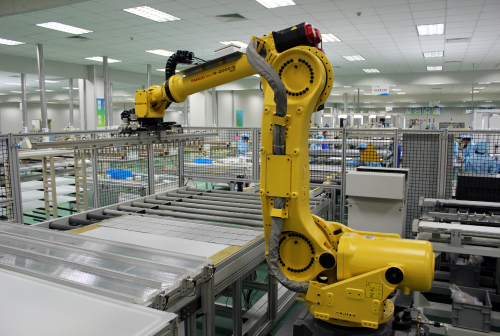 A robot works at a solar panel production line in a CECEP's plant in Zhenjiang, east China's Jiangsu Province (COURTESY OF CECEP)
Ethos on display
To popularize the new living pattern, CECEP has developed 26 green building demonstration parks across the country, covering an area of 5.45 million square meters. Among them, the Hangzhou Energy and Environment Industrial Park cuts a figure with its Green Building Museum and its 2-megawatt roof-mounted photovoltaic power system.
The museum is equipped with 10 architectural energy saving systems—including a passive ventilation system, self-shading system for buildings, ground source heat pump system and a renewable energy elevator system—which help it save 72 percent of energy consumption and achieve the Leadership in Energy and Environmental Design Platinum rating, the highest green building identification recognized by the United States. In addition, its 2-megawatt roof-mounted photovoltaic power system can generate 2-million-kWh power every year, saving 3,000 tons of standard coal and cutting over 4,000 tons of carbon dioxide emission.
However, it's still an uphill road to promote green buildings these days, said Zhang Chao, Vice President of CECEP. For one thing, Chinese people still know little about green building, and the Central Government has not yet launched a corresponding policy encouraging the popularization of green building; for another, a focus needs to be laid on the real energy-saving effect rather than blindly pursuing more installations of energy-conserving systems, because there may be conflicts and overlaps among them.
"In the past three decades, China's industrialization and urbanization came at the expense of high energy consumption and high carbon emission. The government has begun to promote more scientific and greener production modes, but green life has not received equal attention," said Yang Mingsen, President of China Environment News, who is calling for the promotion of a green lifestyle.
He argued that residential building is a major part of green life and should undergo a thorough transformation.
"The green building projects operated by CECEP are not an unrealistic concept; rather, they represent a new direction for other companies to join and follow," said Yang.
Copyedited by Kylee McIntyre
Comments to dengyaqing@bjreview.com